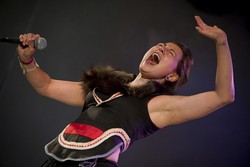 This Island Earth
Sunday October 12th, 2014 with PeterB
Music from all over the pan-galactic N-dimensional map! And, Tagaq at Polaris!!
Mostly just lots of long sets, and long tracks, today. From east to west and pole to pole. How we like it! Including, a mini-feature focusing on Tanya Tagaq at Polaris Music Awards. Just WOW! Fasten your seat belts!
A mellow and contemplative start. A nice long set, of expansive pieces. Get a cup of whatever, and grab your headphones. This calmness will not last...
Yay!
Erik Truffaz - Benares - Blue Note (2008)
Anil [live]
Erik Truffaz - Benares - Blue Note (2008)
4D Suite
Warren Cuccurullo and Ustad Sultan Khan - The Master - Six Degrees (2014)

Hindu-Myth
Rez Abbasi - Bazaar - Zoho Music (2006)
Keeping going in an Indo-jazz-fusion-ish mood. And migrating to North Africa beats.
Sunrise
Autorickshaw - The Humours of Autorickshaw - independent / Bandcamp (2013)

Solea
Anoushka Shankar - Rise - Angel Records (2005)
Bulería Con Ricardo
Anoushka Shankar - Traveller - Deutsche Grammophon (2011)
Kanan Neni
Rokia Traoré - Wanita - Indigo (2002)
Yéré Uolo [live]
Rokia Traoré - Wanita (bonus CD) - Indigo (2002)
Tilliaden Osamnat
Tinariwen - Tassili - Anti (2011)
Tar Hani
Bombino - Agadez - Cumbancha (2011)
OK, there is just no easy way to get from Africa to Nunavut... But go there we shall!

We now move to intense avant-guarde throat singing, if we dare call it that, from Canadian / Inuk, Tanya Tagaq. Her performance at the Polaris Music Prize gala this year, which drives this set, is ABSOLUTELY STUNNING! Totally different. Not to mention she won the award, for her album Animism. A very challenging listen, to be sure. Definitely not your Elders throat singing. We'll ease into it a bit first.

For the full performance on video, go to the link below (full Polaris gala), and forward to about 03:18. It is also amazing performance art, at its highest. The intros and extros are very worthwhile too.
https://www.youtube.com/watch?v=zseAB5pm5vQ

Tagaq will be performing Nov 7th at NAC 4th Stage.

Fasten your seat belts! And be prepared to feel the "fight-or-flight", right in your bones...
Growth
Tanya Tagaq - Auk/Blood - Jericho Beach (2008)

Ancestors
Tanya Tagaq / Björk - Sinaa - Jericho Beach (2005)

Uja/Umingmak [from Animism]
Tanya Tagaq - Live at Polaris Music Awards 2014 - YouTube


Now, let's wind our way back to world-hopping fusion tracks to wrap up the show.
Lady of the Dancing Water
King Crimson - Lizard - Island / JVC (1970)
Qu'ran
Brian Eno / David Byrne - My Life In The Bush Of Ghosts - Sire (1981)
White Flag
Gorillaz w. Bashy - Plastic Beach - EMI Records (2010)
Strong Culture
Asian Dub Foundation - Frontline 1993-97, Rareitires and Remixes - Beggars Banquet / Nation (2002)
Rivers of Dub
Asian Dub Foundation - Frontline 1993-97, Rareitires and Remixes - Beggars Banquet / Nation (2002)
Jah Has Cool Girl
Karsh Kale - Asian Massive - Six Degrees (2002)
Temples
dj Cheb i Sabbah - Asian Massive - Six Degrees (2002)
Sadats
dj Cheb i Sabbah - La Kahena - Six Degrees (2005)
Pirates
Les Escrocs - Mandinka Rap from Mali - Naxos World (2005)
Se Tu Lutas Tu Conquistas
Somos Nós a Justiça - The Rough Guide to Brazilian Hip-Hop - World Music Network (2004)
Saudades Mil
509-E - The Rough Guide to Brazilian Hip-Hop - World Music Network (2004)
56
Ali Farka Touré & Toumani Diabaté - Ali Farka Touré & Toumani Diabaté - World Circuit (2010)