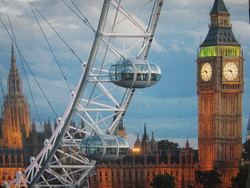 Music From The Glen
Sunday May 26th, 2013 with Colin Henein
The plan was to head over the pond to England this morning (after hearing from a few Canadian artists to start things off) to hear tunes and songs "collected" from the CD shops the last time I was there. As the show evolved, live, we wound up with a mini-feature on protest songs. Thanks to Chris White for calling in to let us know what is going on with Gil's Hootenanny, an annual forum for protest songs and songs of hope that may be about to launch a competition to write new protest songs relevant to today's issues. Also, turns out I have a lot to say about a great concert celebrating the twenty-first and tenth year anniversaries in music of Eliza Carthy and Jim Moray. So, all in all, a great morning I really enjoyed talking about, and listening to, traditional music on community radio.
Three score and ten
Matthew Byrne - Ballads - Self

Kaitlin heaves the chains
Andrea Beaton - Little black book - Self

When I first came to Caledonia
Martin Gould - Deborah Quigley w/ Martin Gould - Self

If I had a hammer
The Weavers - The little red box of protest songs [VA] - Proper
Miner's song
Woody Guthrie - The little red box of protest songs [VA] - Proper
One miner's life
Bob Fox - The blast - Topic
Chris White gave us a call to discuss protest songs, how they are still relevant, and a likely new effort to get some new ones written.
This land is your land
Woodie Guthrie - The little red box of protest songs [VA] - Proper
The quadbike
Kathryn Tickell - Northumbrian Voices - Park
Le coeur de ma mère / Le rêve d'Adrien
Le vent du nord - Tromper le temps - Borealis

Lord Douglas
Jim Moray - Skulk - NIAG
Worcester city
Eliza Carthy - Anglicana - Topic
The lazy farmer
Maclaine Colston / Saul Rose - Sand and Soil - Get real
Wine and roses
Heidi Talbot - Angels without wings - Compass

Queen of waters
Nancy Kerr / James Fagan - Twice reflected sun - Navigator
10,000 miles away
Bellowhead - Broadside - Navigator