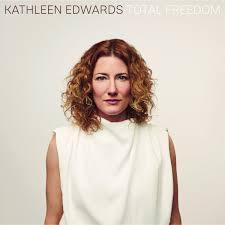 The Wavelength
Monday August 31st, 2020 with Joe Reilly
An Evening of Kathleen Edwards. Tonight we feature an extensive interview with Kathleen Edwards and most of the songs from her new album Total Freedom and some other great gems from her catalogue.
Back in 2013, Kathleen Edwards announced that she was walking away from her musical career and she opened up a cafe in Stittsville called Quitters. Slowly but surely she has returned to the music scene over the past couple of years, and in mid-August she released her first album in 8 years - a fantastic album entitled Total Freedom. Tonight on the Wavelength we play most of the songs from that album and talk to Kathleen about her return to making music. We learn about how she worked through a period of depression and has emerged a stronger person. She talks about how her friendship with Jim Bryson helped her through the process of creating this new album and how drummer Peter Von Althen anchors the sound of the new recording. We also hear about the inspiration for several songs on the album and play some old favourites as well. It's the Kathleen Edwards edition of the Wavelength tonight.
https://www.kathleenedwards.com/
https://kathleenedwards.bandcamp.com/album/total-freedom
Options Open
Kathleen Edwards - Total Freedom - Dualtone


Injustica
Kathleen Edwards - Building 55 - Indie

Lone Wolf
Kathleen Edwards - Failer - Maple Music Recordings

Going To Hell
Kathleen Edwards - Voyageur

Glenfern
Kathleen Edwards - Total Freedom - Dualtone


Feelings Fade
Kathleen Edwards - Total Freedom - Dualtone


Somewhere Else
Kathleen Edwards - Back To Me - Maple Music Recordings

Hard On Everyone
Kathleen Edwards - Total Freedom - Dualtone


Empty Threat
Kathleen Edwards - Voyageur - Maple Music Recordings

Birds On A Feeder
Kathleen Edwards - Total Freedom - Dualtone


Pink Champagne
Kathleen Edwards - Voyageur - Maple Music Recordings

I Make The Dough, You Get The Glory
Kathleen Edwards - Asking For Flowers - Maple Music Recordings

Fools Ride
Kathleen Edwards - Total Freedom - Dualtone


Simple Math
Kathleen Edwards - Total Freedom - Dualtone


Who Rescued Who
Kathleen Edwards - Total Freedom - Dualtone


Take It With You When You Go
Kathleen Edwards - Total Freedom - Dualtone


Independent Thief
Kathleen Edwards - Back To Me - Maple Music Recordings

Goodnight, California
Kathleen Edwards - Asking For Flowers - Maple Music Recordings