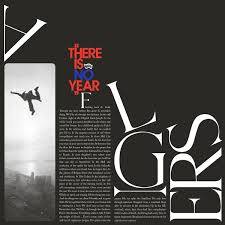 The Wavelength
Monday June 15th, 2020 with Joe Reilly
The music of Algiers and an interview with Franklin Fisher the group's lead singer. We primarily feature the group's 2020 prophetic album, There Is No Year.
Tonight we explore the music of the Atlanta-based band Algiers and feature an interview with the group's vocalist and lyricist Franklin James Fisher. It's a wide-ranging conversation about producing the new album, the themes on the recording, race relations in the USA and that Franklin still needs to explain himself as an African-American making music in America in 2020. The group merges musical approaches ranging from punk to gospel and there is plenty of powerful soul in the sound of Algiers. Algiers has been making music since 2009 and the group's third album, There Is No Year, takes its title from a Blake Butler novel of the same name and it feels like a prophecy for the chaotic times we are living in. You can check out Algiers music on the Internet at a number of sites:
https://algierstheband.bandcamp.com/
https://www.matadorrecords.com/algiers
During the interview we make reference to several video interviews/conversations featuring Franklin and Blake Butler, the author of the novel There Is No Year. If you want to check out those videos then go to the Algiers website and you can find them there.
https://algierstheband.com/
Hope you enjoy this look at the music of one of the most important American bands on the scene today. Check out Algiers.
Blood
Algiers - Debut Single - Indie single version - Indie (on Bandcamp)
Remains (Demo)
Algiers - September 2017 - Indie (on Bandcamp)
And When You Fall
Algiers - Algiers - Matador
In Parallax
Algiers - Algiers - Matador
Cry of the Martyrs
Algiers - The Underside of Power - Matador
Animals
Algiers - The Underside of Power - Matador
A Hymn For An Average Man
Algiers - The Underside of Power - Matador
There Is No Year
Algiers - There Is No Year - Matador
Repeating Night
Algiers - There Is No Year - Matador
Hour of the Furnaces
Algiers - There Is No Year - Matador
Dispossession
Algiers - There Is No Year - Matador
Losing Is Ours
Algiers - There Is No Year - Matador
Unoccupied
Algiers - There Is No Year - Matador
Nothing Bloomed
Algiers - There Is No Year - Matador
Can The Sub_Bass Speak?
Algiers - Single (available on Bandcamp) - Indie (on Bandcamp)/Matador
It All Comes Around Again
Algiers - Single (available on Bandcamp) - Indie (on Bandcamp)/Matador
Wait For The Sound
Algiers - There Is No Year - Matador
Plague Years
Algiers - The Underside of Power - Matador
Void
Algiers - There Is No Year - Matador