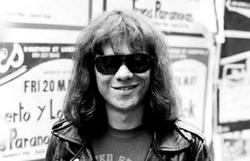 The Wavelength
Monday July 14th, 2014 with Allan B. Wigney
Ordinary superstars
Wig, are you going to resort to the ol' Bitty McLean-Denny McLain mix? Why yes, I am. You got a problem with that?
The Ordinary Superstar
Rodgers, Johnny - 45 - Aquarius

Aragon
Ayers, Roy - Coffy OST - Polydor
Asa-sa
Fisher, Fred - Afro Baby - Soundway
Alo Mi Alo (Parts 1 & 2)
Julius, Orlando & the Afro Sounders - Nigeria '70 - Strut
Ou-Wee Man
Serrano, Dave - Keb Darge's Legendary Deep Funk - Barely Breaking Even
Car Wash
A Sound Odyssey - A Sound Odyssey II - Realistic

The Lonely Bull
Meri-juana Brass - Downbeat '67 - independent

C'est le ska
Lautrec, Donald - 45 - Apex

A Shot in the Dark
Soul Brothers - Old Skool Ska - Snapper Music
Work Out
Ice Breakers with The Diamonds - Planet Mars Dub - Caroline
Wolf Run
Big Youth - 45 - Trojan
Luv Nyah
Steel Pulse - 45 - Anchor
Ain't No Sunshine
Boothe, Ken - Darker than Blue: Soul from Jamdown - Blood and Fire
The Real Thing
McLean, Bitty - download - Bitty McLean Music

Hurdy Gurdy Man
McLain, Denny - at the Organ - Capitol
I Eat With Gusto, Damn! You Bet
Richman, Jonathan - Jonathan Richman - Rounder
Winter Bird Feeder, mid-March
Ottawa Field-Naturalists' Club - Songs of the Seasons - World Records

The Lady
Denny, Sandy - Live at the BBC - BBC
Easy Out
Arsenault, Julie - The Creature That I Call Myself - julierosearsenault.bandcamp.com


L'accordeoniste
Wainwright, Martha - San fusils, ni souliers, å Paris - Maplemusic

Jolie Louise
Lanois, Daniel - Acadie - Warner Bros.

Carry Me
Arpin, John - CTL Sampler - Canadian Talent Library

List
Weird With Cats - Yah Ra Hooray - weirdwithcats.bandcamp.com


Treat Me Like a Saturday Night
Ely, Joe - Texas Special - SouthCoast
Next Time You're Single
Lucky Ron & the Rhode Island Reds - Lucky Ron and the Rhode Island Reds - Lucky Ron Records

Teenager's Mother
Haley, Bill & his Comets - 45 - Decca
There'll Be a Rockin' Party Tonight
Volk, Val - Everybody's Boppin' - Norton

Native
Callaway, Bob - Jungle Exotica - Strip
Motor Bikin'
Spedding, Chris - The Great Glam Rock Explosion - Biff!
California Sun/I Don't Wanna Walk Around With You
Ramones - 45 - Sire
53rd & 3rd
Phono-Comb - The Crass and the Switchblade - Quarterstick