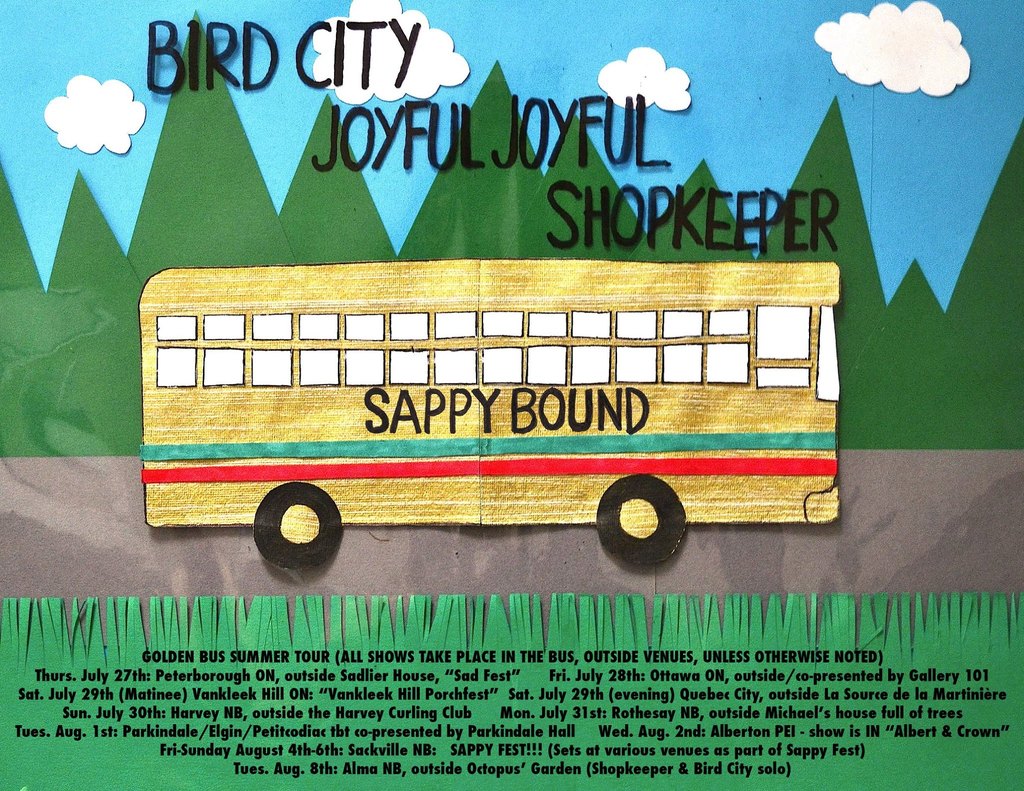 Friday Special Blend
Friday July 28th, 2017 with Susan Johnston and Amanda Jette Knox and Bob LeDrew
The Golden Bus, Feminist Twins, Carissa Klopoushak
Wish Willy
Danny Michel - Sunset Sea

Summer in the city
Lovin'Spoonful - The Lovin' Spoonful: The greatest hits collection

Jenny Mitchell is a musician and curator of "The Golden Bus" which will be hosting three bands tonight outside of Gallery 101. The event starts at 7:00 http://www.g101.ca/exhibits/golden-bus-ottawa For information: www.cfru.ca
www.cfrumobile.com
Boss of My Bus
Jenny Omnichord - Days of Hard Drives: Excavating Ten Years of Jenny Omnichord


The Carpenter's Cat
David Ross MacDonald - Caravan
Make You Happy
The Beck Sisters - Run

David Ross MacDonald and The Beck Sisters are just two of the performers booked for next weekend's Blue Skies Music Festival in Clarendon, Ontario. http://www.blueskiesmusicfestival.ca/
Bessie
Karen Morand and Bosco - I think I'll lose my mind

Uncle Ricky
Bella Cat - COrrupted

Bella Cat and Annie Martel join Julie Corrigan for the August edition of Girls to the Front at Irene's Pub. Monday, August 14 at 8 pm. http://irenespub.ca/event/girls-to-the-front-with-host-julie-corrigan-and-special-guests-abigail-lapell-and-susan-o-2
A Body Needs
Naviger - Barn Raising

Deja Vu
Brian Browne and Steve Berndt - Valley Giants

Carissa Klopoushak is an Ottawa-based violinist. She is doing a short solo set tonight at La Nouvelle Scene (http://ottawa.carpediem.cd/events/4136002-chamber-pints-at-chamberfest-carissa-klopoushak-at-la-nouvelle-sc-ne-gilles-desjardins/) and performs as part of the Ottawa International Chamberfest on Wednesday evening with Edwin Huizinga. Their setlist is a melting pot of violin and fiddle music for every music lover, from early classical to Eastern European folk. http://www.chamberfest.com/concerts/2017-0802-04/ And you can get everything you need to know about her at: http://www.carissaklopoushak.com/
Visnyanka
Carissa Klopoushak - LIVE IN STUDIO


Arkand
Carissa Klopoushak - LIVE IN STUDIO


Jennifer and Kayla Spag are known as "The Feminist Twins" in Ottawa. The activists are hosting their third edition of "Support Snaps" at Bar Robo Support Snaps hosted by the Feminist Twins will be at Bar Robo (692 Somerset St W) on Sunday August 20th. Doors at 6:30 pm, performers to start at approx 7 pm.
https://www.facebook.com/events/1137055506394509/
This will be a night of story telling and sharing on topics of mental health, struggle, addiction, recovery and support. Please be aware there will be triggers including (but not limited to): mental illness, a range of abuse, oppression, addiction, and transphobia.