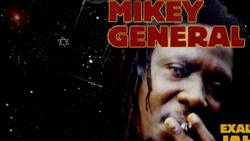 Reggae In The Fields
Saturday September 12th, 2015 with Junior Smith
Interviews Jin Kwlly, Mikey General, Music Dropped into my mailbox (reggaeinthefields@gmail.com)
MIKEY GENERAL One of Reggae's most exciting talents in conscious vocals is that of Mikey General. His high tenor voice, like a warm breeze over the ocean, carries a message of faith and optimism. His unyielding devotion and genuine sincerity sets this singer apart from the rest. Mikey General, long known for his association with Luciano, has spent decades honing his talent, navigating the upper echelon of producers and studios in the reggae industry, both in the United Kingdom and Jamaica. British-born Jamaican Mikey General, born Michael Taylor, moved back to Jamaica at age two, and not long after, began to imitate songs on the radio and television. His public recognition began when he sung in the school and church choirs. In his teenage years he was already voicing on large Kingston sound systems like Kilamanjaro and Virgo Sounds. At sixteen, he recorded his first song for sound system owner- Ruddy Silence.. Mikey returned to Britain in 1982 and continued to voice on top sounds—only this time it was the British sounds like Coxsone International and Saxon. The latter gave him a taste of the road, touring Europe in 1984 along with Smiley Culture, Papa Levi and Maxi Priest. 1985 was a big year when DubVendor produced tracks "Dancehall Vibes", this earned him 'performer of the year.' Mikey grew his dreadlocks, adopted a true and natural lifestyle, and watched things fall in place with the Xterminator Crew. He released two albums within two years. "Sinners" and "I am a Rastaman", on the British Jetstar Label. He also opened for Luciano and Sizzla on tour in the mid 1990's. It reached time for Mikey and Luciano to branch off from the Xterminator Crew, and in 1998, they formed Jah Messenjah Productions and Qabalah First Music with the aim "To provide people with spiritual uplifting music in these times of degradation". With hard work the two singers built a nice home base, and Mikey released the full length "Spiritual Revolution" on their own Qabalah Label. The album "Exalt Jah" 2001 was his next album which showed a mature and confident Mikey General whose lyrics reflect commitment and deep faith in Jah. He continued to tour the world with Luciano, opening for him on the "New Day" tour throughout Europe and the United States. The industry giant, VP, got hold of Mikey's next album "Red Green & Gold" and through strong distribution the album was well-received. The album featured tracks "He That Keepeth Israel" and "Joy" which reflects Mikey's belief that "music should effect the life we live". He has a new Album released on the Qabalah First Music Label, Confidence in Self. He believes this album will be the catalyst to propel him to greater heights, to separate the singers from the chanters—if you will. With hits such as "Jah Time", "Looking A Way Out", and the popular "Heartbroken" featuring Contractor. After touring Europe, Africa and North America numerous times, Mikey General is truly a world citizen of Music, he says "Haile Selassie I set the example, and we must take this message to the four corners of the earth." JIM KELLY Jamaican-born Canadian singer Jim Junior Hosang more popularly known as Jim Kelly is intent on making his mark on the local music scene this year. Hailing from Christiana, Manchester but now residing in Ontario, Canada this young Reggae crooner has been dabbling into the local art form since 2009 working in the production sector alongside music stalwarts such as Ward 21 and Mark Pinnock of Natural Bridge; both credited with piloting the careers of Mr. Peppa and Konshens respectively. During his stint as a producer Jim has worked with a cadre of local talents under his own Board House Music imprint, among them fast rising Dancehaller Kalado whom he eventually signed in 2010 and begun managing his career in a three year partnership. However simply being a producer/manager did not quell his musical desires as he wanted to make an even greater contribution to the industry, hence the quest to become an artiste. Though not yet a household name Jim expects that will change in the near future with hard work, dedication and given the blessings of being related to Reggae royalty such as the world renowned Jimmy Cliff. A great singer in his own right this burgeoning star has released and commence promoting on his first official single 'On and On' featuring Kalado. Now under the musical tutelage of Triple Dose Productions his management company the dreadlock singer believes they will be able to steer him on the right path to achieving his lifelong dream. Triple Dose Productions is also responsible for the career of Dancehall entertainer Jah Vinci. Meanwhile, within days of its premier the single 'On and On' has been receiving a lot of positive feedback on social media and continues to gain momentum with his growing fan base in Zimbabwe. Jim who departed the island over the weekend following a media stint used the opportunity to shoot an accompanying video for aforementioned, the visuals are slated for release within the weeks ahead.
The Good Word
Rev. Jacob Afolabi - Spoken Word
Email Music
Music dropped into my mailbox
reggaeinthefields@gmail.com
Professional
Ricardo Drue - single
Bend Down
Runtown ft. Wizkid - single
Interview: Jim Kelly
3:15
On and On
Jim Kelly - single
Nuh Trust Nobody
Jim Kelly - single
Magistrate
Benjai - Soca Love Riddim
It is not the same
Crazy - Soca Love Riddim
Cool me Down
Lalena - Soca Love Riddim
Soca Party
Spyro - Soca Love Riddim
Bring Water
Terron - Soca Love Riddim
Interview
Mikey General
Various
Mikey General - Hallelujah Song
Humble Calf
Mikey General - single (latest)
You only live once (YOLO)
Pumpa - single
Sugar Rush
Hypesounds - single
How She Like it
Hypesounds - single
Hands On
Mikey Mercer - single
Old School Love
Ms Paige - single
Lights Out
Tillbop - single
She Want More
Kappa - single
Show Love
Jah Cure - The Cure
Made in Call
Jah Cure - The Cure
Surrender
Jah Cure - The Cure
On Me
Ras Slick ft Jah Cure - single
My Jam (Remix)
Mr Vegas ft Pitbull - single
Thinking out Loud (Rub a Dub style)
Mr Vegas - single
Favourite Boy
Alaine - single
Don't Walk Away
Alaine - single
Finally (track 1)
Jesse Royal - single
Only for You
Natel - single
Sheep Clothing
Amalak Redsquare - single
Whoa Mama Africa
Anthony B - Tough Time Riddim
Rope
Bugle - Tough Time Riddim
When Will It End
Determine - Tough Time Riddim
Chatty Mouth
I Octane - Tough Time Riddim
Awakening
Iba Mahr - Tough Time Riddim
The Final Word
Hyacinth Masom - Spoken Word