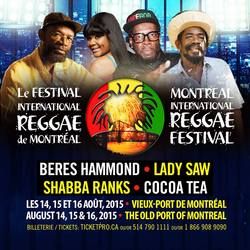 Reggae In The Fields
Saturday August 29th, 2015 with Junior Smith
Review and Interviews - Montreal International Reggae Festival August 14-16, 2015
Montreal's festive summer season was augmented in 2004 with the emergence of The Montreal International Reggae Festival – offering three days of "Reggae Rocking" on the Quays of The Old Port. With an aim to not only showcase the pulsating Reggae beat of internationally renown musicians, but also to highlight excellence amongst a diverse set of 'Reggae Ambassadors' from all corners of the world including Canadian based musicians, this festival continues to be held in high esteem. Consistently embracing the theme, "United Against Violence" the Montreal International Reggae Festival has become a significant tradition for Reggae music lovers in and outside of Canada. The festival boasts having an audience of over 150,000 since its inception and is steadfast in its commitment to raising the profile of a musical genre best known for manifestations of powerful messages. Fostering unity is key in dually linguistic Montreal – a city that mirrors a global village; and using artistic forms generated through Reggae to achieve this goal has been the successful platform of this Festival. Derived from a list of musical forms that started with Mento – a type of Jamaican folk music, Reggae music became most popular in the 1970s when it burst onto the international scene through popular songs by artists like Bob Marley and The Wailers. The genre took form following gradual musical transformations from Mento to Ska; to Rock Steady and then Reggae. While originating in Jamaica, a Caribbean island with many cultural influences, Reggae has been adopted and mastered by great musicians in all corners of the world. Reggae music also evolved over the years creating wide variations of what was initially an 'up beat one drop' sound. Today the genre is identified by the titles, Dance Hall, Dub, Lover's Rock and Roots/Conscious Reggae – each strongly interconnected with the other. While celebrating the unique and spirited Reggae beat, the Montreal International Reggae Festival also highlights other genres like Calypso and R&B. Saluting legends in Caribbean music, the Montreal International Reggae Festival has been carefully designed to encompass many angles of the region's musical heritage. The festival's stellar team of industry professionals has set the usual goals to produce a high caliber event that will fulfill the expectations of Reggae fans from all generations and ethnicities. Besides the incredible music, the Montreal International Reggae Festival provides a wonderful ambiance filled with activities for children, kiosks sporting merchandise of all sorts, restaurants and information booths. It entices one and all to return each year for a memorable fun-filled weekend.
http://montrealinternationalreggaefestival.com/about-2/
The Good Word
Rev. Jacob Afolabi - Spoken Word
Montreal International Reggae Festival
August 14-16, 2015
Old Port Montreal
THIS WEEK: Full edition review of Montreal International Reggae Festival August 14-16, 2015.
Nine interviews
Aisha Davis
Jah Cutta
Beres Hammond
Lady Saw
Shabba Ranks
Bitty MacLean
Cocoa Tea
Dean Fraser
Tarrus Riley

Including music from each artist.
Join us on Canada's longest running Reggae program. Celebrating 39 years in your ears.
LISTEN LIVE HERE on August 29, 2015 beginning at 3:00 pm
http://cod.ckcufm.com/programs/132/23467.html
The program will be available by 6:00 pm on demand on Saturday August 22 for the next 700 days at the same link.
Friday, August 14, 2015
Interview
Jah Cutta - Spoken Word
//
Jah Cutta - //
//
Jah Cutta - //
Interview
Beres Hammond - Spoken Word
//
Beres Hammond - //
//
Beres Hammond - //
Saturday, August 15, 2015
Interview
Lady Saw - Spoken Word
//
Lady Saw - //
//
Lady Saw - //
Interview
Shabba Ranks - Spoken Word
//
Shabba Ranks - //
//
Shabba Ranks - //
Sunday, August 16, 2015
Interview
Bitty MacLean - Spoken Word
//
Bitty MacLean - //
//
Bitty MacLean - //
Interview
Cocoa Tea - Spoken Word
//
Cocoa Tea - //
//
Cocoa Tea - //
Interview
Dean Fraser - Spoken Word
//
Dean Fraser - //
//
Dean Fraser - //
Interview
Tarrus Riley - Spoken Word
//
Tarrus Riley - //
//
Tarrus Riley - //
The Final Word
Hyacinth Mason - Final World