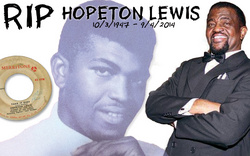 Reggae In The Fields
Saturday September 13th, 2014 with Junior Smith
Top 25 dancehall and top 25 Reggae singles from Jamaica/Yoga For Your Life/ Tribute to Hopeton Lewis and Noel Bailey (Sowell Radics)
Hopeton Lewis Born October 3, 1947, in Kingston, Hopeton Lewis has been an unjustly ignored figure despite the hits he had in the second half of the '60s and being the winner of the 1970 Festival Song Competition with "Boom Shacka Lacka", which he recorded for Duke Reid's Treasure Isle label. Hopeton Lewis grew up in Burnt Savannah, Westmoreland. He discovered his talent for singing at the age of 6, while attending the Burnt Savannah Holiness Church. This ushered in the beginning of his singing career. Several years later, he returned to Kingston to live with his grandparents in Mountain View Avenue. He received a scholarship to attend Camperdown High School after completing his early childhood development at Windward Road Primary School. By the time he turned 15 years old, both grandparents died and he was left to fend for himself. His ambition, zest for life and his love for music, inspired him to form his first group "The Regals". The ambitious Hopeton Lewis did his first recording at Studio One, but soon moved to Federal Recording Company, where he did a number of recordings. In late 1966, he recorded "Take It Easy" at Federal Studios for club owner Winston Blake's Merritone label. During the recording session he asked the band led by Lynn Taitt to play the riddim slower, because he was having difficulty fitting the lyrics over the Ska-style riddim. When the take was finished, pianist Gladstone "Gladdy" Anderson remarked on the 'rock steady' nature of the slowed-down riddim. The new name stuck. Hopeton Lewis' advice to "Take Your Time/There's No Need To Hurry"could be taken as directed at the rudeboys, or simply to dancehall patrons adapting the new musical pace. Further tracks recorded at the same sessions, and rush-released for Hopeton Lewis' first album, included the sound-boy boasts of "Sounds & Pressure" (the infectious riddim of which was revived for Sugar Minott's "Hard Time Pressure") and "A Deh Pon Dem"; the first herb song ever recorded in Jamaica, "Cool Collie"; a couple of nods to US Soul in "Music Got Soul" and the ballad "Why Must I Cry"; and the anthemic "Rock Steady", which celebrated to arrival of the new dance in a direct way. People are you ready This is rocksteady Shoulder jerk, heads a movin' Feel the beat now Move your feet now Then go steady If you're ready People are you ready This is rocksteady The colourful Duke Reid attracted Hopeton Lewis to his Treasure Isle studio at Bond Street while he was still under contract to Federal. Although the 1968 hit "There Comes A Time" was credited to The Techniques, it were actually Hopeton Lewis and Pat Kelly who wrote and recorded the song for Duke Reid. The latter decided to release the song as The Techniques since Pat Kelly was the group's latest lead singer and Hopeton Lewis could not have recordings released by other labels under his own name due to his contract to Federal. At first Hopeton Lewis worked as an A&R representative auditioning and rehearsing artists, wrote songs and contributed many arrangements and backing vocals for other artists at the studio. When he became free to record for Treasure Isle, he soon scored, winning the 1970 Festival Song Competition with "Boom Shacka Lacka", easily the equal of his pioneering Rocksteady hits. After that he began working as a lead vocalist with Byron Lee & The Dragonaires and recorded for Byron Lee's Dynamic Sound label. In 1971 he released his single "Grooving Out On Life" which led to an album of the same name. The songs proved to be too lightweight for the Reggae audience and he similarly failed to cross over into the mainstream. Four years after he had joined Byron Lee & the Dragonaires he left the group and went on to perform on the hotel circuit throughout Jamaica and other Caribbean Islands. In the late '80s the singer with the rich baritone turned increasingly to gospel music, and since then he stuck with gospel and has released a prolific series of albums. Hopeton Lewis died at his home in Brooklyn, New York, on Thursday evening, September 4th, 2014. Sources: The Virgin Encyclopedia of Reggae, The Rough Guide To Reggae and Hopeton Lewis' website. Noel Bailey (aka Noel Tempo or Sowell Radics) On Friday July 18, 2014, guitarist/singer Noel 'Sowell' Bailey, an original member of the Roots Radics band, died at Kingston Public Hospital (KPH) in Kingson, Jamaica, at the age of 61. He had been diagnosed with cancer the previous month. Born in Denham Town, a predominantly residential neighbourhood in west-central Kingston, Jamaica, Noel Bailey began his career as a singer performing under his own name. His debut single called "What Am I To Do Now" was recorded at Harry J's and was a top 10 hit in Jamaica. Disenchanted with the lack of financial rewards for his hit he found work playing guitar alongside the drum & bass section of the Hippy Boys, Aston "Familyman" Barrett and Carlton "Carly" Barrett playing the hotel circuit as Youth Professionals. In the late 1970s Noel "Sowell" Bailey was invited to play in studio sessions alongside Errol "Flabba" Holt, Eric "Bingi Bunny" Lamont and Lincoln "Style" Scott, who became known as the Roots Radics. The latter became a well-respected studio and stage band, which dominated the sound in the first half of the 1980s. The band was frequently employed by then ruling producers like Linval Thompson and Henry "Junjo" Lawes to provide riddims for successful vocal, deejay and (when remixed by Scientist) dub albums. They played on recordings for Jamaica's top artists like Bunny Wailer, Gregory Isaacs, Israel Vibration and many others, and went on tour with Gregory Isaacs. In 1982 Noel "Sowell" Bailey left the band and decided to revive his career as a vocalist. His association with Mikey Dread resulted in the release of "All Nite Jamming". The single was followed by "Wheel O' Matilda", which, along with the Mikey Dread release, enjoyed a respectable placing in the UK reggae charts. Noel Bailey was a wicked vocalist too and all of his tunes have a truly unique vibe, but unfortunately this under-rated artist didn't receive the recognition he deserved. Kathryn Flynn Experience clear communication, thoughtful sequencing, and excellent soundtracks in Kathryn's yoga classes. Committed to personalizing your practice and providing hands-on enhancements – she's known for her child's pose backrubs – Kathryn provides a class setting where all levels of student will have a well-rounded practice. She always takes requests at the beginning of class, so if there's something you're yearning to practice – we can make it happen! Kathryn's training, teaching and personal practice incorporate elements of many lineages and theories of yoga. Enthusiastically embracing the mantra that "there's not one way to do triangle!", she approaches each practice, body, and class contextually. Her greatest teachers are ones you may not have heard of, as is the case with most of us. Particular affection and education have come from Mona Warner of Janati Yoga, and Dallas Delahunt of Studio 330. Beyond these primary resources have been Jason Crandell, Susi Hately Aldous, Seane Corn, Sadie Nardini and Paul Grilley, and most importantly, her yogic peers in teaching and learning who provide community and education.
The Good Word
Rev. Jacob Afolabi - Spoken Word
Tribute to Noel Bailey (aka Noel Tempo or Sowell Radics) - died July 18, 2014)

Tribute to Hopeton Lewis (October 3, 1947 - September 4, 2014)
Lonely Girl
Noel Bailey - single
Caution
Sowell Radics - single
Wheel O Matilda
Sowell Radics - single
Boom Shaka Laka
Hopeton Lewis - single
A Deh Pon Dem
Hopeton Lewis - single
Rivers of Bbylon
Hopeton Lewis - single
Take it easy
Hopeton Lewis - single
Rock Steady
Hopeton Lewis - single
Cool Collie
Hopeton Lewis - single
Groovin out of Life
Hopeton Lewis - single
Feature Nambo Robinson
Album "Happy and Free"
Happy and Free
Nambo Robinson - Happy and Free
YOGA FOR YOUR LIFE (Reprise)
"Choosing a Yoga Class"
Segment 5
Heard every second Saturday of each month
"Choosing a Yoga Class"
Kathryn Flynn - Spoken Word
Top 25 dancehall from Jamaica
Lose Yourself
Major Lazer - single 25
Doe Watch Me
Beenie Man - single
Louis V
Vybz Kartel - single
Gyal Yuh Good
Busy Signal - single
Where we come from
Popcaan - single
Retarted
Nature - single
Punany a mi best friend
Vybz Kartel - single
Enjoy yourself
Harry Toddler - single
Without Money
Vybz Kartel - single
Everything is nice
Popcaan - single
Personally
Kalado - single
Tie Yuh
Mavado - single
Jamaica Town
Ninja Man - single
Holiday Again
Alkaline - single
Feature Nambo Robinson
Album "Happy and Free"
Praises
Nambo Robinson - Happy and Free
Who Rule
Mr Vegas ft Latty J - single 11
Road Tonight
D Medz feat Rural - single 10
Trendsetta
I Octane - single
Reverse it
J Capri - single
Kitty Kat
Gage - single
Spirulina
Chronix - single
Like a Man
Spice - NFAP 5
Tip pin yuh Toe
QQ - single 4
Boom Flick
Aidona - single 3
Professionally
Busy Signal - single 2
Come on to Me
Major Laser ft Sean Paul - single 1
New Single from DEMARCO
Puppy Tail
Puppy TAil
Demarco - single
Top 25 Reggae singles from Jamaica
Fly Rasta
Ziggy Marley ft U Roy - single 25
Every Little thing
Maxi Priest - single
Rock Stone
Stephen Marley - single
Life we Live
Ja Cure - single
Mi Alright
Chronixx - single
Gone
Musical Sniper aka Rappa Roberts - single
Who Knows
Proteje ft Chronixx - single
Love at first sight
Robert Minott - single (not available)
Like a Whistle
Chronixx - single 17
Put it on Me
Morgan Heritage - - single
Ole' Gangalee
Nesbeth - single
Dem a Watch
Tarrus Riley - single
Rude
Magic - single
All of Me
Jah Cure - single 12
Have Mercy on Me Lord
Vanessa Bling - single 11
Umoja wa Watu
//
Umoja Wa Watu - Spoken Word
Blood on Your Hands
Peter Lloyd - single
I am I said
Mikey Spice - single
Everything reminds me of you
Tessanne Chin - single
No other Girl (I'm Sorry)
E Dee - single
Romance
No Maddz - single
Need Love
Ishwana - single 5
Modern Day Judas
Jesse Royal - single 4
Missing you
Prince Teo - single 3
Check
Hezron - single 2
Belly of the Beast
Ton Laing f. Capleton - single 1
Final Word
Hyacinth Mason - Spoken Word