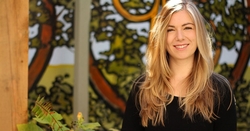 Reggae In The Fields
Saturday September 6th, 2014 with Junior Smith
Oldies but Goodies
YOGA FOR YOUR LIFE Kathryn Flynn Experience clear communication, thoughtful sequencing, and excellent soundtracks in Kathryn's yoga classes. Committed to personalizing your practice and providing hands-on enhancements – she's known for her child's pose backrubs – Kathryn provides a class setting where all levels of student will have a well-rounded practice. She always takes requests at the beginning of class, so if there's something you're yearning to practice – we can make it happen! Kathryn's training, teaching and personal practice incorporate elements of many lineages and theories of yoga. Enthusiastically embracing the mantra that "there's not one way to do triangle!", she approaches each practice, body, and class contextually. Her greatest teachers are ones you may not have heard of, as is the case with most of us. Particular affection and education have come from Mona Warner of Janati Yoga, and Dallas Delahunt of Studio 330. Beyond these primary resources have been Jason Crandell, Susi Hately Aldous, Seane Corn, Sadie Nardini and Paul Grilley, and most importantly, her yogic peers in teaching and learning who provide community and education.
The Good Word
Rev. Jacob Afolabi - Spoken Word
interview
Kenny B - Spoken Word
interview
Sparo Blaxx - Spoken Word
Yoga For Your Life Series - Segment 5
"Choosing a Yoga Class"
"Choosing a Yoga Class"
Kathryn Flynn - Spoken Word
Oldies but Goodies
I'm the song my enemies sing
Joe Higgs - single
you're wondering now
Andy and Joey - single
Put it On
Wailers - single
Arte Bella
Ken Boothe and Stranger Cole - single
Marching On
Maytals - single
Exodus
Skattalites - single
I want Justice
Delroy Wilson - single
Addis Ababa
Skattalites - single
Simmer Down
MArley - single
Jamaica Ska
Byron Lee - single
Eastern Standard time
Skattalite - single
Donna
Blues Busters - single
Fever
Toots and the Maytals - single
Never you Change
Toots and the Maytals - single
Shame and Scandal
Blues Buster - single
Soul Ska
Byron Lee - single
It Mek
Desmond Dekker - single
Israelites
Desmond Dekker - single
Barbwire
Nora Dean - single
Take it Easy
Hopeton Lewis - single
Ba Ba Boom
Jamaicans - single
Sweet Jamaica
Eric Donaldson - single
Cherry O Baby
Eric Donaldson - single
My Time
Gregory Isaacs - single
Rain from the skies
Delroy Wilson - single
Money Worries
Maytones - single
Police and thieves
Junior Murvin - single
Book of Rule
Heptones - single
Arena Special
Roland Alphonso - single
Stars
The Eternals - single
Beat Down Babylon
Freddy McGregor - single
I believe in Yesterday
Tyrone Taylor - single
//
//... - //
//
//... - //
Big Bamboo
Stanley Beckford - single
Chapel of Love
Lorna Bennett - single
Please stay
Paulett - single
Every Night
Ruddy and Sketo - single
Worried over you
Keith and Enid - single
Send me the Pillow
Jackie Brown - single
Since you are gone
Roy and Paulette - single
Hold my hand
The Starlites - single
Guilty
Boris gardner - single
The Final Word
Hyacinth Mason - Spoken Word