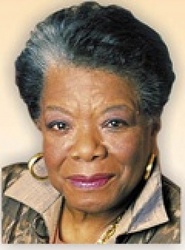 Reggae In The Fields
Saturday May 31st, 2014 with Juior smith
Tribute to Maya Angelou, Interviews: Karl Morrison; Lucien -Jamaican artists.
Global Renaissance Woman Dr. Maya Angelou is one of the most renowned and influential voices of our time. Hailed as a global renaissance woman, Dr. Angelou is a celebrated poet, memoirist, novelist, educator, dramatist, producer, actress, historian, filmmaker, and civil rights activist. Born on April 4th, 1928, in St. Louis, Missouri, Dr. Angelou was raised in St. Louis and Stamps, Arkansas. In Stamps, Dr. Angelou experienced the brutality of racial discrimination, but she also absorbed the unshakable faith and values of traditional African-American family, community, and culture. As a teenager, Dr. Angelou's love for the arts won her a scholarship to study dance and drama at San Francisco's Labor School. At 14, she dropped out to become San Francisco's first African-American female cable car conductor. She later finished high school, giving birth to her son, Guy, a few weeks after graduation. As a young single mother, she supported her son by working as a waitress and cook, however her passion for music, dance, performance, and poetry would soon take center stage. In 1954 and 1955, Dr. Angelou toured Europe with a production of the opera Porgy and Bess. She studied modern dance with Martha Graham, danced with Alvin Ailey on television variety shows and, in 1957, recorded her first album, Calypso Lady. In 1958, she moved to New York, where she joined the Harlem Writers Guild, acted in the historic Off-Broadway production of Jean Genet's The Blacks and wrote and performed Cabaret for Freedom. In 1960, Dr. Angelou moved to Cairo, Egypt where she served as editor of the English language weekly The Arab Observer. The next year, she moved to Ghana where she taught at the University of Ghana's School of Music and Drama, worked as feature editor for The African Review and wrote for The Ghanaian Times. During her years abroad, Dr. Angelou read and studied voraciously, mastering French, Spanish, Italian, Arabic and the West African language Fanti. While in Ghana, she met with Malcolm X and, in 1964, returned to America to help him build his new Organization of African American Unity. Shortly after her arrival in the United States, Malcolm X was assassinated, and the organization dissolved. Soon after X's assassination, Dr. Martin Luther King, Jr. asked Dr. Angelou to serve as Northern Coordinator for the Southern Christian Leadership Conference. King's assassination, falling on her birthday in 1968, left her devastated. With the guidance of her friend, the novelist James Baldwin, she began work on the book that would become I Know Why the Caged Bird Sings. Published in 1970, I Know Why the Caged Bird Sings was published to international acclaim and enormous popular success. The list of her published verse, non-fiction, and fiction now includes more than 30 bestselling titles. A trailblazer in film and television, Dr. Angelou wrote the screenplay and composed the score for the 1972 film Georgia, Georgia. Her script, the first by an African American woman ever to be filmed, was nominated for a Pulitzer Prize. She continues to appear on television and in films including the landmark television adaptation of Alex Haley's Roots (1977) and John Singleton's Poetic Justice (1993). In 1996, she directed her first feature film, Down in the Delta. In 2008, she composed poetry for and narrated the award-winning documentary The Black Candle, directed by M.K. Asante. Dr. Angelou has served on two presidential committees, was awarded the Presidential Medal of Arts in 2000, the Lincoln Medal in 2008, and has received 3 Grammy Awards. President Clinton requested that she compose a poem to read at his inauguration in 1993. Dr. Angelou's reading of her poem "On the Pulse of the Morning" was broadcast live around the world. Dr. Angelou has received over 50 honorary degrees and is Reynolds Professor of American Studies at Wake Forest University. Dr. Angelou's words and actions continue to stir our souls, energize our bodies, liberate our minds, and heal our hearts.
http://mayaangelou.com/bio/
Karl Morrison: Musical Sensation In an ever evolving business such as the Jamaican music industry, in order to succeed one must boast musical dynamism and versatility. Karl Morrison- although not yet a Jamaican household name- has a few accolades under his belt that many belonging to the fraternity would envy. Producer, musician, music teacher, background vocalist, engineer, and singer a true entertainer, Karl Morrison exudes his musical prowess in myriad of ways in order to keep himself relevant and carve his niche in the entertainment market. "I have never done anything but music," Karl divulges that from the age of sixteen when he was in high school he started doing cabaret singing in hotels on the North coast as a member of a quartet who named themselves 'Solid Harmony' (SH1). "Music has always been how I provide for myself, it is how I sent myself through school." Karl Morrison quickly learned that singing alone was not sufficient to cater to his financial needs and eventually with help from Theophilus Edwards an elder at St. Peter and Paul Church which he attended learned how to play the keyboard. After finishing high school he was hired as a music teacher at St. Peter and Paul Preparatory, which helped with him achieving his dream of attending The Edna Manley College of the Visual Arts to study Classical Piano. His academic success led to him gaining a scholarship to attend Talladega College in Alabama but due to having to undergo a medical procedure had to forfeit his attendance. At present Karl Morrison as the Producer has been the title that has gained him the most popularity within the musical field. Known for producing such international hits as Busy Signal's 'One More Night', 'Night Shift', co-producing Gyptian's 'Mama don't Cry' and 'School Girl', George Nook's 'Broken Vessel', Junior Kelly's 'Ease my Pain', Ryan Mark's 'Word of Prayer', T.O.K's 'Cry no More' and composes popular dancehall riddim such as 'National Pride' with Ding Dong, Charly Blacks and Kiprich and of course composed the track for Sean Paul's 'Hold my Hand' on the Trinity album. Being a Producer was never the original plan as Karl started out singing on his own then transitioned to back ground singing for such musical greats as: John Holt, Ken Booth, Gyptian, Richie Stephens, George Nooks, Turbulence amongst others. Karl admits that he started producing when he realized that most renowned Producers would not voice young artistes, so he learned the art of producing and voiced himself. Ironically most of his success came through Producing and singing seemed to be put on hold for a while. Now Karl Morrison is ready and revving to focus on being Karl Morrison the singing sensation as most of the persons he has worked with that are aware of his vocal talent motivates him daily to pursue being an artiste. "I am ready to add my vocal talent to the forefront of the Jamaican industry." No doubt with his soothing and contagious singing voice, coupled with his charisma and musical knowledge Karl Morrison owner of the Starplayer Label will be one of the names adding to Jamaica's musical repertoire internationally. BIO FOOTADIHILLS PRODUCTIONS started as a project undertaken by Mark Cobran and Percival Hurditt in June 2003. The project was born out of the strong passion that both of the founders expressed for helping to develop the creative industry in Jamaica. The objective of FOOTADIHILLS from the very beginning was to contribute to building on the strong tradition of Jamaican music and other creative arts. This tradition emanates from a foundation left behind by icons such as Bob Marley. FOOTADIHILLS was conceptualized in Mammee River, a small nature-filled community that is located in the "hilly" parish of St. Andrew Jamaica and home of the two friends (Mark and Percival). Mammee River is positioned at the foot of the Blue Mountains. The Blue Mountains is the highest mountain range in the English Speaking Caribbean, and is internationally known for producing Blue Mountain Coffee. Mark and Percival both recognized the significant number of individuals and entities that made tremendous sacrifice to lift the Reggae music brand. With this in mind, the FOOTADIHILLS partners accepted that it would take continuous effort from many individuals to protect and build the brand, and that their team could play a role. It is often said that the climb to the top is most successful if the intensity throughout the journey matches the intensity of the start. In other words, you should always push on as if you are at the foot of the hill. In Jamaican dialect, the foot of the hill is usually expressed as the "FOOT A DI HILL". This point underlines the figurative meaning behind the name. Over the years, FOOTADIHILLS has done meaningful groundwork. The FOOTADIHILLS project has covered many small scale productions and promotional events that included different artistes and a very useful network of producers, studio owners and engineers, promoters and other key stakeholders within the music industry. Many of the connections were established through the efforts of Mark, who had many years of experience in the music industry. Mark, a past Jamaican national footballer (Reggae Boy), was a part of the management and touring teams for prominent Jamaican artistes such as Jacob Miller, Bushman, Tiger and Major Mackerel. Mark also had very strong relationships with some of the iconic figures in Reggae music. One notable artiste with which Mark has a very strong relationship is Marcia Griffiths (Marcia Griffiths celebrates her 50th anniversary in Reggae music during 2014). Percival is a song writer, business enthusiast & trained economist. Since the start of the FOOTADIHILLS journey (and up to 2014) Percival has worked with prominent Jamaican financial institutions such as the Bank of Jamaica, Jamaica Money Market Brokers and National Commercial Bank. Since 2002, he has garnered much experience by working behind the scene and absorbing knowledge from some of the veterans in the Jamaican music industry. The business minded focus of Percival and the wonderful synergy he offers with the skillsets of Mark has helped to provide structure and steer the FOOTADIHILLS project in the right direction. The FOOTADIHILLS evolution, fueled by the efforts of Mark and Percival, continued into 2013. Through a series of unrelated but apparently destined events, Lucien Leach joined the FOOTADIHILLS team in October 2013. Lucien's addition turned out to be another turning point as he brought more completeness to the FOOTADIHILLS team. Since joining the team, Lucien has contributed both as a partner in the project and as a singer/song writer. Lucien has settled in well on production sessions that included other FOOTADIHILLS partners. Lucien has brought his own flavor and network to the FOOTADIHILLS activities. He has a passion for music that is similar to that of Mark and Percival. This passion was developed from an early age when he was exposed to live performances by prominent entertainers (such as Ernest Wilson and Junior Washington) in Hayes Clarendon, his childhood home. He had also garnered useful singing and piano playing skills while performing with the Glenmuir High School, and while attending the University of the West Indies. Lucien had also garnered very useful business experience as he also has a strong banking experience. The FOOTADIHILLS project continues to roll on with a mission to influence change in Jamaica's entertainment/creative industry. The partners are driven by a desire to become critical players in the industry and to form useful alliances over time. The work of FOOTADIHILLS is a labor of love and is firmly focused on passionately bringing quality products and services to an equally passionate international audience. The team is confident that great output will be created as long as the intensity of its work is always at the level or even above the level that is applied at the foot of the hill. (BIO) Lucien lucien 9 Lucien is a dynamic singer who grew up in a community called Hayes in Clarendon. The birthplace of numerous reggae superstars such as Freddie McGreggor, Cocoa Tea, Everton blender and Earnest Wilson of the Claredonians. He grew up listening to a wide array of music such as Roots Rock Reggae, R & B, Pop, Folk Culture, Classical and Gospel. However, his first singing stints were in the church where he would perform at gospel concerts and as a lead singer in the church Choir. Given his father's genuine love for music, Lucien was inadvertently exposed to a number of live stage shows and musical Jam sessions from an early age. Of particular note were the Rastafarian Jam Sessions at Ivor Wiser (a popular community singer and musician), Everton Blender (Blender Bash) and the front yard Jam sessions between his father, Earnest Wilson of the Claredonians and Junior Washington a renowned community singer. The Jam sessions in his front yard were especially influential to shaping his soulful musical singing style as he vividly remembers Earnest, his dad and Junior belting out sweet melodies from hit songs such as "Take Time to Know her," "when a man loves a woman" and "I've Got Dreams to remember" by Percy Sledge or hits from The Temptations like "I've Never Been to Me," "My Girl" and "Lady Soul" and last but not least hits like Jonny Cash's Jimmy Cliff covered, "I can see Clearly Now" and Harold Melvin and the Blue Notes' "If you Don't Know me by Now." His singing continued to develop as a member of the Glenmuir High School Concert Choir under the tutelage of the Late Leo White and later as a member of Glenmuir High School's 2001 all island championship Festival Choir. At Glenmuir, Lucien is widely remembered for his beautiful gospel renditions at inter form devotions, later his star like performance of Usher's "you got it bad" at Miss Glenmuir 2001 and his heart felt performance of Shania Twain's "From this moment" at his graduation ball. While in upper School at Glenmuir, Lucien developed a genuine love for the piano as he would watch a young prodigy, Joel Edwards play. There he would try to learn as much as he could from Joel during the lunch breaks or the short breaks during festival choir practices. He often laughs and speaks of the first song he learned to play on the piano (All my life by KC and Jo Jo) and how he would play the intro every lunch time especially when a cute girl enters the auditorium. The truth is that it was the only song he knew how to play at the time. Nonetheless, due to share passion and determination, musical books, internet avenues such as youtube and gleaning as much as possible from musicians around him during singing rehearsals, Lucien was able to singlehandedly develop his piano skills to an advanced professional level. He later played as backup Musician for gospel singers such as Bunny Anderson, Dianne Barnette, Grace Thrillers and Candy Staton on her tour to Jamaica. With these newly acquired skills Lucien's understanding of music quickly grew to the next level. Shortly after commencing his Studies in economics at UWI his talent was instantly spotted by Noel Dexter, veteran vocal instructor, and then Director of the University Singers and UWI chorale. His musical services were then invited as he shortly after became a member of the University Singers. He later became assistant director of the University Chorale where he was responsible for popular music and gospel. Other musical responsibilities during his University tenure included his position as Director of the Irvine Hall Choir for four out of the five years of his Undergraduate and Post Graduate Studies, Musical Director of the then newly formed "University Pop Society" and Band Leader at a large and renowned Church in Kingston Jamaica. His musical talents also afforded him the opportunity to perform at various events such as the 2012 Regional Central Bank Games at Bank of Jamaica and most recently, the 2014 NCB Pinnacle Awards where he shared the Stage with the Legendary Third World Band (R.I.P. Mr. Bunny Rugs, this was one of, if not his last performance). In December 2013, through a series seemingly destined events, Lucien met up with the Footadihills Productions team and its Veteran Producer, Artiste Manager and Former National Footballer, Mark "Markie" Cobran who worked with artistes such as Jacob Miller, Major Mackerel, Tiger and Bushman. Mr. Cobran instantly recognized that Lucien was no ordinary talent and as such tasked him to begin writing songs and share his sensational talent with the world. Since then Lucien has written a number of songs including his first recorded single "Unchanging Love." Lucien is committed to being the next big thing in Lovers Rock and his unique, soulful singing voice as well as his musical prowess on the piano makes him a very unique product within the musical Market place. Endorsed by musical Legends such as Marcia Griffiths and Beres Hammond, Lucien's Journey as a musical artiste, though still in its early stages is full of prospects and he is destined to be another one of reggae's great.
http://lucienleach.com/biographies/
Footadihills website:
www.footadihillsproductions.com
Footadihills email: footadihills@gmail.com Lucien Leach website:
www.lucienleach.com
Lucien Leach on Facebook:
www.facebook.com/lucienleach
Lucien Leach on Instagram: @lucienleach Lucien Leach on Twitter: @lucienleach
The Good Word
Rev. Jacob Afolabi - Spoken Word
Tribute to Maya Angelou
My Childhood
Maya Angelou - Spoken Word
Finding My Voice
Maya Angelou - Spoken Word
Malcolm X
Maya Angelou - Spoken Word
I am Human
Maya Angelou - Spoken Word
Love liberates
Maya Angelou - Spoken Word
Telephone Love
riddim Mix - riddim Mix
Pepper seed
riddim mix - riddim Mix
//
//4:00 - //
Interview
Karl Morrison (Jamaica)
By Your Side
Karl Morrison - single
Speechless
Karl Morrison - single
Storm will be over
Karl Morrison - single
Cah stop we
Karl Morrison ft Busy Signal - single
various
riddim mix - riddim mix
//
//4:30 - //
Interview
Lucien Leach (Jamaica)
Mark Cobran
Percival Hurditt
Footadihills website: www.footadihillsproductions.com
Footadihills email: footadihills@gmail.com

Lucien Leach website: www.lucienleach.com
Lucien Leach on Facebook: www.facebook.com/lucienleach
Lucien Leach on Instagram: @lucienleach
Lucien Leach on Twitter: @lucienleach
Unchanged love
Lucien - single
reggae queen
Lucien - single
various
riddim mix - riddim mix
Final Word
Hyacinth Mason - Spoken Word