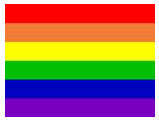 The Groove
Saturday August 26th, 2023 with ELORIOUS CAIN
PRIDE WEEK SPECIAL: GAY DISCO CLASSICS!
This is actually just the tip of the iceberg!
MORT SHUMAN was an American singer and songwriter who sung and composed "You're My Man" for the soundtrack of the 1976 movie "SEX O'CLOCK USA". Many sources identify it as the first Gay hit. We first heard it at Club 333 on Rue Saint-Antoine in Gatineau (Hull then) in 1977. Club 333 was one of the best Gay Discos in Hull! The boys there used to say it was TOM JONES singing "You're My Man"!
YOU'RE MY MAN
MORT SHUMAN - SEX O'CLOCK USA (ORIGINAL MOTION PICTURE SOUNDTRACK) LP - LONDON
GLORIA GAYNOR is still loved as 'The queen of Disco' Her "I Am What I am" recorded for 'La cage aux folles' in 1983 instantly became an inspiration classic for LGBTQ2S people of all considerations and plenty of others also!
I AM WHAT I AM
GLORIA GAYNOR - 12" - EPIC
The Belgium based U.S. FUNK and AMERICAN DISCO band AMERICAN GYPSY offered an uplifting tribute to the Thomas Anthony Harris book 'I'm OK, You're OK" which was a popular read for Gay Liberation fighters in the 1970's.
I'M OK, YOU'RE OK (A RAUL DANCE MIX)
AMERICAN GYPSY - 12" - IMPORTE/12
I'M A MAN
MACHO - I'M A MAN (LP) - PRELUDE
AMERICAN DISCO producer JACQUES MORALI created a gay male answer to his highly popular girls group THE RITCHIE FAMILY. Called the VILLAGE PEOPLE in reference to New York's Greenwich Village, this costumed group of good looking male vocalists supported a dense urban twist of MORALI's DISCO supporting celebrations of Gay friendly places like San Francisco, California and Fire Island. Their song "In Hollywood (Everybody Is A Star)" contained an arousing vocal break that was so extremely popular that it spawned a variety of early MEGAMIXES called the "Hollywood" series. Then MORALI tweaked the mix and absolutely everything changed! Several campy and blatant songs like "Macho Man", "Y.M.C.A" and "In The Navy" propelled VILLAGE PEOPLE to become one of the most popular groups in the world. In all probability there is some wedding reception going on right now where the Mobile DJ knows that he or she has to play "Y.M.C.A" by the VILLAGE PEOPLE. That could be happening in various parts of the world.
SAN FRANSISCO (YOU'VE GOT ME)
VILLAGE PEOPLE - VILLAGE PEOPLE (LP) - CASABLANCA
IN HOLLYWOOD (EVERYBODY IS A STAR)
VILLAGE PEOPLE - VILLAGE PEOPLE (LP) - CASABLANCA
We first heard "Disco Kings" by the Montreal group FUSSY CUSSY at "Spotlight" - a cool little pop up Gay Disco in a cafeteria of Terrasses de la Chaudière off Eddy Street in Gatineau (Hull then) in 1976. The delightfully tacky and inspirational "Disco Kings" raged on as a regular nightly standard at various Gay Discos throughout Quebec and France during the 1970's and early 1980's.
DISCO KINGS
FUSSY CUSSY - 12" - AQUARIUS

EASY GOING was a wildly popular GAY DISCO band that was named after the Gay disco 'Easy Going' in Rome, Italy. There infectious EURODISCO sound was a high tech celebration of Gay experiences that connected to young dancers on both sides of the Atlantic ocean. We have always been most impressed with their ELECTRONIC DISCO jammer "Fear" complete with police sirens and screams!
BABY I LOVE YOU
EASY GOING - EASY GOING (LP) - BANANA
One of several popular D.C. LARUE songs in Gay Discos in America and the U.K., "Cathedrals" became a chronicling anthem that was remixed by JONNY MEEK, among other producers. We offer the link to the video on youtube which in a real celebration of Gay culture in the New York City area including quick tours of many famous Gay Discos:
https://www.youtube.com/watch?v=kOemTYn_hsk&list=FLIGOHZaTDuk8OqIEliyu_Fg&index=4
CATHEDRALS (JONNY MEEK EDIT RE-EQ'ED) GAY HISTORY REMIX
D.C. LARUE -
Y.M.C.A.
VILLAGE PEOPLE - CRUISIN' (LP) - CASABLANCA
(AIN'T NO REASON) FOR GIRLS TO BE LONELY PART 1
BOBBY MARCHAN - 7" - GAMBLE
(AIN'T NO REASON) FOR GIRLS TO BE LONELY (INSTRUMENTAL)
BOBBY MARCHAN - 7" - ACTION
VULCANO
MARZIO - 12" - MAXIMUS
DESIRE
RONI GRIFFITH - RONI GRIFFITH (LP) - VANGUARD
Originally from Buffalo, New York, PATRICK COWLEY was a celebrated music composer and producer who was a central figure in the GAY DISCO industry in San Francisco. Apart from offering amazing remixes of DISCO classics like "I Feel Love" by DONNA SUMMER and producing and composing excellent GAY DISCO, he also provided soundtrack music for Gay porn movies. His "Menergy" rang the lifestyle with strength and energy!
HEAVY BEN did a great show featuring PATRICK COWLEY porn music on the CKCUFM show "HEAVY FRIENDS"! Here is a link to that show:
https://cod.ckcufm.com/programs/410/53732.html
MENERGY
PATRICK COWLEY - THE ALBUM (LP) - FUSION
YOU THINK YOU'RE A MAN
DIVINE - 12" - VIRGIN
I WANNA TAKE YOU HOME
PATRICK COWLEY - THE ALBUM (LP) - FUSION
YOU SPIN ME ROUND (REMIX 1)
DEAD OR ALIVE - 12" - BURNS
BOOM BOOM (LET'S GO BACK TO MY ROOM)
PAUL LEKAKIS - 12" - RCA
FEAR
EASY GOING - FEAR (LP) - BANANA
RELAX
FRANKIE GOES TO HOLLYWOOD - 12" - ZTT
IT'S RAINING MEN
THE WEATHERGIRLS - 12" - COLUMBIA