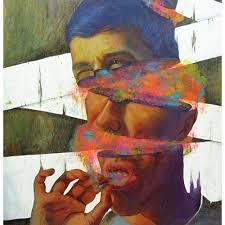 The Groove
Saturday August 28th, 2021 with Elorious Cain
funked jack rabbit poppin' out a your third eye.. (repeat broadcast)* January 30th, 2016
Today we are dabbling in the iconic Psychedelic sound that dominated discos in America and Western Europe during the late 1960's and early 1970's. Although most of these recordings are Psychedelic Funk from 1966 to 1975, there are some comparable tracks recorded in the 21st century from THE APPLES, and the song "Ride" from THUNDER FOX!
PEOPLE LET ME KNOW
LINNIE WALKER with BLACK MERDA - THE PSYCHE-FUNK OF BLACK MERDA (LP) - FUNKY DELICACIES
SOMETHING YOU GOT
JIMI HENDRIX - IN THE BEGINNING (LP) - SHOUT
IF YOU GOT IT, YOU'LL GET IT
THE HEADHUNTERS - SURVIVAL OF THE FITTEST (LP) - ARISTA
RISING SIGN (FUNKY)
EDWIN BIRDSONG - SUPER NATURAL (LP) - POLYDOR
SITTING HERE ON A TONGUE
THE GRODECK WHIPPERJENNY - THE GRODECK WHIPPERJENNY (LP) - PEOPLE
WHAT YOU DO TO ME
PURPLE IMAGE - PURPLE IMAGE (LP) - MAP CITY
UNFINISHED INSTRUMENTAL
PARLIAMENT - FIRST THANGS (CD) - HCH
RAT KISS THE CAT ON THE NAVAL
U.S. with FUNKADELIC - MUSIC WITH FUNKADELIC (LP) - WESTBOUND
RHINOCERIZE
THE APPLES - FLY ON IT (LP) - AUDIO MONTAGE ENTERTAINMENT
THE BIG CHASE
THE SOULFADELICS - 7" - TRAMP
SPACING OUT
THE INVADERS - SPACING OUT (LP) - DUANE
THE JUNGLE (INSTRUMENTAL)
THE HYGRADES - NIGERIA ROCK SPECIAL: PSYCHEDELIC AFRO-ROCK & FUZZUNK IN 1970's NIGERIA (2LP) - SOUNDWAY
L.T.D. (LIFE, DEATH & TRUTH)
THE JIMMY CASTOR BUNCH - IT'S JUST BEGUN (LP) - RCA VICTOR
CITY, COUNTRY, CITY
WAR - 12" - BRO
SHOOTING STARS
STARK REALITY - NOW (2LP) - STONES THROW
GET THAT FEELING
JIMI HENDRIX & CURTIS KNIGHT - JIMI HENDRIX & CURTIS KNIGHT (LP) - LONDON
E ASSIM FALAVA MEFISTOFELES
O BANDO - LOVE, PEACE & POETRY - BRAZILIAN PSYCHEDELIC MUSIC (LP) - NORMAL
CUCARACA MACARA
HARVEY AVERNE BARRIO BAND - HARVEY AVERNE BARRIO BAND (LP) - HEAVY DUTY
PSYCHE
THE JIMMY CASTOR BUNCH - IT'S JUST BEGUN (LP) - RCA VICTOR
RIDE
THUNDER FOX - .
STANDING ON THE VERGE OF GETTING IT ON
FUNKADELLIC - STANDING ON THE VERGE OF GETTING IT ON (LP) - WESTBOUND
SCORPIO
DENNIS COFFEY and THE DETROIT GUITAR BAND - 7" - SUSSEX
IT'S JUST BEGUN (EXTENDED INSTRUMENTAL BREAKS & BEATS MIX)
THE JIMMY CASTOR BUNCH - 12" - RCA
HEAVY DUTY
HARVEY AVERNE BARRIO BAND - HARVEY AVERNE BARRIO BAND (LP) - HEAVY DUTY
YOU'VE GOT TO TRY
T-FIRE - THE WORLD ENDS: AFRO ROCK & PSYCHEDELIA IN 1970S NIGERIA (3LP) - SOUNDWAY