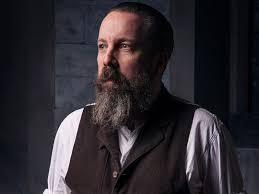 The Groove
Saturday March 7th, 2020 with Elorious Cain
ANDREW WEATHERALL (April 6, 1963 – February 17, 2020)
Sad to hear of the sudden passing of England's ANDREW WEATHERALL. He was an innovative musician, DJ, songwriter, producer and remixer who was still active! In fact one of the tracks featured in this show is; at the time of initial airing a 'new release!'. His career took him from being one of the important DJs in the British acid house movement of the late 1980s to being a remixer of tracks by artists like HAPPY MONDAYS, PSYCHIC TV, NEW ORDER, Björk, THE ORB, JAH WOBBLE'S INVADERS OF THE HEART, YELLO, MEAT BEAT MANIFESTO, THE FUTURE SOUND OF LONDON, SLY AND LOVECHILD, ST. ETIENNE, MY BLOODY VALENTINE, S-EXPRESS, THE FINITRIBE, SLAB and the WOLFGANG PRESS. As a producer, his work with PRIMAL SCREAM was award winning. He also released various impressive solo efforts that offered a range of different genres and musical temperatures. His contribution to the CHILL/AMBIENT genre is legendary. Many sources celebrate him for being a vital part of several acts. The most important of which were THE SABRES OF PARADISE, THE WOODLEIGH RESEARCH FACILITY and TWO LONE SWORDSMEN. Yet then again, it is really a matter of opinion. There is an astronomical range of opinions about ANDREW WEATHERALL! The scope of his ongoing influence is undeniable.
LATER, HIS GHOST
THE WOODLIEGH RESEARCH FACILITY - 127 TO FACILITY 4 (LP) - ROTTER GOLF CLUB
I AM AMATEUR BARBARIAN
THE WOODLIEGH RESEARCH FACILITY - THE PHOENIX SUBURB (AND OTHER STORIES) 2LP - ROTTERS GOLF CLUB
TAQIYA
THE WOODLIEGH RESEARCH FACILITY featuring YOUTH - THE PHOENIX SUBURB (AND OTHER STORIES) 2LP - ROTTERS GOLF CLUB
AERONAUTS: THE NEXT PHASE
THE WOODLIEGH RESEARCH FACILITY - THE PHOENIX SUBURB (AND OTHER STORIES) 2LP - ROTTERS GOLF CLUB
BLUE BULLET
ANDREW WEATHERALL - BLUE BULLET (EP) - BYRDOUT
UNKNOWN PLUNDERER
ANDREW WEATHERALL - 12" - BYRDOUT

STUKA (TWO LONE INSTRUMENTAL SWORDSMEM MIX)
PRIMAL SCREAM - 12" - CREATION
HEILIGE SEIDHR
THE WOODLIEGH RESEARCH FACILITY - CONVENANZA 2018 - Höga Nord Rekords
THE QUESTION OAK
THE WOODLIEGH RESEARCH FACILITY - THE PHOENIX SUBURB (AND OTHER STORIES) 2LP - ROTTERS GOLF CLUB
FRANKFURT ADVICE (HERETIC REMIX)
ANDREW WEATHERALL - CONSOLAMENTUM (2LP) - ROTTERS GOLF CLUB
THE WORLD ACCORDING TO SLY AND LOVECHILD (SOUL OF EUROPE MIX)
SLY AND LOVECHILD - 12" - HEAVENLY
WORLD IN MOTION (CARABINIERIMIX)
NEW ORDER (ENGLANDNEWORDER) - 12" - FACTORY
THE LAST WALK (BLACK DEVIL DISCO CLUB REWORK)
ANDREW WEATHERALL - CONSOLAMENTUM (CD) - ROTTERS GOLF CLUB
EDIE ELEVEN
ANDREW WEATHERALL - THE BULLET CATCHER'S APPRENTICE (EP) - ROTTERS GOLF CLUB
GLOWING TREES
MEEK - 12" - NEW GROUND DANCE DIVISION
SMOKEBELCH II (BEATLESS MIX)
THE SABRES OF PARADISE - SABRESONIC (CD) - WARP
UNKNOWN PLUNDERER
ANDREW WEATHERALL - 12" - BYRDOUT

OSLER'S CRYSTAL FOUNTAIN
THE WOODLIEGH RESEARCH FACILITY - THE PHOENIX SUBURB (AND OTHER STORIES) 2LP - ROTTERS GOLF CLUB
YOU CAN'T DO DISCO WITHOUT A STRAT
ANDREW WEATHERALL - THE BULLET CATCHER'S APPRENTICE (EP) - ROTTERS GOLF CLUB