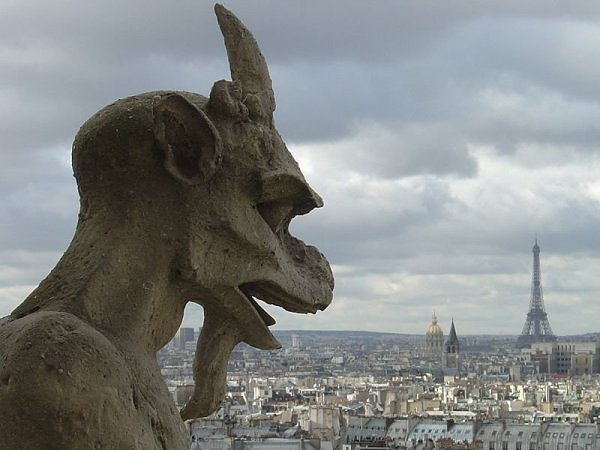 The Groove
Saturday April 20th, 2019 with Elorious Cain
HUNCHBACK OF NOTRE DAME
Due to tragic recent events in Paris, Victor Hugo's 188-year-old book The Hunchback of Notre-Dame has ascended the bestseller list in France: One of many examples of the cultural significance of Notre-Dame. We happily begin with the legendary ALEC R. CONSTANDINOS' epic HUNCHBACK OF NOTRE DAME concept album, in it's glorious entirety! Only we insist upon filling the whole show with breathtaking ALEC R. COSTANDINOS compositions and productions, including "Judas Iscariot" from the SPHINX album!
THE POPE OF FOOLS
ALEC R. CONSTANDINOS AND THE SYNCOPHONIC ORCHESTRA - THE HUNCHBACK OF NOTRE DAME (LP) - CASABLANCA
LA ESMERALDA
ALEC R. CONSTANDINOS AND THE SYNCOPHONIC ORCHESTRA - THE HUNCHBACK OF NOTRE DAME (LP) - CASABLANCA
THE INCONVENIENCES OF FOLLOWING A PRETTY GIRL IN THE STREETS AT NIGHT
ALEC R. CONSTANDINOS AND THE SYNCOPHONIC ORCHESTRA - THE HUNCHBACK OF NOTRE DAME (LP) - CASABLANCA
PHOEBUS
ALEC R. CONSTANDINOS AND THE SYNCOPHONIC ORCHESTRA - THE HUNCHBACK OF NOTRE DAME (LP) - CASABLANCA
YOU ARE ACCUSED BEFORE US...
ALEC R. CONSTANDINOS AND THE SYNCOPHONIC ORCHESTRA - THE HUNCHBACK OF NOTRE DAME (LP) - CASABLANCA
THE COURT OF MIRACLES
ALEC R. CONSTANDINOS AND THE SYNCOPHONIC ORCHESTRA - THE HUNCHBACK OF NOTRE DAME (LP) - CASABLANCA
NOTRE-DAME
ALEC R. CONSTANDINOS AND THE SYNCOPHONIC ORCHESTRA - THE HUNCHBACK OF NOTRE DAME (LP) - CASABLANCA
PHOEBUS AND ESMERALDA
ALEC R. CONSTANDINOS AND THE SYNCOPHONIC ORCHESTRA - THE HUNCHBACK OF NOTRE DAME (LP) - CASABLANCA
GRINGOIRE AND THE DUKE OF EGYPT
ALEC R. CONSTANDINOS AND THE SYNCOPHONIC ORCHESTRA - THE HUNCHBACK OF NOTRE DAME (LP) - CASABLANCA
DOM CLAUDE'S CONFESSION
ALEC R. CONSTANDINOS AND THE SYNCOPHONIC ORCHESTRA - THE HUNCHBACK OF NOTRE DAME (LP) - CASABLANCA
THE ATTACK
ALEC R. CONSTANDINOS AND THE SYNCOPHONIC ORCHESTRA - THE HUNCHBACK OF NOTRE DAME (LP) - CASABLANCA
QUASIMODO'S MARRIAGE
ALEC R. CONSTANDINOS AND THE SYNCOPHONIC ORCHESTRA - THE HUNCHBACK OF NOTRE DAME (LP) - CASABLANCA
JUDAS ISCARIOT
SPHINX - JUDAS (LP) - RAAL/POLYDOR
ELOISE
PARIS CONNECTION - 16e. Arrt. (LP) - RCA VICTOR
K'S THEME
PARIS CONNECTION - 16e. Arrt. (LP) - RCA VICTOR
ELOISE (REPRISE)
PARIS CONNECTION - 16e. Arrt. (LP) - RCA VICTOR
ROMEO & JULIET ACTS I & II
ALEC R. CONSTANDINOS AND THE SYNCOPHONIC ORCHESTRA - ROMEO & JULIET (LP) - IBIS/RCA VICTOR
I'VE FOUND LOVE (NOW THAT I'VE FOUND YOU)
LOVE & KISSES - LOVE & KISSES (LP) - BARCLAY
WINDS OF CHANGE
ALEC R. CONSTANDINOS - WINDS OF CHANGE - A MUSICAL FANTASY - MUSIC FROM THE ORIGINAL MOTION PICTURE SOUNDTRACK (LP) - CASABLANCA
ACCIDENTAL LOVER
LOVE & KISSES - LOVE & KISSES (LP) - BARCLAY
IGNITION
SYNCOPHONIC ORCHESTRA - COLUMBIA SYMPHONIE SPATALE (LP) - POLYDOR