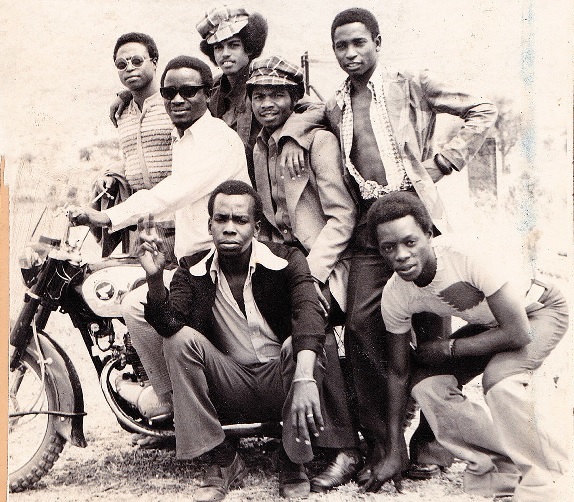 The Groove
Saturday February 2nd, 2019 with Afrobrat aka Teknobrat
'AFRIKA RETRO VIBRATIONZ'
'AFRIKA RETRO VIBRATIONZ' Many would argue that the first styles of disco music came from 3 Islands of CUBA, HISPANIOLA & JAMAICA in the Caribbean, This is not entirely false but not true either as many of the precursors styles of the disco sub genre came from Western & Central African countries such as Senegal, Mauritania, Mali, Chad, Ivory Coast, Ghana, Nigeria and the Congo's. In the first hour we explore this with retro recordings from the 1950's and early 1960's and the second hour we move up to the evolution of that sound in the 1970s and 1980s of the mentioned countries, Enjoy this trip into time and space of the motherland of Disco Music "AFRICA" Cheers Afrobrat !!!
Esengo ya mokili
De Wayon - African Memories - Pathé ‎
Ah, ngai nzambe
Luyeye Gaston - African Memories - Pathé ‎
Malekaki na nzela
De Wayon - African Memories - Pathé ‎
Na mokili moko te
Kalima Pierre - African Memories - Pathé ‎
Kitoko na yo ekosaki ngai
Kalafayi - African Memories - Pathé ‎
Odjali na mouchoir
Kitenge - African Memories - Pathé ‎
Mam'alobi na bala
Bowane - African Memories - Pathé ‎
Tika lofundu
Kalima Pierre - African Memories - Pathé ‎
Ménagère
Lisanga Pauline - African Memories - Pathé ‎
Noko akomi mobali
Adikwa - African Memories - Pathé ‎
Angélique
Luyeye Gaston - African Memories - Pathé ‎
Towuti brazza toye kisasa
De Malo - African Memories - Pathé ‎
Nyekese
De Wayon - African Memories - Pathé ‎
Margarine fina
Tino Mab - African Memories - Pathé ‎
Nyokuma
Bowane - African Memories - Pathé ‎
Tembe na tembe
Liengo - African Memories - Pathé ‎
Belito
Amba Joséphine - African Memories - Pathé ‎
Prince Baudoin
Lufungola Alphonse - African Memories - Pathé ‎
Mazole vanga sanga
Bokalanga - African Memories - Pathé ‎
Aliou gori-mami
Badou Jobe - Golden Afrique, Vol. 1 - Network Medien
Autorail
Orchestra Baobab - Golden Afrique, Vol. 1 - Network Medien
Yaye boye
Idy Diop - Golden Afrique, Vol. 1 - Network Medien
N'Toman
Les Ambassadeurs Internationales Feat. Salif Keita - Golden Afrique, Vol. 1 - Network Medien
Warteef jiggeen
Laaye N'Gom - Golden Afrique, Vol. 1 - Network Medien
Yaye Boye
Number One De Dakar - Golden Afrique, Vol. 1 - Network Medien
Amie
Bébé Manga - Golden Afrique, Vol. 1 - Network Medien
Beni Haminanko
Ousmane Kouyaté - Golden Afrique, Vol. 1 - Network Medien
Lonlon Nyeku
Franco De Mi Amor - Golden Afrique, Vol. 1 - Network Medien
Bolola Sanou
Les Ambassadeurs Internationales Feat. Salif Keita - Golden Afrique, Vol. 1 - Network Medien
Dissan Na M'bera ("Suur Di No Pubis")
Super Mama Djombo - Golden Afrique, Vol. 1 - Network Medien
Samba
Sonia Diabate - Golden Afrique, Vol. 1 - Network Medien
Dis-Moi La Vérité
Sory Bamba Du Mali - Golden Afrique, Vol. 1 - Network Medien
Malouyame
Miriam Makeba - Golden Afrique, Vol. 1 - Network Medien
Paulette
Balla Et Ses Balladins - Golden Afrique, Vol. 1 - Network Medien