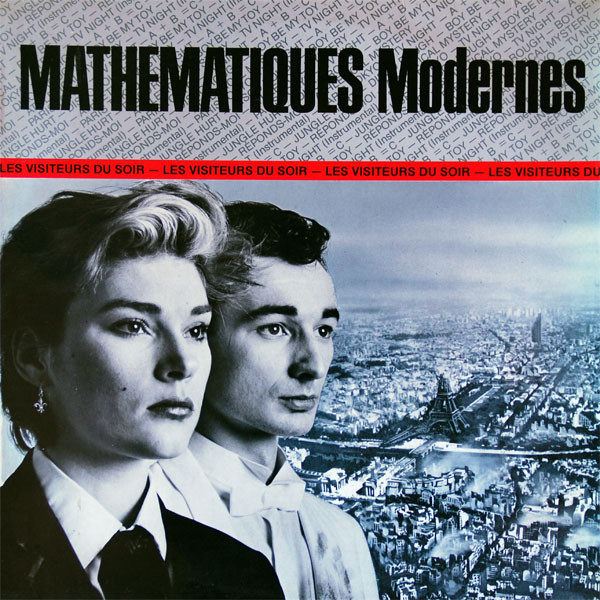 The Groove
Saturday July 7th, 2018 with Elorious Cain
Women of the New Wave
Here is a sample of some of the female vocalists who greatly contributed to the intrigue of what was often referred to as the New Wave. We are concentrating on those participating in the Electronic Disco of the early 1980's classified as "METAMORPHIC EURODISCO" along with early SYNTH-POP and mostly New York City and British singers involved with POST PUNK movements whom have left their marks on Mondo Disco.
E. S. G.

RENEE, VALERIE, and MARIE SCROGGINS; three brilliant sisters from the Bronx in New York formed E.S.G. - a group often classified as Art Funk. The 7" we are programming was produced by MARTIN HANNETT for the legendary Factory label.
YOU'RE NO GOOD
E.S.G. - 7" - FACTORY
THE SLITS

Not you're typical girls group, the British Feminist punk band THE SLITS released an extended player in 1979 that was very popular in discos. It contained a raw dubdisco cover-version of Marvin Gaye's "HEARD IT THROUGH THE GRAPEVINE" featuring the naked vocals of ARIANNA FOSTER or "ARI-UP".
HEARD IT THROUGH THE GRAPEVINE
THE SLITS - TYPICAL GIRLS (EP) - ISLAND (3.55)
LIZZY MERCIER DESCLOUX (1956 - 2004)

Paris punker LIZZY MERCIER DESCLOUX, together with her partner MICHEL ESTEBAN, established one of France's most influential punk stores and started the punk magazine 'Rock News' during the late 1970's before moving to New York City. Stateside, Esteban hooked up with MICHAEL ZILKHA and co-founded the legendary Z.E. label which would release a series of amazing Post Punk experiments. Naturally Lizzy was very much involved with the label where she recorded with two groups: ROSA YEMEN with D.J. BANES - a minimalist punk act, and the AURAL EXCITERS.
FUNKY STUFF
LIZZY MERCIER DESCLOUX - MAMBO NASSAU (LP) - PHILIPS
BACKFIRED
DEBBIE HARRY - 12" - CHRYSALIS
NINA HAGEN

By far the most colorful figure in the New Wave, German singer NINA HAGEN gained international recognition with two NINA HAGEN BAND lps in 1978 and 1979. UNBEHAGEN - the second of which contained a German language version of the LENE LOVICH hit "LUCKY NUMBER". That cover; renamed "WIR LEBEN IMMER... NOCH", created a tremendous amount of excitement. For as many, like myself, who thought it to be amazing and spectacular, there were plenty of others who thought it to be obnoxious and overdone. Never in the history of disco had a cover-version created so much controversy. It fed the popularity of it and NINA HAGEN herself. She would release numerous successful records. Until the release of her 1991 lp STREET most of the NINA HAGEN material was principally programmed by INDUSTRIAL dj's. Produced by ZEUS B. HELD of ROCKETS and GINA X PERFORMANCE fame, STREET contained HOUSE MUSIC.
NEW YORK NEW YORK (GERMAN VERSION)
NINA HAGEN - NEW YORK NEW YORK (EP) - COLUMBIA
ZARAH
NINA HAGEN - NEW YORK NEW YORK (EP) - COLUMBIA
EDWIGE BRAUN-BELMORE (1957 - 2015)

Paris based punk model EDWIGE BRAUN-BELMORE had gained a reputation as an effective door manager for the Paris night club La Palace when she founded the group MATHEMATIQUES MODERNES with Claude Arto. The cover of their LES VISITEURS DE SOIR lp is featured on this playlist! We feature their 1980 smash hit "DISCO ROUGH".
Edwige would relocate first to New York and eventually Miami, Florida presenting performance art and cabaret shows. She was also the vocalist for a HOUSE MUSIC single by ROBERT AARON in 1994.
DISCO ROUGH
MATHEMATIQUES MODERNES - 12" - DORION
MELONARPO
KRISMA - CLANDESTINE ANTICIPATION (LP) - CDG
ANNE CLARK

British poetess ANNE CLARK used spoken word over the electronics of DAVID HARROW and became very popular in the early 1980's with hits like "Our Darkness":
OUR DARKNESS
ANNE CLARK - RED HOT RE-ISSUES (LP) - RED HOT ISSUES
LYN TODD (1956 - 2010)

LYN TODD was a singer with the New York City punk band PEROXIDE who recorded a principally electronic disco album with producer BOBBY ORLANDO. Containing some rock cover-versions sung with a punker style over electronic beats, the LYN TODD album was especially popular in "alternative discos" in Scandinavian markets. Musicians on the lp included keyboardist Mamie Frances and guitarist Geoff Lipp. Both of them were also members of PEROXIDE along with Lyn and other New York punk bands like NOW and ARTHUR'S DILEMMA.
Lyn would continue performing punk in New York and eventually Las Vegas, Nevada.
REBEL REBEL
LYN TODD - LYN TODD (LP) - VANGUARD
MONA SOYOC

American born Jazz singer and musician MONA SOYOC quickly became popular singer in the underground French disco music market in 1981 with the release of the first KAS PROJECT album "TRY OUT". She remains active in the French music.
BREAKLOOSE
KAS PROJECT - TRY OUT (LP) - RCA
BARBI AND THE KENS

Very little is know about the singer BARBI DOLL of the New York band BARBI AND THE KENS. After producing the LYN TODD album for Vanguard Records, gay disco producer BOBBY ORLANDO established his own label "O" Records and a mini 7" LP of BARBI AND THE KENS was released in 1980. It contained the song "jUST A GIGOLO" which would be remixed in 1981 by RENE HEDEMYRE for the Swedish label Tramps.
JUST A GIGOLO
BARBI AND THE KENS - 12" - TRAMPS
NEVER SAY NEVER
ROMEOVOID - 12" - 415
MY BOY LOLLIPOP
AURAL EXCITERS - 12" - ZE
LENE LOVICH

After the incredible success of her song "LUCKY NUMBER" in 1979, American born LENE LOVICH rapidly became a major figure in the U.K. New Wave scene inspiring new talent throughout the western world with five albums and numerous singles; much of which were played in discotheques in North America and Europe. She also wrote lyrics for CERRONE for "THE COLLECTOR" and the legendary "SUPERNATURE"; the latter was recorded and released prior to "LUCKY NUMBER" in 1978. Very few Eurodisco songs have had as much of an imprint on popular culture as "SUPERNATURE". Not only is it the most frequently remixed Cerrone hit but LENE LOVICH did her own version found on WaxTrax's ANIMAL LIBERATION compilation for P.E.T.A. Her interest in animal rights that probably inspired "SUPERNATURE" was still very evident with "DON'T KILL THE ANIMALS" which she recorded with NINA HAGEN in 1986; also included in that ANIMAL LIBERATION lp.
LUCKY NUMBER
LENE LOVICH - STATELESS (LP) - STIFF-EPIC
WIR LEBEN IMMER NOCH
NINA HAGEN - UNBEHAGEN (LP) - CBS
SO YOUNG BUT SO COLD
KAS PROJECT - TRY OUT (LP) - RCA
BE A BOY
GINA X PERFORMANCE - NICE MOVER (LP) - CRYSTAL
SEE THOSE EYES
ALTERED IMAGES - 12" - EPIC
EXOTIKA (REMIX)
CHRIS & COSEY - 12" - NETTWERK
DO IT YOURSELF
GINA X PERFORMANCE - X-TRAORDINAIRE (LP) - RIO
FIRE
LIZZY MERCIER DESCLOUX - 12" - PHILIPS
BARDI BLAISE

BARDI BLAISE was, for the purposes of one Dindisc record, a pseudonym for British Pop singer BEVERLY BYRD. That single was the racy synth-pop spoof "TRANS SIBERIAN EXPRESS" produced by her partner TONY WOOD.
TRANS SIBERIAN EXPRESS
BARDI BLAISE - 7" - DINDISC (3.40)
SUPERNATURE
LENE LOVICH - ANIMAL LIBERATION (LP) - WAXTRAX
STILL YOU
JUSTINE AND THE VICTORIAN PUNKS - 12" - COLETTE IS DEAD CO. LTD.
MISSION IMPOSSIBLE
LIZZY MERCIER DESCLOUX - 12" - PHILIPS
MISSION IMPOSSIBLE
LIZZY MERCIER DESCLOUX - PRESS COLOR (LP) - ZE
CIAO CARUSO
GINA X PERFORMANCE - X-TRAORDINAIRE (LP) - RIO