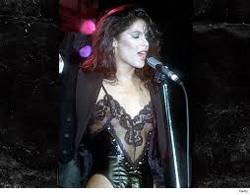 The Groove
Saturday February 20th, 2016 with ELORIOUS CAIN
DENISE KATRINA MATTHEWS (January 4, 1959 – February 15, 2016)----------------- + A BLACKHISTORYMONTH SPOTLIGHT: THE FIRST FEMALE RAPPERS
Once again on a very sad note we start a BLACK HISTORY MONTH episode with news of the passing of DENISE KATRINA MATTHEWS, most often remembered as the Funk singer VANITY. She was only 57, way too young to die! She was a protege of PRINCE and the lead vocalist of the controversial VANITY 6 group. Even after parting from PRINCE, VANITY continued releasing albums for Motown records with hits like "Under The Influence". ------------------------------------------------------- THE FIRST FEMALE RAPPERS Today their is rich variety of female rappers. We find it important for BLACKHISTORYMONTH to highlight some of the amazing first female rappers who paved their way starting right back to very beginnings of RAP and HIPHOP. Although we begin with the very first female rapper - M.C. SHA-ROCK, this is not programmed in any chronological order. We do introduce some of the pioneers with brief descriptions on the playlist:
We offer a brief celebration of the limited contribution of the Canadian born singer DENISE KATRINA MATTHEWS when she was using the name VANITY.
NASTY GIRL (ANDREW STARR & MARKUS "THE SLICE" SCHULTZ MIX)
VANITY 6 - POWER HOUSE ISSUE 10 (LP) - POWER HOUSE

UNDER THE INFLUENCE
VANITY - SKIN ON SKIN (LP) - MOTOWN

---------------------------------------------------------------------
We now continue with the promised BLACKHISTORYMONTH SPOTLIGHT: THE FIRST FEMALE RAPPERS!
--------------------------------------------------------------------

MC SHA-ROCK

SHARON GREEN or MC SHA-ROCK was, as far as we know, the first female rapper. She was a member of the early RAP group FUNKY FOUR PLUS ONE. Last week we featured their 1979 record "Rappin' And Rocking The House". Just for the sake of variety we offer their 1980 single "That's The Joint". Today she's the National Advisor for the Cornell University Hip-Hop Library.
THAT'S THE JOINT
FUNKY FOUR PLUS ONE MORE - 12" - SUGARHILL
LADY B

WENDY CLARK or LADY B is the first female rapper with her own record "To The Beat Ya'll" back in 1979. She went into radio becoming one of the most influential promoters of HIP HOP in America boosting the careers of countless acts.
TO THE BEAT YA'LL
LADY B - 12" - TEC
THE SEQUENCE

THE SEQUENCE was the first female rap group that enjoyed considerable success with "Funk You Up" in 1979. They came from Columbia, South Carolina. Members included ANGIE BROWN STONE, CHERYL COOK, and GWENDOLYN CHISOLM.
FUNK YOU UP
THE SEQUENCE - 12" - QUALITY
ORANGE CRUSH

This group is something of a mystery to me. Released in 1982, and featuring an unnamed female rapper, their track "Action" has been sampled by artists like DR. DRE & MICHELLE in the song "Nicety"
ACTION
ORANGE CRUSH - 12" - MERCURY
PAULETT and TANYA WINLEY

PAULETT and TANYA are daughters of PAUL WINLEY (as in PAUL WINLEY RECORDS). They enjoyed success in 1979 with "Rhymin' and Rappin'. TANYA WINLEY would continue rapping solo. These New York rappers are considered to be legendary.
RHYMIN' AND RAPPIN'
PAULETT and TANYA WINLEY with HARLEM UNDERGROUND BAND - 12" - PAUL WINLEY
VICIOUS RAP
TANYA - SWEET TEE - WINLEY - 12" - PAUL WINLEY
MC LYTE

LANA MICHELE MOORER or MC LYTE has often been described as one of the greatest pioneers of female rap. Hailing from Brooklyn, she's the first female rapper to directly point out the sexism and misogyny in hip-hop in her songs.
PAPER THIN
MC LYTE - 12" - FIRST PRIORITY MUSIC
BESIDE

MDE ZEKRI or BESIDE provided the french version of the very first FRENCH RAP record "Une Sale Histoire" in the late 1981. She was also credited as 'Fab 5 Betty' on the earliest pressings of the vinyl.
UNE SALE HISTOIRE (FEMALE VERSION)
FAB-5-FREDDY (featuring BESIDE) - 12" - DISC AZ
COLD ROCK A PARTY (BAD BOY REMIX)
MC LYTE featuring MISSY ELLIOT - youtube
SWEET TEE

TOI JACKSON is SWEET TEE. She should not be confused with TANYA - SWEET TEE - WINLEY featured earlier.
IT'S MY BEAT
SWEET TEE & JAZZY JOYCE - 12" - PROFILE
MR. BIG STUFF
QUEEN LATIFAH - youtube
SALT-N-PEPA

Often incorrectly identified as the first all female Rap group, SALT-N-PEPA consisted of Cheryl James (Salt), Sandra Denton (Pepa), and Deidra Roper (DJ Spinderella). Their influence on various artists throughout the different genres of 'mondo disco' has immense. Their hit "Push It" is still played in discotheques and on radio stations to this day.
I'LL TAKE YOUR MAN
SALT-N-PEPA - HOT COOL & VICIOUS (LP) - NEXT PLATEAU
THE REAL ROXANNE
THE REAL ROXANNE - youtube
ROXANNE'S REVENGE
ROXANNE SHANTE - youtube
PUSH IT
SALT-N-PEPA - 12" - FFRR
QUEEN LATIFAH

DANA ELAINE OWENS or QUEEN LATIFAH has risen from HIPHOP to a career in movies and television. She was already considered to be a reigning feature in the female rapper world.
PRINCESS OF THE POSSE
QUEEN LATIFAH - youtube