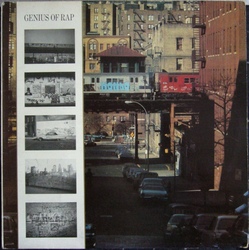 The Groove
Saturday February 13th, 2016 with ELORIOUS CAIN
A BLACKHISTORYMONTH SPOTLIGHT: RAP (BEFORE HIPHOP) & RELATED FUNK
For Black History Month we zap back to the beginnings of rap before the innovations of Hip Hop began to spread and influence mondo disco everywhere. This is not a complete selection of the artists from the period from 1979 to 1984, yet it gives you a sizeable sample of a sound in Rap that has all but disappeared. Included are some Funk selections from artists like The Gap Band, Lenny White and the Tom Tom Club that had a contributing role to the emerging scene.
OOPS UP SIDE YOUR HEAD
THE GAP BAND - youtube
TWENNYNINE (THE RAP)
TWENNYNINE with LENNY WHITE - JUST LIKE DREAMIN' (LP) - ELEKTRA
CATCH THE BEAT!
T SKY VALLEY - GENIUS OF RAP (2LP) - ISLAND
GENIUS RAP
DR. JECKYLL & MR. HYDE - GENIUS OF RAP (2LP) - ISLAND
RAPPA RAPPA RHYTHM
TOM TOM CLUB - GENIUS OF RAP (2LP) - ISLAND
THE BIG THROWDOWN
SOUTH BRONX - 12" - BRUNSWICK
YA MAMA
WUF TICKET - 12" - PRELUDE
THE BREAKS
KURTIS BLOW - 12" - MERCURY
DUBLE DUTCH BUS
FRANKIE SMITH - 12" - WMOT
RHYTHM RAP ROCK
COUNT COOLOUT - 12" - BOSS
SPOONIE RAP
SPOONIE GEE - 12" - HARLEM PLACE
KING TIM III (PERSONALITY JOCK)
FATBACK (featuring KING TIM III) - 12" - SPRING
CHARLEY SAYS! (ROLLER BOOGIE BABY)
KING TIM III - 12" - SPRING
RAPPER'S DELIGHT
SUGARHILL GANG - 12" - SUGARHILL
RAPPIN' AND ROCKING THE HOUSE
FUNKY FOUR PLUS ONE MORE - 12" - ENJOY
FUNK YOU UP
THE SEQUENCE - youtube
RAP-O CLAP-O
JOE BATAAN and his MESTIZO BAND - MESTIZO (LP) - SALSOUL