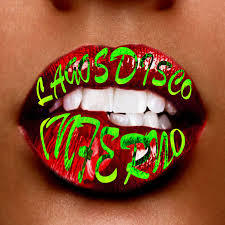 The Groove
Saturday December 5th, 2015 with ELORIOUS CAIN
Africans doing western Disco in the 1970's and 1980's
This show is just a sampling of hundreds of talented African singers, musicians and producers that recorded their unique contributions to the expanding fusion of standardized DISCO. Some, like BLACK SOUL and OZILA, were recording in Europe while others recorded in NIGERIA, KENYA, SOUTH AFRICA and UNITED STATES. Very early in the 1970's boom there was a vibrant AFRICAN DISCO genre supporting specialized labels in NEW YORK CITY, PARIS and LAGOS. The profound influence of the supergroup OSIBISA and the legendary MANU DIBANGO impacted that.
OJAH AWAKE
OSIBISA - OJAH AWAKE (LP) - BRONZE
BASKEDA (live recording)
AFRICA DJOLE - PERCUSSION MUSIC FROM AFRICA (LP) - FMP
GROOVE THE FUNK
AKTION - GROOVE THE FUNK (LP) - CLOVER SOUND
MAGIC WOMAN
BLACK SOUL - BRASIL AFRICA (LP) - VOGUE
DON'T PUT ME DOWN
POGO LTD. - LAGOS DISCO INFERNO (2LP) - ACADEMYLPS
MANGOUS YE (TOM MOULTON mix)
BLACK SOUL - 12" - BEAM JUNCTION
SET MY SOUL ON FIRE
JO BISSO - DISCO AMOUR, TONIGHT (LP) - MAKOSSA
EL HOMBRECITO
BLACK SOUL - BRASIL AFRICA (LP) - VOGUE
OZILA 2001
OZILA - OZILA2001 (LP) - VOGUE
KEEP ON DANCING
KIKI GYAN - 24 HOURS IN A DISCO 1978-82 (2LP) - SOUNDWAY
24 HOURS IN A DISCO
KIKI GYAN - 24 HOURS IN A DISCO 1978-82 (2LP) - SOUNDWAY
MY MAN
VENISE - THE BEST DISCO IN THE CITY (LP) - QUALITY
PRETTY PRETTY GIRLS
THE TWINS - 24 HOURS IN A DISCO 1978-82 (2LP) - SOUNDWAY
MOTEMA PASI
ABETI - VISAGES (LP) - BBX PRODUCTIONS
HANG ON
NANA LOVE - HANG ON (LP) - TARETONE
DISCO TRAIN
K.G. BAND - 24 HOURS IN A DISCO 1978-82 (2LP) - SOUNDWAY
THE AFRICAN TIME TRAVEL DISCO ANTHEM MIX

--------------------------------------------
BLACK BROTHERS (TOM MOULTON MIX)
BLACK SOUL - 12" - BEAM JUNCTION
BLACK SOUL MUSIC
BLACK SOUL - BRASIL AFRICA (LP) - VOGUE
YE KE YE KE (extended mix)
MORY KANTE - 12" - LONDON
TAMA (gold coast remix by HOWARD GRAY)
MORY KANTE - 12" - LONDON
OH CIOLILI
ZANGA ZANGA - 12" - JONATHAN
SOUL MAKOSSA
MANU DIBANGO - SOUL MAKOSSA (LP) - ATLANTIC
HEAVY, HEAVY, HEAVY
GERALDO PINO - 7" - SUZUMI