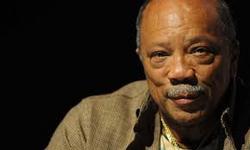 The Groove
Saturday February 28th, 2015 with ELORIOUS CAIN
BLACK HISTORY MONTH CELEBRATION: QUINCY JONES
This is the second of a three part series featuring African-American Jazz Musicians that have contributed greatly to the advancement of the Disco medium and music. Quincy Jones & His Band enjoyed tremendous success in 1962 with the jazz bossa nova instrumental "SOUL BOSSA NOVA" that was played in discos throughout Europe and South America. It is still an instantly recognizable slice of international pop culture that is programmed in dance academies and schools everywhere. Quincy Jones' influence on disco surely didn't stop there! With years of recording motion picture and television themes and soundtracks along with his own patient and generous Contemporary Jazz and Jazz Funk, Quincy Jones was further celebrated as a production perfectionist. His collaborations with the likes of Ashford & Simpson, Patti Austin, Minnie Riperton, Barry White, Donna Summer, Frank Sinatra and James Ingram are legendary. Classic examples include the motion picture soundtrack of "The Wiz" and his generous production of Donna Summer's emmancipation of the remarkable Jon & Vangelis song "STATE OF INDEPENDENCE"! Quincy Jones may possibly be most remembered and studied for his monumental work with the late Michael Jackson. The one subject of awe is his production of Jackson's THRILLER lp which would become one of the most popular records ever recorded. Quincy Jones managed to complement Michael Jackson's genius with a product that became one of the most influential and powerful Disco records of all time. The effects of the THRILLER lp are still being felt in various parts of the planet after profoundly influencing Zouk and Bollywood artists just to identify two genres among hundreds!
SOUL BOSSA NOVA
QUINCY JONES & HIS BAND - BIG BAND BOSSA NOVA (LP) - MERCURY
HICKY BURR
QUINCY JONES - SMACKWATER JACK (LP) - A&M
"SANFORD & SON THEME"-NBC-TV (THE STREETBEATER)
QUINCY JONES - 7" - A&M
IF I EVER LOSE THIS HEAVEN
QUINCY JONES featuring LEON WARE & MINNIE RIPERTON - BODY HEAT (LP) - A&M
WHAT GOOD IS A SONG
QUINCY JONES - I HEARD THAT (LP) - A&M
SECRET GARDEN (SWEET SEDUCTION SUITE 2)
QUINCY JONES featuring BARRY WHITE & EL DEBARGE - 12" - QWEST
SUMMER IN THE CITY
QUINCY JONES - youtube
TELL ME A BEDTIME STORY
QUINCY JONES - SOUNDS.. AND STUFF LIKE THAT (LP) - A&M
STUFF LIKE THAT
QUINCY JONES - SOUNDS.. AND STUFF LIKE THAT (LP) - A&M
RAZZAMATAZZ
QUINCY JONES featuring PATTI AUSTIN - 12" - A&M
BECTHA' WOULDN'T HURT ME
QUINCY JONES featuring PATTI AUSTIN - 12" - A&M
AI NO CORRIDA
QUINCY JONES - youtube
QUINCY JONES PRODUCING MICHAEL JACKSON
______________________________________
EASE ON DOWN THE ROAD 1
MICHAEL JACKSON & DIANA ROSS - THE WIZ - ORIGINAL MOTION PICTURE SOUNDTRACK (2LP) - MCA/MOTOWN
WORKING DAY AND NIGHT
MICHAEL JACKSON - OFF THE WALL (LP) - EPIC
ROCK WITH YOU (JAPAN EXTENDED EDIT)
MICHAEL JACKSON - 12" - EPIC
DON'T STOP 'TILL YOU GET ENOUGH
MICHAEL JACKSON - OFF THE WALL (LP) - EPIC
WANNA BE STARTIN' SOMETHING
MICHAEL JACKSON - THRILLER (LP) - EPIC
BEAT IT
MICHAEL JACKSON - THRILLER (LP) - EPIC
THRILLER
MICHAEL JACKSON - THRILLER (LP) - EPIC
BILLIE JEAN
MICHAEL JACKSON - THRILLER (LP) - EPIC
BAD
MICHAEL JACKSON - youtube
QUINCY JONES PRODUCING DONNA SUMMER
___________________________________
LOVE IS IN CONTROL (FINGER ON THE TRIGGER)
DONNA SUMMER - youtube
STATE OF INDEPENDENCE
DONNA SUMMER - youtube