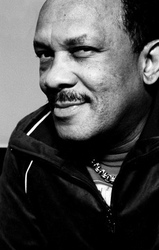 The Groove
Saturday February 21st, 2015 with ELORIOUS CAIN
BLACK HISTORY MONTH CELEBRATION: ROY AYERS
This is the first of a three part series featuring the music and productions of African-American Jazz musicians that have contributed greatly to the advancement of the Disco medium and music. Roy Ayers offered a rich selection of Jazz Funk standards before recording widely acclaimed American Disco classics. As a vibraphone player he is almost magical. Roy Ayers would also record with Nigeria's legendary Fela Kuti. He would continue to experiment with Afrobeat: incredible activity foreshadowing so much to come! Afrobeat continues to become one of the most international of the African genres. With the collapse of the American Disco industry, Ayers would continue to record with artists and producers making new genres of disco like House Music, Acid Jazz, Hip Hop and Nujazz. These various collaborations have been remarkable and highly influential to new generations of musicians and producers!
EVERYBODY LOVES THE SUNSINE
ROY AYERS featuring ERYKAH BADU - youtube
LILS PARADISE
ROY AYERS - STONED SOUL PICNIC (LP) - ATLANTIC
WARM VIBES
ROY AYERS - youtube
LIQUID LOVE
ROY AYERS - VIRGIN UBIQUITY II: UNRELEASED RECORDINGS 1976-1981 (3LP) - RAPSTER
THE THIRD EYE
ROY AYERS - AFRICA - CENTER OF THE WORLD (LP) - POLYDOR
MYSTERY OF LOVE
ROY AYERS - youtube
I AM YOUR MIND PT. 2
ROY AYERS - VIRGIN UBIQUITY II: UNRELEASED RECORDINGS 1976-1981 (3LP) - RAPSTER
E FUNK
ROY AYERS - youtube
FUNK IN THE HOLE
ROY AYERS - VIRGIN UBIQUITY II: UNRELEASED RECORDINGS 1976-1981 (3LP) - RAPSTER
WE LIVE IN BROOKLYN, BABY
ROY AYERS UBIQUITY - HE'S COMING (LP) - POLYDOR
COFFY IS THE COLOR
ROY AYERS - ORIGINAL MOTION PICTURE SOUNTRACK "COFFY" (LP) - POLYDOR
ARAGON
ROY AYERS - ORIGINAL MOTION PICTURE SOUNTRACK "COFFY" (LP) - POLYDOR
EVOLUTION
ROY AYERS UBIQUITY - MYSTIC VOYAGE (LP) - POLYDOR
OUR TIME IS COMING (JAZZANOVA'S GUESTLIST MIX)
MASTERS AT WORK featuring ROY AYERS - JAZZANOVA ‎– THE REMIXES 2002-2005 (3LP) - SONAR KOLLEKTIV
GET UP, GET DOWN
FISHBELLY BLACK with ROY AYERS - STREET JAZZ VOLUME 1 - LONDON KILLS ME (2LP) - STEP2
GET ON UP, GET ON DOWN
ROY AYERS - 12" - POLYDOR
RUNNING AWAY
ROY AYERS - STEPPIN' OUT - DISCO'S GREATEST HITS (2LP) - POLYDOR
DON'T LET OUR LOVE SLIP AWAY
ROY AYERS - NO STRANGER TO LOVE (LP) - POLYDOR
TARZAN (AME REMIX)
ROY AYERS - VIRGIN UBIQUITY REMIXED EP 4 (2EP) - RAPSTER
SWEET TEARS
ROY AYERS - LET'S DO IT (LP) - POLYDOR
SWEET TEARS
NUYORICAN SOUL featuring ROY AYERS - NUYORICAN SOUL (4LP) - GIANT STEP
DANGEROUS VIBES (GROOVE GARDEN MIX)
FERRY ULTRA featuring ROY AYERS - 12" - PEPPERMINT JAM
I AM YOUR MIND (PEPE BRADOCK'S ASYNCHRONOUS ADVENTURES)
ROY AYERS - youtube
AFRICA, CENTER OF THE WORLD
FELA ANIKULAPO KUTI and ROY AYERS - MUSIC OF MANY COLOURS (LP)