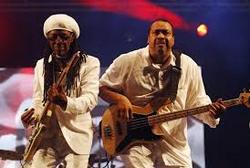 The Groove
Saturday February 8th, 2014 with ELORIOUS CAIN
2014 BLACK HISTORY MONTH SPOTLIGHT ON CHIC AND THE PRODUCTIONS AND INFLUENCE OF NILE RODGERS AND BERNARD EDWARDS
C H I C _________ In New York City during the early 1970's the whole DISCO scene was exploding and booming with demanding and unforgettable AMERICAN DISCO hits and discotheque standards! During these exciting days a small group called THE BIG APPLE BAND struggled for exposure and a recording contract. That band included two incredible musicians: NILE RODGERS and BERNARD EDWARDS. They would create a new group called CHIC. Nobody hearing CHIC lacquer promos in certain Manhattan clubs in 1976 could imagine that they would become one of the most influential AMERICAN DISCO acts of all time! Those lacquer test pressings had the song "Everybody Dance" which would end up on the first CHIC lp along with the band's first major hit "Dance Dance Dance (Yowsah, Yowsah, Yowsah)" - both uptempo standard disco bouncers that dominated the programs of many American clubs. In the 1977 it was hard not to hear "Dance Dance Dance" if you went out dancing in any disco in the United States or Canada. CHIC would return with a second lp "C'EST CHIC" in 1978 with a throwback to the combustible DISCO FUNK of earlier acts like GARY TOMS EMPIRE and WILD CHERRY called "Le Freak". CHIC's "Le Freak" was far more sharper. After demanding one's attention it slipped into a cool. It established CHIC as immediate champions of a new sophisticated discofunk foreshadowing a major shift in the direction of much of the AMERICAN DISCO industry. "Le Freak" became their biggest hit of all time, influencing EURODISCO and ZOUK acts while slipping into the musical subconscious of billions. Only a small handful of disco artists have ever achieved that. With all of the success of the first two albums, the most influencial CHIC material would come out in 1979. The song "Good Times" was classic sophisticated FUNK with all of the charms of any good disco anthemn but it changed much of the tone of American popular music of the time. The immense success of "Good Times" started a chain reaction that paved the way for a new era of "cool funk". Dozens of bands that were producing standard disco began to experiment with a slower and funkier sound. Take New York's celebrated ODYSSEY whose marvelous "Native New Yorker" was known worldwide - compare it to their "Don't Tell Me, Tell Her" to give one of many examples of a major shift in tempo and direction. Even a myriad of Funk groups shifted to a cooler and more sophisticated sound. Radio stations throughout the United States that had exploited the popularity of standard disco slowly moved to a comparable sound. The actual structure of "Good Times" was, in the classic tradition of disco production, copied and imitated by hundreds of acts. VAUGHAN MASON and CREW's "Bounce Rock Skate Roll" is probably the most popular example. "Good Times" became one of those timeless grooves that was not to be forgotten or underestimated. "Good Times" was also the musical base of the first successful Rap record by THE SUGARHILL GANG called "Rapper's Delight". The influence of CHIC would not only touch the developing Hip Hop industry but also continue to influence other newer genres of Disco like Acid Jazz, Triphop and Moonbahton.
OPEN UP
CHIC - REAL PEOPLE (LP) - ATLANTIC
YOU SHOULD BE DANCING (live recording)
THE BIG APPLE BAND - youtube
EVERYBODY DANCE
CHIC - CHIC (LP) - ATLANTIC
DANCE DANCE DANCE (YOWSAH, YOWSAH, YOWSAH)
CHIC - CHIC (LP) - ATLANTIC
LE FREAK
CHIC - C'EST CHIC (LP) - ATLANTIC
I WANT YOUR LOVE
CHIC - C'EST CHIC (LP) - ATLANTIC
SATURDAY
NORMA JEAN - youtube
WE ARE FAMILY
SISTER SLEDGE - 12" - ATLANTIC
HE'S THE GREATEST DANCER
SISTER SLEDGE - WE ARE FAMILY (LP) - COTILLION
MY FORBIDDEN LOVER
CHIC - 12" - ATLANTIC
GOOD TIMES
CHIC - 12" - ATLANTIC
RAPPER'S DELIGHT
THE SUGARHILL GANG - 12" - SUGARHILL
BOUNCE, ROCK, SKATE, ROLL PART 1
VAUGHAN MASON AND CREW - 12" - BRUNSWICK
JUMP DOWN
BELLE EPOQUE - NOW (LP) - POLYDOR
SO FINE
CHIC - youtube
SPACER
SHEILA & B. DEVOTION - 12" - CARRERE
UPSIDE DOWN
DIANA ROSS - youtube
LET'S DANCE
DAVID BOWIE - 12"
CHIC MYSTIQUE
CHIC - youtube
GET LUCKY (EXTENDED MIX)
DAFT PUNK - youtube