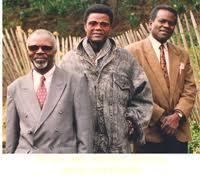 The Groove
Saturday February 1st, 2014 with ELORIOUS CAIN
2014 BLACK HISTORY MONTH SPOTLIGHT ON RY-CO JAZZ
RY-CO JAZZ _________________________________________________ Joseph Kabasele (the GRAND KALLE of AFRICAN JAZZ) was considered to be "the great internationalist". His vision of people around the world dancing together was foreshadowing and grandiose. It was really another Rumba group from the Belle Epoque of the Congo that truly personified that vision with music that complemented the vast musical complexities of the African diaspora. They were RY-CO JAZZ. Their musical flexibility was utterly breathtaking, inspiring generations of musicians and djs throughout Africa, french Europe and the Caribbean. Founded in the Congo around 1958, RY-CO JAZZ competed with giants like the previously mentioned AFRICAN JAZZ and O.K JAZZ. Unlike them, RY-CO JAZZ left the Congo for France and the Caribbean. Record after record would expand their popularity throughout Africa, France, the Caribbean and Latin America. In the original tradition of Congolese Rumba, they would reinvent the Twist and various Latino and Caribbean genres of Disco and dance musics. They would influence early Eurodisco producers and the pioneers of Zouk and "the Miami Sound" of American Disco. Their impact has been remarkable! This show splices together some of their more memorable hit singles and discotheque standards; including "Marie Jose" a remake of the African Jazz 1960 classic "Merengue Scoubidou", likely the first Disco coverversion ever!
BANA RY-CO
RY-CO JAZZ - AFRICAN CAVALCADE - THE GLORY DAYS OF AFRICAN MUSIC (CD) - RETROAFRIC
KUMBELE, CHA CHA CHA
RY-CO JAZZ - 7" - VOGUE
MAMBO RY-CO
RY-CO JAZZ - GOLDEN AFRIQUE VOL.2 (2CD) - NETWORK
TWISTEZ!
RY-CO JAZZ - 7" - VOGUE
TWIST WITH THE DOCTEUR
RY-CO JAZZ - youtube
SINORITA BALULA
RY-CO JAZZ - 7" - VOGUE
AN DROLE DI CHANCE
RY-CO JAZZ - 7" - VOGUE
WACHI WARI
RY-CO JAZZ - CREOLE LOVE CALLS - RYTHMES LATINS DES ANTILLES (CD)
BANA BIAFRA
RY-CO JAZZ - youtube
GIVE ME BOMBOLO
RY-CO JAZZ - 7" - VOGUE
TUMBA DIA N'LELE
RY-CO JAZZ - 7" - DISQUES DEBS
KAMINA
RY-CO JAZZ - 7" - DISQUES DEBS
MARIE JOSE
RY-CO JAZZ - youtube
SAPO PEPO
RY-CO JAZZ - youtube
DIMA BOLANE
RY-CO JAZZ - 7" - DISQUES DEBS
OU COMPRENN' OU ADANS ON TEMPS
RY-CO JAZZ - youtube
AIMEE B.S.
RY-CO JAZZ - youtube
SI I BON DI I BON
RY-CO JAZZ - 7" - DISQUES DEBS
AYEN PA CHANGE
RY-CO JAZZ & LES LEOPARDS - youtube
PI-PI-POH
RY-CO JAZZ - youtube
ASSOU
RY-CO JAZZ - VACANCES TIME (LP) - RYTHMO DISK
LA JUVENTUD
RY-CO JAZZ - youtube
BLUE SUGAG
L'ENSEMBLE RYCO JAZZ - youtube
KOUMBELE
RY-CO JAZZ - youtube
TU BOIS BEAUCOUP
RY-CO JAZZ - youtube
EBOMA AFRICA
RY-CO JAZZ - youtube
MEDDLEY RYCO-JAZZ ADAPTATION J.MICHELIN AMBIANCE PAILLOTTE (live recording)
RY-CO JAZZ - youtube
MEDLEY
RYCO JAZZ - YO LA! (LP) - HIBISCUS