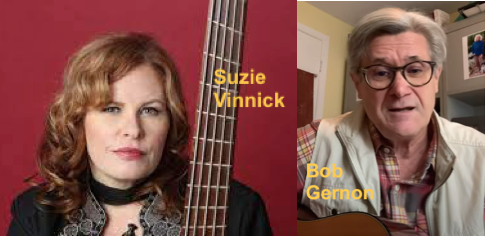 Canadian Spaces
Saturday August 13th, 2022 with Carolyn Sutherland and Chris White
Suzie Vinnick, Bob Gernon
Conversation and new music with Suzie Vinnick and Bob Gernon.
'40 minutes of uninterrupted folk' presented by Carolyn Sutherland.
Dear Alice
Preetam Sengupta - Patience

These Hands
Digging Roots - We Are

Uncle Boudreaux Went to Texas
Ben de la Cour - The High Cost of Living Strange

I Don't Want to Know You Anymore
Celeigh Cardinal - Stories from a Downtown Apartment

Don't Wait for Me
Shakura S'Aida - .

Every Soul's a Sailor
Stephen Fearing - Every Soul's a Sailor

Garden
Kaiya Cade - .

Ballad of a Young Troubadour
Julian Taylor - The Ridge

Safe Home
James Keelaghan - House of Cards

That's What Makes You Strong
Clare Lynch and Jesse Winchester - .

Interview with Suzie Vinnick. She performs at Watson's Mill in Manotick on Thursday evening, August 18 - see www.watsonsmill.com.
Suzie Vinnick - Shake The Love Around - Happy As Hell

Oreo Cookie Blues
Suzie Vinnick - Angel in the Sidelines

33 Stars
Suzie Vinnick - Rock 'n' Roll

Lift You Up
Suzie Vinnick - Sneak preview from Susie's new album!

Interview with Bob Gernon. His new album, 'Make It A Wonderful Day', is available on Bandcamp and from gernonbob@gmail.com.
Sweet River Flow
Bob Gernon - Make It A Wonderful Day


I Love This Country
Bob Gernon - Make It A Wonderful Day


Wherever You Are
Bob Gernon - Make It A Wonderful Day


I Have A Tree
Bob Gernon - Make It A Wonderful Day