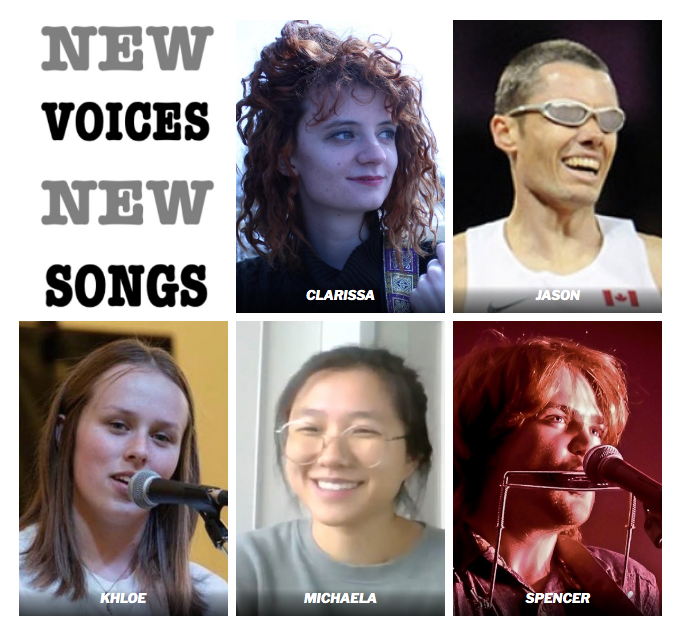 Canadian Spaces
Saturday June 11th, 2022 with Carolyn Sutherland and Chris White
Sherryl FitzPatrick, Anna Ludlow, Allison Brown, Spencer Scharf, Clarissa Fortin, David Mayerovitch
Sherryl FitzPatrick, Anna Ludlow, Allison Brown, Spencer Scharf, Clarissa Fortin, David Mayerovitch
Life Is Like A Mountain Railway
David Essig - Presbyterian Guitar

O Canada!
Willie Dunn - Creation Never Sleeps, Creation Never Dies: The Willie Dunn Anthology

Still This Loves Goes On
Buffy Sainte-Marie - Running For The Drum

Let My Love Open the Door
Gathering Sparks - All That's Real

Let The Darkness Go
Brian MacMillan - Let The Darkness Go

All That Is
The Lucky Sisters - So Lucky

I Like Trains
Fred Eaglesmith - Ralph's Last Show

Interview with Sherryl FitzPatrick and Anna Ludlow about Fiddles On The Rideau, an organization that creates musical flotillas and raises funds to support mental health. The longer-term goal is to create a fiddle festival in the Ottawa area. Fiddles On The Rideau presents a multi-performer fundraising concert at Manotick United Church this evening at 7:00 pm -- see www.fiddlesontherideau.ca.
Road Jigs
Anna Ludlow - Everywhere I Go

Reel Joseph/Reel des 2 Lisa/Son of a Bear
Sherryl FitzPatrick - Eagles Wings

Old Tyme Fiddler's Dream
Gail Gavan - For the Love of the Valley: Volume 2

Paul Porter's Jig/Munster Bacon/Humours of Glendart
The Bb Sisters - Versatility

Twisted Britches
Sonny Aiken - Lost. Lonesome Cowboy

Hour 2
Declan's Song (The Good Life)
Maria Dunn - Joyful Banner Blazing

Clifton Hill
Tin Constellations - .

Interview with Windsor, Ontario-based singer-songwriter and Old School Bluegrass Camp organizer, Allison Brown. Her website is www.allisonbrown.ca
A Mind With A Heart Of Its Own
The Slocan Ramblers - A Mind With A Heart Of Its Own

Currents Collide
Allison Brown - .

Something Holy
Allison Brown - Viper At The Virgin's Feet

Blue Valentine
Willie P. Bennett - Heartstrings

Interview with Spencer Scharf, Clarissa Fortin and David Mayerovitch. The Spirit of Rasputin's organization will present Spencer and Clarissa, along with Khloe B, Micaela Deng and Jason Dunkerley, in a 'New Voices, New Songs' concert on Sunday afternoon, June 19 at 4:00 pm. For information and tickets, see www.rasputins.org.
Landfill Harmonic
Spencer Scharf - Times of Change

Between Pages
Clarissa Fortin - .

Tongue Twister
David Mayerovitch - .