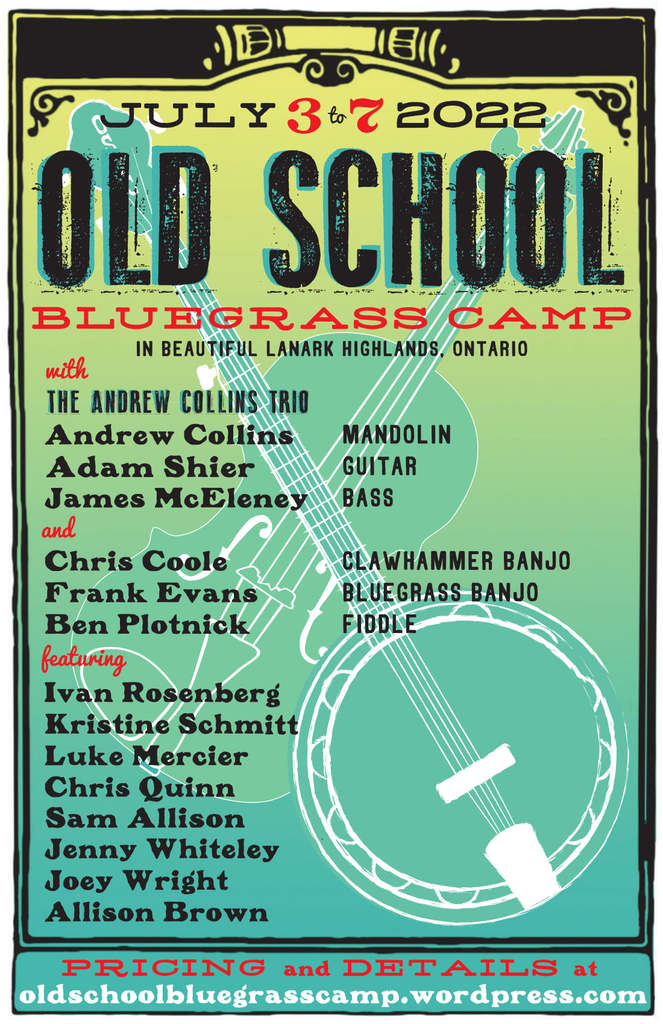 Canadian Spaces
Saturday May 28th, 2022 with Allison Brown, Carolyn Sutherland and Chris White
Jenny Whiteley and Joey Wright, Old School Bluegrass Camp
Jenny Whiteley and Joey Wright share some music and memories, and talk about the excellent music camps they run in Elphin, Ontario -- see
www.oldschoolbluegrass.com
40 minutes of uninterrupted folk selected by Allison Brown. Allison's website is www.allisonbrown.ca.
Fish & Fowl
Andrew Collins Trio - Light From The Darkness

The Law & The Lonesome
The Slocan Ramblers - Shaking Down The Acorns

Baby, I
Amy Milan - Honey From The Tombs

Stage Fright
Return To Trion (featuring Ivan Rosenberg & Chris Coole) - Return To Trion

Old Dangerfield
Shane Cook & The Woodchippers - Be Here For A While

Mind Your Own Business
New Country Rehab - NCR

Take Your Time And Do It Right
Jenny Whiteley - Dear

John Tyrone
Heartbreak Hill (featuring Jenny Whiteley) - Heartbreak Hill

Le Bon Vivant
Le Volume (featuring Joey Wright & Jenny Whiteley) - Le Volume

Get Your Clothes Off, Honey
Kristine Schmitt - Good Dirt

Look Out Mountain
The Barrel Boys - Cold Spring

Noise
The Pairs - Noise

Birthday Book
Tragedy Ann - Heirlooms


Boxcars
Allison Brown - .

Hour 2: Interview with Jenny Whiteley and Joey Wright. For information about the music camps they're running this summer in Elphin, Ontario, see www.oldschoolbluegrass.com
A La Campagne
Junior Jug Band (feat. Jenny Whiteley) - .

Climbing Up A Mountain (feat. Jenny Whiteley)
Joey Wright - Camp

Baby, I
Jenny Whiteley - Jenny Whiteley

Skip's Tune
Joey Wright - Camp

Halls of Folsom
Jenny Whiteley - Hopetown

Ripple Effect
Jenny Whiteley - Forgive Or Forget

Genius
Joey Wright - Hatch

Baby, I
Jenny Whiteley - Jenny Whiteley

Our Love Moved Out To The Country
Joey Wright - Country, Music (2017)

Blues Was The Name Of The Song
David Wiffen - David Wiffen