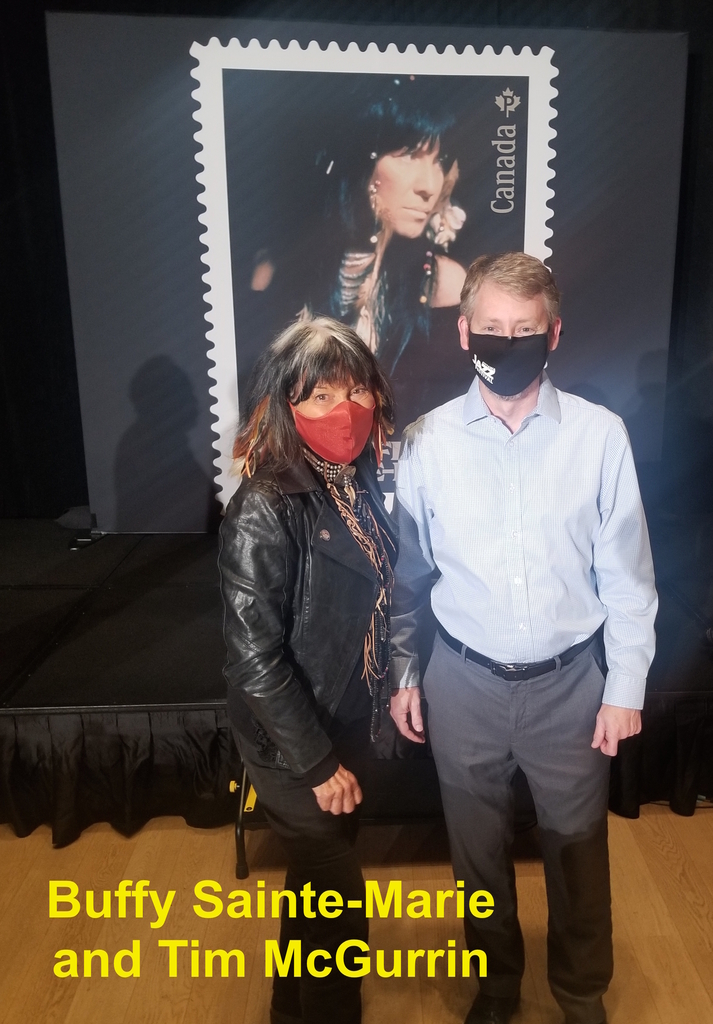 Canadian Spaces
Saturday December 11th, 2021 with Tim McGurrin and Chris White
Tim McGurrin, Paul Kent, Christophe Elie, Buffy Sainte-Marie
Tim McGurrin shares '40 minutes of uninterrupted folk' by musicians who are on Canadian postage stamps! Paul Kent and Christophe Elie talk about a new Soundcloud site featuring five previously-unreleased songs by the late Howie Hooper (see
https://soundcloud.com/user-653227659-967010679
). We chat with revered musician, educator and activist Buffy Sainte-Marie who was celebrated with a new postage stamp in November, 2021.
Hour 1: '40 minutes of uninterrupted folk by Canadian postage stamps' courtesy of Tim McGurrin.
Come in from the Cold
Joni Mitchell - Night Ride Home

Trick Rider
Gord Downie - Coke Machine Glow

It's Going Down Slow
Bruce Cockburn - Waiting for a Miracle

Barrett's Privateers
Stan Rogers - Between the Breaks Live!

Jacques et Gilles
Kate & Anna McGarrigle - Matapedia

I've Been Everywhere – Live
Stompin' Tom Connors - Stompin' Tom Live at the Horseshoe

Tower of Song
Leonard Cohen - I'm Your Man

Trail of Broken Hearts – 2010 Remaster
k.d. lang - Recollection

Moonshot
Buffy Sainte-Marie - Moonshot

Interview with Paul Kent and Christophe Elie about a new Soundcloud site featuring five previously-unreleased songs by the late Howie Hooper – see https://soundcloud.com/user-653227659-967010679
The Good And The Best In Me
Howie Hooper - Howie Hooper's Last Act

Hour 2: Interview with Buffy Sainte-Marie
My Country 'Tis of Thy People You're Dying
Buffy Sainte-Marie - Medicine Songs

Starwalker
Buffy Sainte-Marie - Power in the Blood

You Got To Run (Spirit of the Wind)
Buffy Sainte-Marie - Medicine Songs

Carry It On
Buffy Sainte-Marie - Medicine Songs