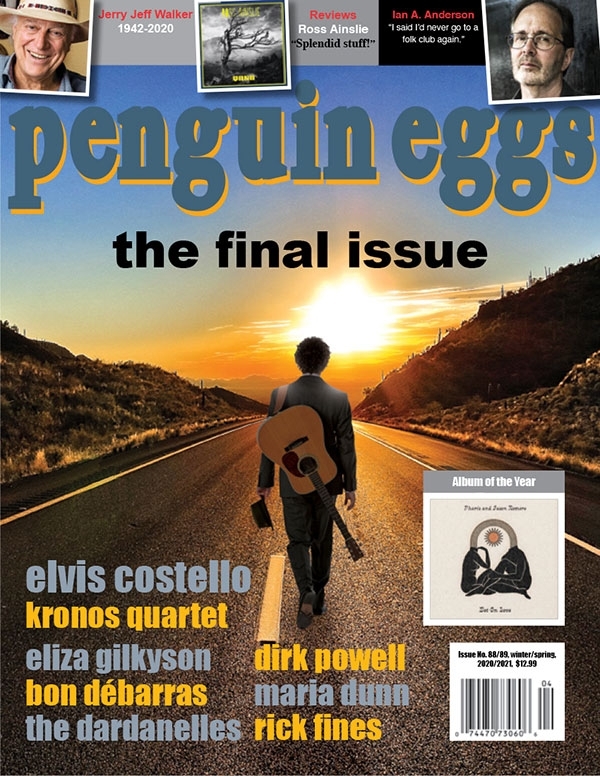 Canadian Spaces
Saturday January 16th, 2021 with Chris White
Penguin Eggs magazine (Annemarie Hamilton and Roddy Campbell), Dave King
Chris White chats with Roddy Campbell and Annemarie Hamilton who founded Penguin Eggs Magazine 23 years ago. The highly respected magazine, which celebrated folk, roots and world musicians from across Canada and beyond, published its final issue in December, 2020. Chris also pays tribute to local songwriter and musician Dave King who passed away on January 12. In spite of the misfortune and hardship he experienced, Dave found ways to create and share some amazing music, to champion the work of other musicians – especially local musicians – and to speak out about about various forms of injustice and violence in the world. His album entitled 'Life and Death' was number 23 in CKCU's list of 'Top 50 Albums of the Year for 2018'. His music is available on Bandcamp at
https://daveking1.bandcamp.com
40 minutes of uninterrupted folk...
Alternative to Flight
Andrea Simms-Karp - Hibernation Nation

Her Soft Disguise
Greg Kelly - Slow Horses

Tickets for the Weekend
Oh Susanna - A Girl in Teen City

Let Me Make It Up To You Tonight
Roy Forbes - The Human Kind

The Raven's Sun
Catherine MacLellan - The Raven's Sun

Dream Hang On
Ian Tamblyn - The Middle Distance

Take This Mountain
Shawna Caspi - Forest Fire

While I'm Here
Erin Saoirse Adair - Songs of Phil Ochs

Fare Thee Well (Dink's Song)
Oscar Isaac and Marcus Mumford - Inside Llewyn Davis
Ain't Life Sweet
Penny Lang - Ain't Life Sweet

A tribute to Ottawa-based songwriter and musician Dave King who passed away on January 12, 2021. In spite of the extreme misfortune and hardship he experienced in life, he found ways to create and share some amazing music, to champion the work of other musicians – especially local musicians – and to peak out about about various forms of injustice and violence in the world. His album entitled 'Life and Death' was number 23 in CKCU's list of 'Top 50 Albums of the Year for 2018'. His music is available on Bandcamp at https://daveking1.bandcamp.com
Proceeds from sales of Dave King's music will support the work of Doctors Without Borders / Médécins Sans Frontiers in Yemen. Dave was very concerned about the desperate needs of the people in that war-torn region.
Serendipity
Dave King - The Best of Dave King

Excerpt from Tonya Price's interview with Dave King on 'Friends With Benefits' on CKCU (July 28, 2015).
Union Mississippi
Dave King - The Best of Dave King

Goin' Down
Dave King - The Best of Dave King

Let Freedom Ring
Dave King - The Best of Dave King

Interview with Roddy Campbell and Annemarie Hamilton who founded Penguin Eggs Magazine 23 years ago -- website https://www.penguineggs.b.ca
The Little Pot Stove
Nic Jones - Pengin Eggs
Can't Shake These Blues
Chris Smither - Live As I'll Ever Be
Waterbound
Dirk Powell . - .
Closing Time
Leonard Cohen - The Future

A Wanderer I'll Stay
Jason and Pharis Romero - A Wanderer I'll Stay


Kingdom Come
Old Man Luedecke - Tender is the Night