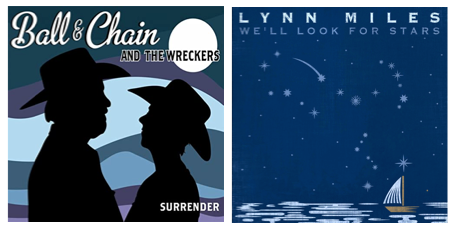 Canadian Spaces
Saturday August 29th, 2020 with Chris White
Jody Benjamin, Lynn Miles
Jody Benjamin writes, performs and records with Ball & Chain, The Vanier Playboys, The Old Show-Offs and The Toasted Westerns. She also organizes annual celebrations for Mardi Gras and Hank Williams, and she leads three 'Shout Sister' singing groups that are currently being held online. Jody joins the show to make some music picks and talk about her new Zoom-based project called Jody's Jamboree. Ball & Chain's website is
www.ballandchain.ca
. Shout Sister is
www.shoutsisterchoir.ca
. Lynn Miles drops by to share some of her favourite music and talk about her concert tomorrow afternoon at 2:00 pm. It will be an in-person concert at Irene's Pub in Ottawa combined with a virtual concert streamed on Zoom by Side Door Access. Lynn's website is
www.lynnmilesmusic.ca
. Side Door Access is
https://sidedooraccess.com/shows/53Nsm63ZPk9SDXGJjciu
.
"40 minutes of uninterrupted folk" courtesy of Mary Gick -- thanks, Mary!
When Sorrows Encompass Me Round
Kaia Kater - Sorrow Bound

Come On Home
Pharis & Jason Romero - Long Gone Out West Blues

This Beautiful Mess
Michael Jerome Browne - This Beautiful Mess

Baby, Quitte-moi Pas
Grouyan Gumbo - Betsy Stomp

Blues in the Bottle
Chris Smither - Leave the Light On
Weary Blues
Ball & Chain - Honky Tonk Blues

Reminiscence
Arnie Naiman - My Lucky Stars

Ye Mariners All
Ian Robb - From Different Angels

You Don't Miss Your Water
The Poodles - Unleashed
The Waking Hour
David Francey - The Waking Hour

I Know Your Wandering Heart
Chris Coole - The Tumbling River

Trouble and Woe
Ruth Moody - These Wilder Things

Carley's Song
The Bird Sisters - Different Stories

Interview with Jody Benjamin (Ball & Chain) -- www.ballandchain.ca. She writes, performs and records with Ball & Chain, The Vanier Playboys, The Old Show-Offs and The Toasted Westerns. She also organizes annual celebrations for Mardi Gras and Hank Williams, and she leads three 'Shout Sister' singing groups that are currently being held online. Jody makes some music picks and talk about her new Zoom-based project called 'Jody's Jamboree'. Ball & Chain's website is www.ballandchain.ca. Shout Sister is www.shoutsisterchoir.ca.
Surrender
Ball & Chain and the Wreckers - Surrender
Sister Why
Ball & Chain and the Wreckers - Surrender
Buddha
Macy Gray - Ruby
Old Soul
Lynn Miles - We'll Look for Stars

Interview with Lynn Miles -- www.lynnmilesmusic.ca. Lynn shares some of her favourite music and talks about her concert tomorrow afternoon at 2:00 pm. It will be an in-person concert at Irene's Pub in Ottawa combined with a virtual concert streamed on Zoom by Side Door Access. The Side Door Access link is https://sidedooraccess.com/shows/53Nsm63ZPk9SDXGJjciu.
The Human Heart
Susan Crowe - Greytown

Bittersweet
Karen Savoca - Here We Go
A Heart Can Only Take So Much
Lynn Miles - We'll Look for Stars

Rain
Steel Rail - Coming Home