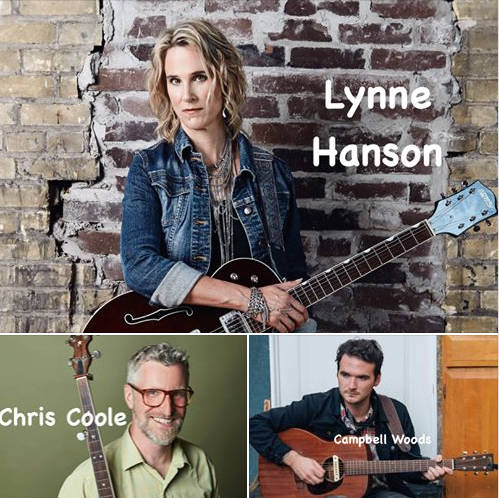 Canadian Spaces
Saturday May 2nd, 2020 with Lynne Hanson and Chris White
Campbell Woods, Chris Coole
Lynne Hanson joins Chris White to co-host the show, share '40 minutes of uninterrupted folk', and play tracks from her latest album ('Just Words'). Campbell Woods is finding alternatives to the tour he had planned to celebrate his new Howard Bilererman-produced album, 'She's a Keeper'. Chris Coole talks about his lifelong love of music, his many musical projects and the online banjo lessons he gives to students far and wide.
Keep Your Distance
Buddy & Julie Miller - .
I Know Your Wandering Heart
Chris Coole - The Tumbling River

Long Way To Go
Durham County Poets - .

In The Quieter Times
Big Little Lions - .

Quiet Company
Matt Andersen - .

Travelling Light
Leonard Cohen - .

Time Wanders On
Small Glories - .

Home To You
New Country Rehab - .

Goodbye Colorado
Corb Lund - .

Empty Train
David Francey - .

Go Wherever You Wanna Go
Patty Griffin - .
Three Different Towns
Campbell Woods - She's a Keeper

Picture of You
Campbell Woods - She's a Keeper

Blueberry Sky
Chris MacLean - .

Clean Slate
Lynne Hanson - Just Words

Higher Ground
Lynne Hanson - Just Words

Six Days on the Road
Chris Coole - Old Dog

At My Kitchen Table
The Lonesome Ace String Band - When the Sun Comes Up

Wish We Had Our Time Again
Chris Coole - Old Dog