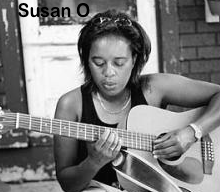 Canadian Spaces
Saturday January 14th, 2017 with Russ Kelley and Chris White
Susan Odle, George Elliott Clarke, Chris MacLean
• Russ Kelley shares some of his favourite music and performs his own songs live in the studio. He'll play a concert with Keith Snider at the All Saints Community Space (Laurier and Chapel) on Friday, Feb. 3rd at 7 pm. • Susan Odle (a.k.a. Susan O) is launching her album "20 Years" at Irene's Pub this evening. George Elliott Clarke – Poet Laureate of Parliament – will be joining Susan onstage at various points during that concert. • Chris MacLean and Christine Graves ("chriscross") have a sold-out concert at Pressed Cafe tomorrow evening. Chris will also be performing as part of Paugan Dames (with Alise Marlane and Tina Therrien) at Kaffe 1870 in Wakefield on Friday, Jan. 20.
Song of the Old Bush Pilot
Chris Rawlings - Northern Spirits

Red Shoes
Bill Garrett & Sue Lothrop - Red Shoes

Last Time I Saw Lenny
Brian Blain - New Folk Blues

Bring That Thing
Harry Manx - Dog My Cat

Twenty One
Jaxon Haldane - Hectic

Drive to the Moon
Missy Burgess - Play Me Sweet

Everything Is Free
Susan O and George Elliott Clarke - live in the studio

Shelter Me
Susan O - 20 Years


Love Doesn't Hurt
Lynn Miles - Fall for Beauty

Look Homeward Exile
George Elliott Clarke - live in the studio

Confederate This
Susan O - live in the studio

We're Falling
Russ Kelley - live in the studio

I've Got the Blues
Russ Kelley - live in the studio

In the Middle of the Night
Russ Kelley - Crazy Shades of Blue

Song for a Winter's Night
Paugan Dames - demo

Crooked Lines
Chris MacLean - live in the studio