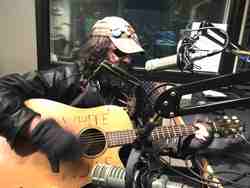 Canadian Spaces
Saturday May 14th, 2016 with Brian Dubbeldam and Chris White
Danielle Allard, Alton Millar, Steve Dawson, Michael Ball, Jody Benjamin
* Danielle Allard is holding a "tour fundraising" concert at Live on Elgin on Friday evening. * Alton Miller wrote a song that's being used in a television documentary about a project called Gardner Street that provides high-quality housing to 34 people who were formerly homeless. * Nashville-based musician and producer Steve Dawson is launching his new album, "Solid States and Dead Ends", at Irene's Pub this Wednesday, May 18th. * Michael Ball and Jody Benjamin play in Ball & Chain as well as a brand-new zydeco band called The Vanier Playboys. Both bands play Irene's next Saturday, May 21st.
Just Got Back
Rick Fines - Arcadia

Open Up
Penny Lang - Carry On Children

Shady Lane
Riverbend - Cartunes

Heads I Win, Tails You Lose
Riverbend - Cartunes

All I Ever Wanted
Lynn Miles - Chalk This One Up to the Moon

The Upside Down
Stephen Fearing - Industrial Lullaby

Bird of Paradise
Sneezy Waters - A Letter Home

My Father Would Say
Terry Tufts - Ottawa Folklore Centre 25th Anniversary

Scruffy Dudes
Valdy - Smorgas Bard

Campfire Light
Ian Tamblyn - Superior: Sound and Light

Lifting My Heart
UHF - UHF II

Lullaby
Danielle Allard - live in the studio

Little Demons
Danielle Allard - live in the studio

You and I Are the Same
Alton Miller - live in the studio

Dear Abby
Alton Miller - live in the studio

Riley's Henhouse Door
Steve Dawson - Solid States and Dead Ends

Lighthouse Avenue
Steve Dawson - Rattlesnake Cage

Jody's Jump
Ball & Chain - Louisiana Love Bug