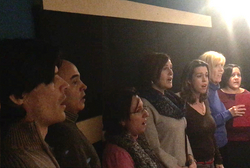 Canadian Spaces
Saturday January 23rd, 2016 with Mike Regenstreif and Chris White
UNAM Canada Choir, Julie Corrigan, String Masons
This week's show features a live performance by the 24-voice UNAM Canada Choir which is associated with the University of Mexico in Gatineau, Québec. * Julie Corrigan is also in the studio to perform and chat. Her album, "The Language", was the most-played album on CKCU in 2015. She will be performing as part of Tony Turner's album launch concert at The Gladstone Theatre tomorrow evening (Sunday) at 7:30 pm. * String Masons (Paul Roberto and Gilles Leclerc of Dusty Drifters fame) perform live and talk about their regular Thursday evening gig at the Wild Oat Café in the Glebe.
A Reasonable Amount of Trouble
Jesse Winchester - All That We Have Is Now - Appleseed

Winter
Lynn Miles - Wintery Feeling - Lynn Miles


Paradise Lost & Found
Anne Hills & Michael Smith - The Dutchman - Redwing
Old Man's Table: Tunes from Grandy Fagnan
Anne Lederman w/Ian Bell - Two-Step in 3 Keys - Falcon Productions NR

Jayme Stone's Lomax Project
Tim O'Brien, Margaret Glaspy, Moira Smiley, Mollie O'Brien, John Magnie, Martin Gilmore, Jayme Stone - Before This Time Another Year - Borealis

Those Nashville Blues
Victor Anthony - House of David Blues - Victor Anthony


Eagle on the Moon
Sussex - Hollow Log - Lucky Bear


So Lucky
The Lucky Sisters - All That Is - Patio Records

Summer's End
Garnet Rogers - Old Campfires - Snow Goose

Judy Collins Sings Leonard Cohen: Democracy
Judy Collins - Story of Isaac - Elektra/Rhino

Songs of Leonard Cohen – 2007 reissue
Leonard Cohen - Blessed Is the Memory - Columbia/Legacy

Canción Mixteca
UNAM-Canada Choir - Canción Mixteca - live in the studio

México en la piel
UNAM-Canada Choir - Canción Mixteca - live in the studio

Harold Wilson
Fred Eaglesmith - From the Paradise Motel - Barbed Wire

Small Town
Julie Corrigan - The Language

Home
Julie Corrigan - live in the studio

The Language
Julie Corrigan - live in the studio

Over the Waterfall
String Masons - live in the studio

Eight More Miles to Louisville
String Masons - live in the studio

Just Like Old Times
String Masons - live in the studio