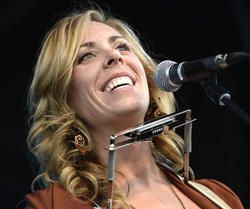 Canadian Spaces
Saturday June 20th, 2015 with Amanda Rheaume and Chris White
Mike McCormick, Terry Eagan, Tannis Slimmon
Amanda Rheaume performs a brand-new song. Mike McCormick is in the studio to talk about a tribute to Jesse Winchester taking place at "North On 29" near Appleton tomorrow evening (Sunday). Terry Eagan (Waltham, MA) and Tannis Slimmon (Guelph) tell the moving story behind the The Lucky Sisters' gorgeous new album, "So Lucky".
Hands on a Grain of Sand
Amelia Curran - Hunter, Hunter

If You Were Here
Ann Vriend - Love & Other Messes

The Raven's Sun
Catherine MacLellan - The Raven's Sun

Wild West Rain
Jadea Kelly - Clover.

With a Gun
Jasper Bridge - Love to a Wild Thing

Painting with Tides
Kim Wempe - Painting with Tides

Calling All Warriors
Leela Gilday - Calling All Warriors

The Ballad of Mark Jarareuse
Ian Tamblyn - The Four Coast Project, Vol. 4: The Labrador

My Road
Lynn Miles - Downpour

The Darkness
Rose Cousins - We Have Made A Spark

Rhumba Man
Mike McCormick - live in the studio

Dead Horse
Amanda Rheaume - live in the studio

Whiskey Kisses
Chris MacLean - Procrastinator

Pressure Washer
Mike McCormick - live in the studio

All That Is
The Lucky Sisters - So Lucky

One More Day
The Lucky Sisters - So Lucky

Follow Your Heart
Bob Stark - Storefront Photograph