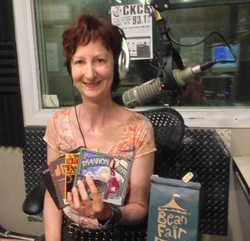 Canadian Spaces
Saturday January 24th, 2015 with Anne Winship and Chris White
Anouk Grégoire, Shawna Caspi, Derek Olive
Anne Winship, proprietor of Bean Fair, joins Chris White to co-host today's show. Anouk Grégoire (Wakefield), Shawna Caspi (Toronto) and Derek Olive (James Bay) drop by the studio to talk about their upcoming concerts and perform live. Anne's link to the Wakefield Int'l Film Fest (WIFF) Feb 7 - Mar 1st:
wakefieldfilmfest.ca
Check out the awesome documentaries and trailers.
All That We Have Is Now
Jesse Winchester - A Reasonable Amount of Trouble

Streets of Laredo
Jane Siberry - Hush

Pacing the Cage
Bruce Cockburn - The Charity of Night

Tea & Confidences
Fearing & White - Tea & Confidences

Blackberry Blossom
Sheesham & Lotus & son - Sheesham & Lotus & son

May You Never
Zubot & Dawson - Chicken Scratch

Road to Bamako
Galitcha - Blé d'Inde

Walking & Talking
Oliver Schroer - A Million Stars

This Mister Time
Christine Graves - Wreckless Daughter

Ballad of the Rogue Trader
Rueben de Groot - Pine

Totem
Anouk Grégoire - live in the studio

The Legend of the Pom Pom Kid
Stone Age Man - Touch the Sun

Paper Wings
Derek Olive - live in the studio

Wondering Where the Lions Are
Derek Olive - live in the studio

She's a Funny One
Vince Halfhide - CKCU live recording

Anchor
Shawna Caspi with Derek Olive and Graham Lindsey - live in the studio

Grace
Shawna Caspi with Derek Olive and Graham Lindsey - live in the studio

This Train
Clear - Never Falling Again