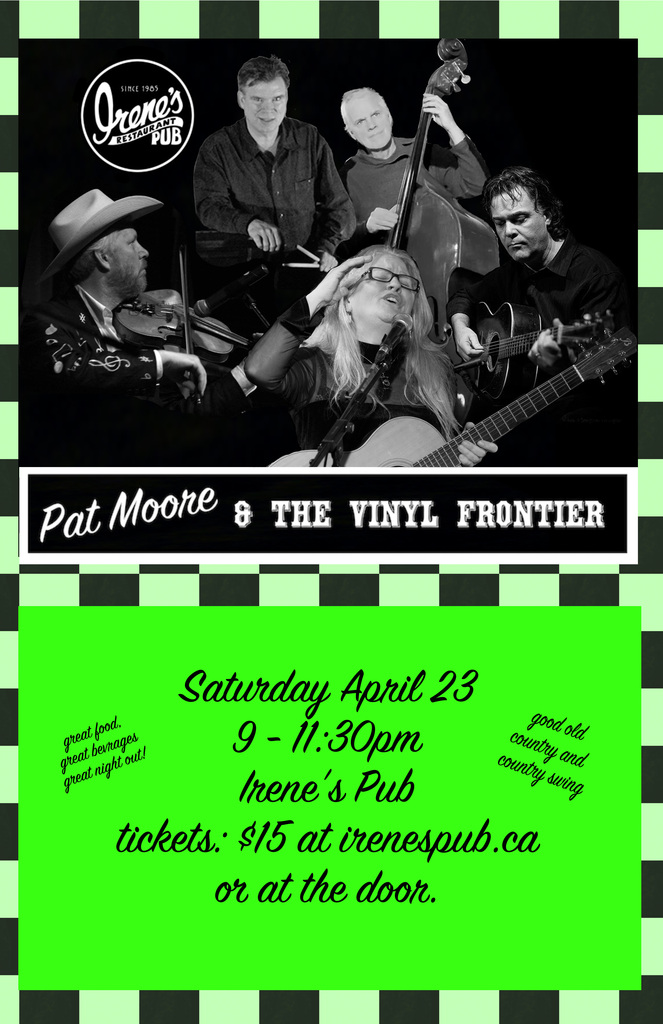 Saturday Morning
Saturday March 5th, 2022 with Pat Moore
Songs to calm your heart. Lots of "comfort songs", lots of memorable tunes, lots of local gems.
Hearts are breaking. Today I bring you songs that hopefully will take you to a good day, a good memory. That's what comfort food does, and what my selection of "comfort songs" are intended to do. Sit back and enjoy! Thanks for tuning in.
intro/background
Fats Waller - Happy Birthday Fats
Ma, He's Makin' Eyes At Me
Pearl Bailey - Complete Jazz Series 1947-1950
You Don't Know Me
Ray Charles (with Diana Krall) - Genius Loves Company
I Remember You
Ella Fitzgerald - The Johnny Mercer Song Book
Skylark
Amos Garrett Trio (feat. Roberta Donnay) - Jazzblues
Yesterday is Here
Missy Burgess with The Blue Train - Live

You Left Me
Dominique Fils Amie - Three Little Words

What I Got to Give
Monkey Junk - All Frequencies

Comfort Food
Lie Down
The Good Lovelies - The Good Lovelies

Cherry Blossam Lane
Scarlett Washington, & Whiteley - WE'll Meet Again

Settin' By the Fire
Leon Redbone - Whistling in the Wind

Gartan Mother's Lullaby
Laura Smith - Everything is Moving

Beautiful
Gordon Lightfoot - Songbook

We'll Look for Stars
Lynne Miles - We'll Look for Stars

Pages of Time
Gene MacLellan - Gene MacLellan (2021 remaster)

Thorn in My Shoe
Gene MacLellan - Gene MacLellan (2021 remaster)

Snowbird
Anne Murray - The Ultimate Collection

He Thinks I Still Care
Anne Murray - The Ultimate Collection

End of Hour 1

Starting hour 2 with a couple of great songs from the brilliant Stevie Wonder. Since I was a teen, I've loved this album, Innervisions, and today I bring you two songs from that album.
Living for the City
Stevie Wonder - Innervisions
All In Love is Fair
Stevie Wonder - Innervisions
Old time
Boodle-De-Bum-Bum
Carolina Chocolate Drops - Leaving Eden
She Was Always Chewing Gum
Grandpa Jones - An American Original
Grandfather's Clock
Grandpa Jones - An American Original
Lookout Mountain
Unspoken Tradition - Lookout Mountain (single)
Heart of the Dreamer
Steve Martin & Edie Brickell - So Familiar
Weary Lonesome Blues
Whitstein Brothers - Old Time Duets
Dead Funny
Ian Robb and James Stephens - Declining…with thanks

story songs - more comfort food
Bobcaygeon
Damhnait Doyle - Lights Down Low

Crazy Me
David Wiffen - Songs from the Lost & Found

Bless Your Fooling Heart
Jesse Winchester - Love Filling Station

Hello in There
John Prine - Anotholgy

Watch for information on the upcoming John Prine tribute concert. April 8th at the Rainbow. It will be a great show - who doesn't like John Prine songs!!
Carey
Joni Mitchell - Blue

Still On My Mind
K.T. Oslen - Love in a Small Town
Hour 3 - local gems
Time O Time
Keith Glass - The Easy Way

Lone Wolf
Jack Pine - Lone Wolf

Hold The Light
Shawna Caspi - Hurricane Coming


Calling Out Your Name
Jeff Rogers - Let It Show

Old Soul
Jay Anthony Willis - Jay Anthony Willis

Some Little Sign
Bob Stark - Sculptured Pieces of Love


Sugar Daddy
John Carrol - Sings and Plays, Plays and Sings

Close Your Eyes and Come on Home
Chris MacLean - Procrastinator

Three Red Beads
Marie-Josée Houle - Our Lady of Broken Souls

The Honey I Want
Suzie Vinnick - Me 'n' Mabel

Big 'Ole Toboggan
Terry Tufts - Unreleased

Is This the Way
Greg Kelly - Hearts Collide


Greg Kelly is holding a CD release for his latest release, Hearts Collide, on Saturday April 2, at the Westboro Masonic Hall , 7:30pm. For tickets, get in touch with Greg at kelgreg@gmail.com.
Different World
Keith Glass - Different World (single)


Hip Like Cohen
Lynne Hanson - Hip Like Cohen (official video - pre-release)


The Parting Glass
Pat Moore - Live in the studio


Encore set - for on demand listeners
There were many songs I wanted to include in the broadcast of today's show, but even with 3 hours I can't seem to find enough time for everything I want to bring you. So today, I include an encore for those of you who are listening on demand. There could be more, but I'll save them for next month. Enjoy!
Who Will Entertain the Entertainer
Sneezy Waters - A Letter Home

Tiny Gifts
Andy McGaw - Andy McGaw

All the Way Home
Jim Robinson - All the Way Home

Into the Blue
Sundet & Ferguson - Outa Faze