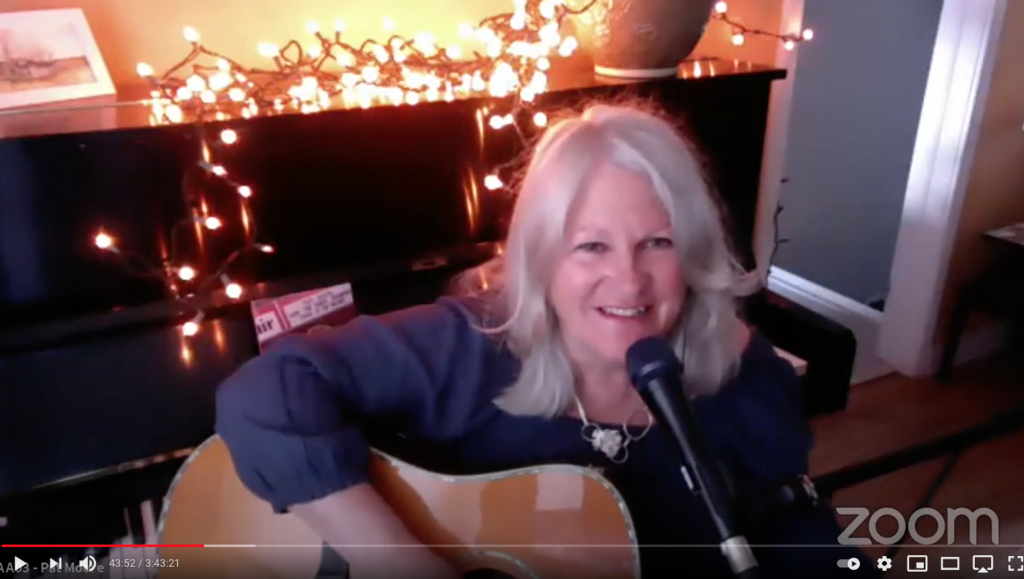 Saturday Morning
Saturday May 29th, 2021 with Pat Moore
Music to get your weekend off to a great start! Hour 1 from jazz, to rock. Hour two presents songs sung with harmony, from various genres, various styles of harmony. Hour 3, I bring you a conversation and music by Arnprior's Dave Debenham.
Recently a collective of local musicians led by Greg Kelly and Chris White put on a fundraiser virtual festival, and during the Sunday show, we were treated to a voice I don't think I've ever heard. Diane Nalini was the singer with a trio of instruments playing from different cities – all at once – using Adrian Cho's service, Syncspace. They did a demo for us, and it was incredible. The first time I've heard music being played in sync, from different locations live! But what really struck me was why I am not aware of Ottawa singer Diane Nalini. I immediately bought a couple of her CD's , from which I will play a couple of songs in just a moment – but I want to tell you that you too can hear her music on Syncspace. From Diane: I have a concert coming up on Saturday, June 12th where I will be performing over Syncspace with a Ottawa-based pianist/trombonist, Mark Ferguson, and Toronto bassist Michael Herring. Our show will focus on steamy summer songs... inspired by the heatwave we've been experiencing. This is the link to get tickets on Syncspace to hear Diane Nalini, Mark Ferguson, and Michael Herring, live from different locations:
https://syncspace.live/show/diane-nalini-with-mark-ferguson-and-michael-herring/
Later this morning I'm grouping together a set of various bands and types of music that feature harmony. In the 3rd hour, I'll introduce you to Dave Debenham who just recently put out a new album, and other treasures I haven't decided on yet… I will by the time we get there.
Skylark
Diane Nilini - Kiss Me Like That

They All Laughed
Diane Nilini - Kiss Me Like That

These Arms
Kellylee Evans - Come On

Come Home
Kellylee Evans - The Good Girl

New Blowtop Blues
Dinah Washington - The Definitive Dinah Washington
How Can You Face Me
Fats Waller - Happy Birthday Fats
Don't Let it Bother You
Fats Waller - Happy Birthday Fats
Shake Rattle and Roll
Joe Williams - Everyday I Have the Blues
The Very Thought of You
Jon Batiste - Hollywood Africans
I Need You
Jon Batiste - We Are
Parting Ways
Cody ChestnuTT - Soul
It's Alright
Jon Batiste - Soul
Trust
Jeff Rogers - Let it Snow

Stand By Me
Dominique Fils-Aimé - Three Little Words

While We Wait
Dominique Fils-Aimé - Three Little Words

What Do You Want the Girl to Do
Boz Scaggs - Silk Degrees
Sunlight
Three Dog Night - Naturally
In Hour 2 I am bringing you a variety of songs with harmony.
Rock My Soul
The Fisk Jubilee Singers and the Fairfield Four - Celebrating Fisk - 150 years
I Believe
The Fisk Jubilee Singers with Keb Mo - Celebrating Fisk - 150 years
On My Word of Honor
The Platters - The Great Vocal Groups
Such a Night
The Drifters - The Great Vocal Groups
Come Back My Love
The Wrens - Doo-Wop the absolutely Essential CD Collection
The Everly Brothers - The Everly Brothers the Absolutely Essential CD Collection
Mr. Tambourine Man
The Byrds - The Original Singles 1965-1967
Old Love Letters
The Stanley Brothers - The Early King and Starday Years 1958-61 Disc 4
Passed All Sorrow
Doyle Lawson and Quicksilver - Burden Bearer
Til the End of the World
Willie Nelson (with Shelby Lynn ) - To All the Girls
My Shoes Keep Walking Bak to You
George Jones and Gene Pitney -
Milwaukee Here I Come
Dolly Parton and Porter Wagoner - The Essential Porter Wagoner & Dolly Parton
It Hurts
Pat Moore & The Vinyl Frontier - Take it to Heart

We Got a Love Like That
Rick Fines and Suzie Vinnick - Nothing Halfway

Lie Down
The Good Lovelies - Good Lovlies

Lost Between Barren Shores
Quartette - Quartette

Cecillia
Simon and Garfunkel - Bridge Over Troubled Water
Signs
Five Man Electrical Band - Absolutely Right

It's a Long Way Home
Five Man Electrical Band - It's a Long Way Home

Set 3
The Corn Shucking Song
Bill and the Bells - Happy Again

Dreaming of You
If You Can Hear Me - The Debenham Brothers

My Old Guitar
The Simple Life - Dave Debenham


Two Step
The Simple Life - Dave Debenham


Drempt a Lot of You
The Simple Life - Dave Debenham


Just Go Back Home
The Simple Life - Dave Debenham


Forever
If You Can Hear Me - The Debenham Brothers

Volga Boatmen
Kevin Maynor - Paul Robeson Remembered
Danny Boy
Kevin Maynor - Paul Robeson Remembered
Without You
Diane Nilini - Future Perfect

We'll Meet Again
Diane Nilini - Single

Asking for Flowers
Kathleen Edwards - Asking for Flowers