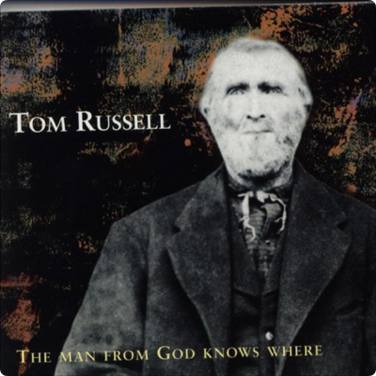 Saturday Morning
Saturday July 25th, 2020 with Pat Moore
Music to get your weekend started!
Good morning! Today's feature is a most fabulous "musical story" which I have for a long time wanted to bring to the stage in it's entirety – entitled The Man From God Knows Where, Tom Russell's tale of his family roots, mother's side from Norway and father's from Ireland. You'll hear several wonderful and recognizable voices in the 70 minute story. Each song stands on it's own, but together they weave a wonderful story. That will be in the second hour. In the first hour, I'll start with some jazz, and as promised last week also bring you a celebration of some black women singers. …and more cowboy culture – you were asking for more so I'm happy to oblige. As you can see, there's quite a mix in today's show, which we'll end in the 3rd hour with a few more "Live Stream" samples and lots of Canadian singer-songwriters.
I Simply Adore You (used as theme)
Fats Waller - Happy Birthday Fats
Ma He's Making Eyes at Me
Pearl Bailey - Complete Jazz Collection 1947-1950
It's a Great Feeling
Pearl Bailey - Complete Jazz Collection 1947-1951
Baby I Won't Cry Over You
Billie Holliday & the Billy Kyle Trio - 100+ Essential Jazz Ballads
Roll 'Em Pete
Joe Williams - Everyday I Have the Blues - 50 Classic Hits
Mississippi Goddam
Nina Simone - Gold
Jesse
Roberta Flack - Killing Me Softly
Love Overdue
Tanika Charles - The Gumption
Ain't Coming Back No More
Faith Nolan - single
I Owe You Nothing
Seinabo Sey - single
Killing Me Softly
Roberta Flack - Killing Me Softly
All Right
Susan O - 20 Years

In the Driving Days - by Banjo Patterson
Milton Taylor - live reading
Back in the Saddle Again
Gene Autry -
Blue Mountains of Mexico
Jennifer Warnes -
Hour 2
Hour two features the musical story by Tom Russell called The Man From God Knows Where. It's the tale of his ancestors…put to great imagry and fantastic music.
The Man From God Knows Where
Tom Russell - The Man From God Knows Where
Wayfarin' Stranger
Tom Russell with Iris Dement - The Man From God Knows Where
Patrick Russell
Tom Russell with Iris Dement - The Man From God Knows Where
Mary Clare Malloy
Tom Russell with Delores Keane - The Man From God Knows Where
The Outcast
Tom Russell with Dave Van Ronk - The Man From God Knows Where
Ambrose Larsen
Tom Russell with Sondre Bratland & Iris - The Man From God Knows Where
The Dreamin'
Tom Russell with Delores Keane - The Man From God Knows Where
The Old Northern Shore
Tom Russell with Sondre, Kari Bremnes, all - The Man From God Knows Where
The Man from God Knows Where
Tom Russell with Walt Whitman - The Man From God Knows Where
Anna Olsen
Tom Russell with Kari - The Man From God Knows Where
Rider on an Orphan Train
Tom Russell - The Man From God Knows Where
Acres of Corn
Tom Russell with Delores Keane - The Man From God Knows Where
The Man From God Knows Where
Tom Russell - The Man From God Knows Where
Sitting Bull in Venice
Tom Russell - The Man From God Knows Where
The Old Rugged Coss
Tom Russell with Iris & Kari - The Man From God Knows Where
Anna Olsen's Letter Home
Tom Russell with Kari - The Man From God Knows Where
Eg er framand
Tom Russell with Sondre - The Man From God Knows Where
When Irish Girls Grow Up
Tom Russell with Dolores & Iris - The Man From God Knows Where
Casey Jones
Tom Russell - The Man From God Knows Where
Chickasaw County Jail
Tom Russell - The Man From God Knows Where
Wayfarin' Stranger (Passage of Time)
Tom Russell instrumental by Knut Reirsrud - The Man From God Knows Where
Throwin Horseshoes at the Moon
Tom Russell with Iris - The Man From God Knows Where
The Man From God Knows Where
Tom Russell - The Man From God Knows Where
The Outcast
Tom Russell with Dave - The Man From God Knows Where
Wayfarin' Stranger
Tom Russell with Iris - The Man From God Knows Where
Love Abides
Tom Russell with Iris - The Man From God Knows Where
End of The Man From God Knows Where, a musical play by Tom Russell
Puddle Jumper
Ray Legere - live stream

Daddy Frank
Jim Collette - live stream

Because We Love
Lynn Miles - We Look for Stars


Wasted
William Prince - Reliever

Heaven's Perfect Smile
Greg Kelly - Ghosts

Only One Toothbrush
Durham County Poets - Hand Me Down Blues

Hole in the Universe
Dave Kalil - Hole in the Universe

She Teases Me
Anders Drerup - Uncommon Man

I Dared Myself
Chas Guay - Promises

Lonesome for You Darlin'
Noisey Locomotive - All Nature Will Soon Settle Down to Rest