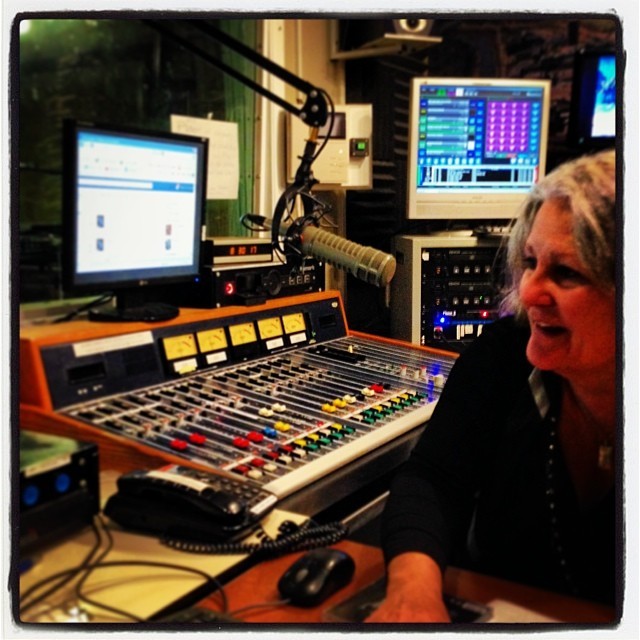 Saturday Morning
Saturday May 2nd, 2020 with Pat Moore
Today it's all about songs that lift your spirits - happy songs, triumphant songs, or songs that just make you feel good. I asked my Facebook followers to offer suggestions, and I ended up with many more songs than I can play even in 3 hours...
Good morning! As mentioned in my show highlights, this show is specifically about making you feel good. Many of the songs I'm playing today were requested by listeners who sent me suggestions from my facebook shout-out. In hour 3 you'll hear a few samples of some of the great live Facebook broadcasts that people have been producing since the pandemic "lockdown" started. You'll hear a little of Shawn Tavenier's "Silver Lining Sessions" and some of Tyler Kealey's "Live from the Basement" shows, and a cut from Missy Burgess' new release "The Blue Train, Live". Get comfy, get ready for 3 hours of music to make you feel good.
Always Look on the Bright Side of Life
Monty Python - Monty Python Sings
I'm Crazy "Bout my Baby
Fats Waller - Happy Birthday Fats
What a Wonderful World
Louis Armstrong - What a Wonderful World
A Fine Spring Morning
Blossom Dearie - Just Blossom Dearie
This next song is recorded live at the Ottawa Jazz Fest, local band Magnolia Jazz Band - requested by Trombonist, Doug Jacques.
The Wine
Live at the Ottawa Jazz Fest - The Magnolia Jazz Band

Java Jive
Manhattan Transfer - The Manhattan Transfer
I Will Play a Rhapsody
Burton Cummings - Dream of a Child

You've Got a Friend
Carol King - Tapestry
Living on the Bright Side
Angela Saini - Living on the Bright Side

Every Single Day
Serena Ryder - Unlikely Emergency

Bright Side of the Road
Van Morrison - The Essential Van Morrison
I Just Called to Say I Love You
Stevie Wonder - The Definitive Collection
Bird Song
The Wailin' Jenny's - Bright Morning Star

Spring
Frida's Brow - Frida's Brow

Lie Down
The Good Lovelies - The Good Lovelies

You've Got a Friend in Me
Randy Newman - The Best of...
End of the first Hour
Shine
Norm Hacking & Friends - Skysongs, A Writer's Collection

Love, love shining through
Manitoba Hal - demo

Mr. Blue Sky
Electric Light Orchestra - The Very Best of ELO
Have a Little Faith in Me
John Hiatt - Bring the Family
I Feel Good
James Brown - 20 All Time Greatest Hits
Heal the World
Michael Jackson - Greatest Hits
I Wish You Well
Bill Withers - The Best of Bill Withers: Lean on Me
I Look Good
Dawn Tyler Watson - Mad Love

Oo-Wee
K.T. Oslin - Love in a Small Town
With A Little Help From My Friends
Terry Tufts - 2 Nights Solo

Reilly Wants his Life Back
Rick Fines - Reilly Wants His Live Back

Every Day
Fiona Apple - Rave On Buddy Holly (Tribute Album)
Margaritaville
Jimmy Buffet - Jimmy Buffet
Mr. Spontaneous
Gareth Pearson - A Tweak on Antique
Heaven's Perfect Smile
Greg Kelly - Ghosts

Emerald City
Alise Marlane - Emeralds and Other Gems (Song Along 2003)

Skinny White Male
Tom Lips - Made of Sky

Going to the Country
Bruce Cockburn - Bruce Cockburn (1 of two albums with this title) - True North

Musical Friends
Bruce Cockburn - Bruce Cockburn (1 of two albums with this title) - True North

Keep on the Sunny Side
Nitty Gritty Dirt Band - Will The Circle Be Unbroken
Break-in' In a Brand New Pair of Shoes
Concession 23 - The Walls Around You

Chrangrass
Camilo Gomez with Heather Horak - Single demo

Great Day in the Morning
Claire Lynch - Whatcha Gonna Do
Mouth of the Tobique
Switchback Road - Blackout

Everybody's Talking
Shawn Tavenier - The Silver Lining Sessions live


Silhouette
Tyler Kealey - Live from the Basement


Community Man
Tyler Kealey - Live from the Basement


Happy Go Lucky in Ottawa
Mark Nyvlt - Swingin' Nights

Time
Missy Burgess with The Blue Train - Live