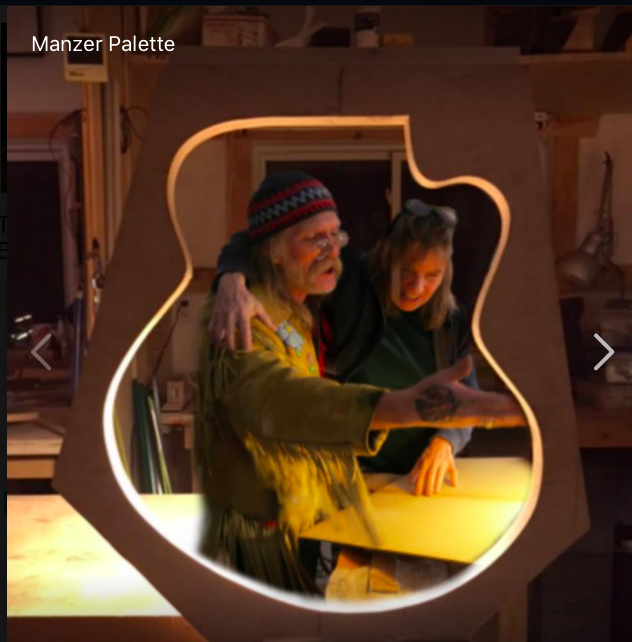 Saturday Morning
Saturday July 1st, 2017 with Pat Moore
Canadian
At 9am I'll be featuring Terry Tufts and Kathryn Briggs, on the Tom Thompson project. Here's a little info about the amazing instrument Terry plays - the Manzur Palette

THE SONIC PALETTE PROJECT will be performed featuring a thoroughly unique, custom instrument designed and built by the internationally renowned luthier, Linda Manzer. Intended to capture the essence of Thomson's artistic spirit in the early 20th century in appearance and sound, this multi-faceted instrument will incorporate similar tones of the zither, autoharp, even Thomson's own 10-string mandolin, all part of the musical vernacular of the time.

Linda started her career in the mid 70' apprenticing under Jean Claude Larivee and later with James D'Aquisto. She has built guitars for Bruce Cockburn, Gordon Lightfoot, Pat Metheny, Paul Simon, Carlos Santana, Liona Boyd, Milton Naceimento, Larry Campbell, and many others.

Her work has been displayed in the Smithsonian Museum, Washington DC, the Chinery Collection, the Boston Museum Of Fine Arts, and the Tria Gallery New York. She is know for her innovative contributions to the guitar world, including her creations of the 42 string "Pikasso", the 52 string "Medusa", the "Manzer wedge", the"Sitar-Guitar", the "Acoustic Baritone", and now THE SONIC PALETTE.
Wake Up Smiling
David Essig - REdbird Country & High Ground

High Ground
David Essig - Redbird Country & High Ground

Marie-Claude
Peter Brown - Marie-Claude - Indie

I'm Not Going to Waste a Minute (of my Life)
Murray McLaughlin - The Songbook - New Arrivals - EMI

Les Raftsmen - Version Bytown
Deux SAisons - Postcards from Bytown - GOOSE

Ottawa Electric Railroad
Alex Sinclair - Postcards from Bytown - GOOSE

The Great Fire of 1900
Riverbend - Postcards from Bytown - GOOSE

Wounds of Ireland
David Keeble - Postcards from Bytown - GOOSE

Warmer than Ulaanbaatar
Jim McIntyre - Postcards from Bytown - GOOSE

Yesterday's Promise
Pat Moore - Postcards from Bytown - GOOSE

The Beaver Song
John Hanson - It's a Sin to tell a Lie - Indie

Loup-garou
Les Vent du Nord - Tetu - Borealis

A Sailor Courted a Farmer's Daughter - After the Tempest
Figgy Duff - A Retrospective 1974-1993 - Amber Music

Duine Air CAll
Laura Smith - b'tween the eart and my soul

Blood is Thicker Than Water
Campell Woods - ...


Let's Get Back Together
Campbell Woods - ...


Runaway Heart
Quartette - Work of the Heart

Come Rain Come Shine
David Francy - Skating Rink

On the Boulevard
Murray McLaughlin - The Best of...Songs from the Street

Midway
David Francey - Skating Rink

The Wreck of the Edmond Fitzgerald
Gordon LIghtfoot - Gord's Gold Volume II - Warner Bros.

High Muddy Waters
Penny Lang - Stone + Sand + Sea + Sky - Borealis

20th Century
Ragged Flowers - 2oth Century

noodling on the Manzar Palette
Terry Tufts - linve in Studio

Lament for Tom Thompson
The Algonquin Sonic project - ...


Lamp Light
The Algonquin Sonic project - ...


Train
The Algonquin Sonic project - ...
October Gold
Terry Tufts - live in CKCU

Stubbs Stomp
Paul Mills - Six Strings North of the Border Vol 3

Always Got Your Hands o nthe Guitar
Amos Garrett - Six Strings North of the Border Vol 3

Birds Hill
Bill Garrett - Six Strings North of the Border Vol 3

Un CAnadien Errant
Whitehorse - Road to Massey Hall