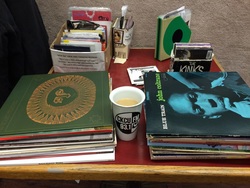 Saturday Morning
Saturday May 23rd, 2015 with Dick Altavista
the best in musics old and new.
A diverse 3 hours of music, including but not limited to, Viper Jazz, Blues, Psychedelic R&B, Country, Pop and Folk
Blue Trane
John Coltrane - Blue Trane
Got A Need For you
Adrian And His Tap Room gang - Weed: A Rare Batch
A Viper Just The same
The Jitterbug Vipers - Phoebe's dream
Reefer Man
Cab Calloway - reefer Blues Vol. 3
My Guitar Sings The Blues
BB King - Silver Strings
Gloryland
Danny Kroha - Angels Watching Over Me
Teardrops On Your Letter
The Amos Garrett Doug Sahm Gene Taylor band - The Return Of The Formerly Brothers
Take Me Back
Little Walter - Hate To See You Go
San-Ho-Zay
Freddie King - King On King
See Saw
Aretha Franklin - 30 Greatest Hits
If This World Was Mine
Marvin Gaye - Anthology
Bo-diddlyitis
Bo Diddley - Where It All Began
Friendship Train
The Temptations - Pyschedelic Shack
Think Of The Children
Rare Earth - Willie Remembers

(Tropical) Heat Wave
James White And The Blacks - Off White
Sunday Girl
She & Him - Volume 3
Two Days Of Darkness
The Bellevelle Outfit - Time To Stand
Tonight
Nora O'Connor - "Til The Dawn
Straighten Up And Fly Right
Linda Ronstadt - For Sentimental Reasons
Let's Fall In Love
Nancy Sinatra - Sugar
Other Side
Angela Desveaux & The Mighty Ship - Angela Desveaux & The Mighty Ship

Time To Cry
April March - April March Sings Along With The Makers
Having A Good Time
Jen & John - Jen & John

I'll Go To My Grave Loving You
Bruce Robison & Kelly Willis - Our Year
Be My Baby
Whitney Rose - Heartbreaker Of The Year


Come Hell Or high Water
Nick Ferrio - Come Hell Or High Water 7"


Rock And Roll Time
Kris Kristofferson - Spooky Lady's Sideshow
Just The Other day
Mike McDonald - Live At The Blue Chair


How I Roll
Romi Mayes - Sweet Something Steady

Hi Desert Cabaret
The Bushpilots - Swerve

Devil Of A Day
Chris Staig And The Marquee Players - Shack By The Tracks


So You Say You Lost Your baby
Gene Clark With The Godsin Brothers - Gene Clark With The Godsin Brothers
Nickel And A Spoon
Alejandro Escovedo - With These Hands

Broken Bottle
Jerry DeCicca - While No One Was Looking: Toasting 20 Years Of Bloodshot Records

Cannonball
The Dead Bees - 2

Little Girls
The Modernettes - Teen City

Girl At The Bus Stop
The Yellow Melodies - Students Of Life: A tribute To The BMX Bandits

Me In The Way
The Life-Size Men - Life-Size Demos


Jazz Cigarettes
The Golden Seals - Stay Golden

True Believer
The Key Frames - Monophone Heart


Spaceman Boy
The Johnnies - First Date

Chaise Lounge
Chris Page - Volume Vs. Voice