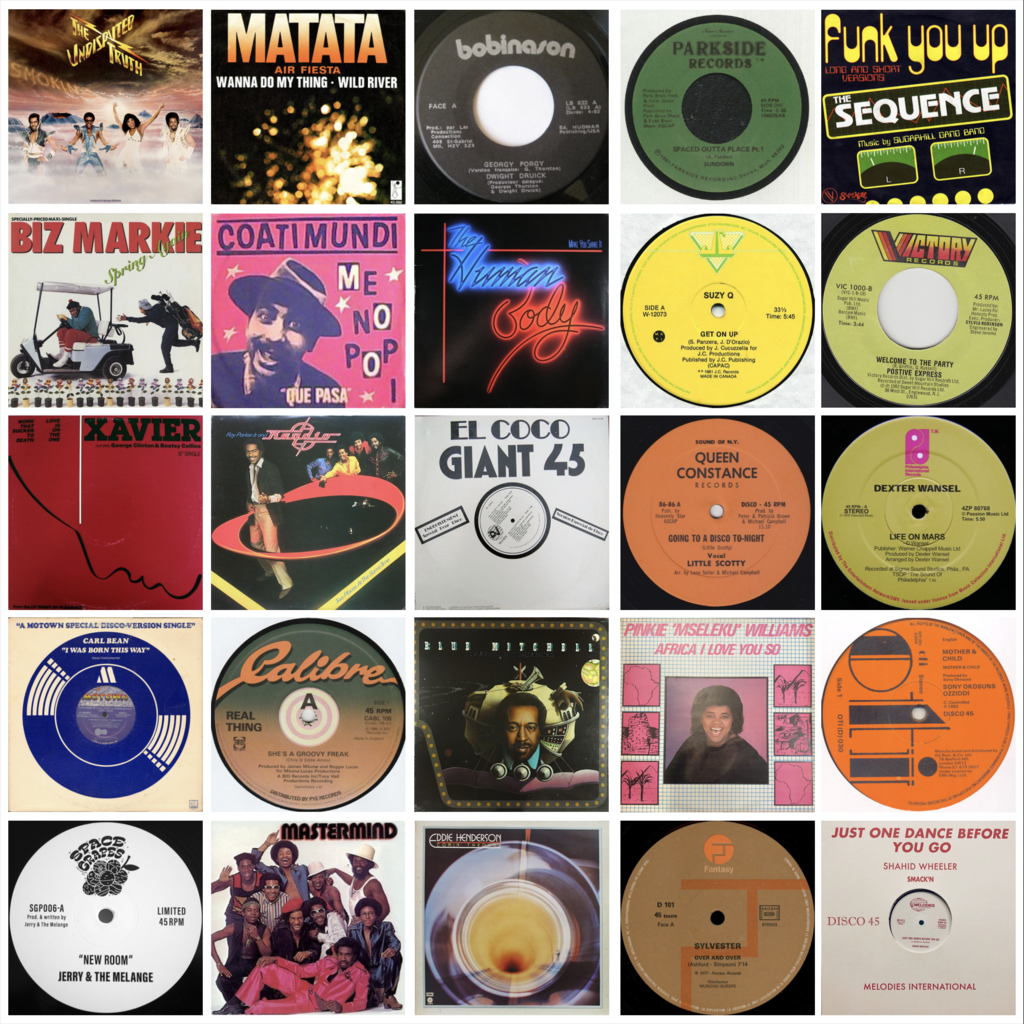 Friday Drive
Friday May 5th, 2023 with Trevor Walker
[MAYhemSpringBoogieWarmUp]
Happy Friday Drivers! I've got Friday disco fever and need to expel my work week demons with some funky disco boogie soul for a little two hour warm of jumping jams. Put on your dancing shoes and expect two hours of foot tapping head nodding mind blowing grooves on this week's episode. Disco never died it just regrouped and is now back with it's boogie vengeance! Thank you for taking the time, happy listening and I hope you enjoy the show!
Showtime
The Undisputed Truth - Smokin' Album - Warner Brothers
Wanna Do My Thing
Matata - Single - Crystal
George Porgy
Dwight Druick - Single - Bobinason

Spaced Outta Place Pt. 1
Sundown - Single RE - Parkside Records

Funk You Up
The Sequence - Single - Sugar Hill Records
Spring Again
Biz Markie - Single - Cold Chillin'
Me No Pop I
Coati Mundi - Single - Ze Records

bottom of first broadcast hour 17h30 EDT
Make You Shake It
The Human Body - Make You Shake It Album - Searsville
Get On Up
Suzy Q - Single - J.C. Records

Welcome To The Party
Positive Express - Single - Victory Records
Work That Sucker To Death
Xavier - Single - Liberty
For Those Who Like To Groove
Ray Parker Jr. And Raydio - Two Places At The Same Time Album - Arista
Let's Get It Together
El Coco - Single - AVI Records
Going To A Disco To-Night
Little Scotty - Single - Queen Constance Records
end of first broadcast hour 18h EDT
Life On Mars
Dexter Wansel - Single - Philadelphia International
I Was Born This Way
Carl Bean - Single - Motown Records
She's A Groovy Freak
Real Thing - Single - Calibre
Bump It
Blue Mitchell - Stratasonic Nuances Album - RCA Victor
Let's Get Down And Boogie
Pinkie "Mseleku" Williams - Africa I Love You So Album - The CCP Record Company
bottom of second broadcast hour 18h30 EDT
Mother & Child
Sonny Okosun Ozziddi - Single - OTI
New Room
Jerry & The Melange - Single - Space Grapes

Disco Party In The Street
Mastermind - Mastermind Album - Prelude Records
Say You Will
Eddie Henderson - Comin' Through Album - Capitol Records
Over And Over
Sylvester - Single RE - Fantasy Records
end of on air broadcast 19h EDT
Just One Dance Before You Go
Shahid Wheeler - Single RE - Melodies International
end of on demand content
Extra Curriculars:

FRIDAY MAY 5, 2023 AT 7 PM – 12 AM
Shows of Solidarity / Manifestations de solidarité
Galerie SAW Gallery
67 Nicholas St.

Shows of Solidarity: 50 Years of Video and Performance at SAW
May 5–June 24, 2023
2Fik, Marina Abramović, Arthur II, Ron Athey, Benoit Aubry, Cindy Baker, Bear Witness, Marjorie Beaucage, Rebecca Belmore, Colin Campbell, Theresa Hak Kyung Cha, Candy Chang, Marie Chouinard, Dana Claxton, The Clichettes, Steven Cohen, Jackson Couse, Allen Deleary, Evergon, Michael Fernandes, The Flators, Nicholas Galanin, General Idea, Juan Geuer, Mona Hatoum, Greg Hill, M. Lamar, Claude Latour, Tanya Mars, Matt Miwa, Rehab Nazzal, Richard Nigro, Harold Offeh, Clive Robertson, Rachel Rosenthal, Paul-André Schabracque, Carolee Schneemann, Annie Sprinkle, Lisa Steele, Stelarc, Beth Stephens, Rémi Thériault, Dennis Tourbin, Tavi Weisz, Laakkuluk Williamson Bathory, Paul Wong, Justin Wonnacott, Keigo Yamamoto, Lawrence Paul Yuxweluptun, and many others
Mirror Mirror cable television series
Host: Dennis Tourbin. Featured artists: Marc Audette, Lance Belanger, Marion Bordier, Barbara Brown, Jonathan Browns, Mimi Cabri, Susan Close, John Cooke, Dawn Dale, Tim Desclouds, Peter Dudley, Pat Durr, Susan Fiendel, Tony Fouhse, Angèle Gagnon, Diane Génier, Adrian Göllner, Gerry Grey, Ray Hagel, Agnes Ivan, Kareen Jackson, Donna James, Catherine Kavanagh, Jennifer Kawaja, Steve Kempton, Eva Manly, Afua Marcus, Deborah Margo, Mark Marsters, Penny McCann, Matt McCutcheon, Robert McFadden, John Moffat, Chris Mullington, Lynne Nicholson, Sue Pearson, Mary Pfaff, Paulette Phillips, Leslie Reid, Suzanne Rivard Le Moyne, John Sadler, Dan Sharp, Blair Sharpe, Thane Shubaly, Harold Sotomayor, Jim Thompson, Rob Thompson, David Tierney, Jean-Yves Vigneau, Karen Watson, Paul Weber, Tom White, Carla Whiteside, Diane Woodward and Russell Yuristy
Curator: Stefan St-Laurent
Advisors: Penny McCann, Jason St-Laurent and Tam-Ca Vo-Van
—
Opening reception:
Friday, May 5, 7PM–midnight
Performances by:
Ron Athey (Los Angeles)
M. Lamar (New York)
Tanya Mars (Toronto)
DJ Trinidaddy (Ottawa)
Food prepared by:
Chefs Jamie Stunt (Arlo) and Chloé Berlanga
Free admission
—
SAW is delighted to present its major 50th-anniversary exhibition featuring art and ephemera from over 100 regional, Canadian and international artists who have made their mark throughout the centre's enthralling history.
Founded by a group of eight regional artists in 1973, SAW (formerly Sussex Annex Works) began its operations on the second floor of the world-renowned performance venue Le Hibou Coffee House, a dynamic hub for musicians, artists and poets of the counter-culture movement that attracted the likes of Joni Mitchell, Jimi Hendrix and George Harrison.
Over the years, SAW has stayed true to its roots, maintaining a multidisciplinary program of exhibitions, performances and concerts and becoming one of Canada's most vivacious artist-run spaces, each year attracting over 40,000 visitors and presenting the work of over 1,200 artists and musicians. In 2019, SAW completed a multimillion-dollar expansion featuring new museum-grade exhibition spaces, a state-of-the-art concert venue, a printmaking studio and an artist residency.
A pioneering space for contemporary art with a particular focus on video and performance, SAW has, over its half-century of existence, presented many seminal and idiosyncratic exhibitions that forever changed the visual and performance art landscape in the country. Projects such as Yellow Peril: Reconsidered, curated by Paul Wong, Solidarity: Art After Oka, curated by Lee-Ann Martin, and Access Denied, curated by Farouk Kaspaules, forefronted the work of many artists who were being overlooked by other artistic institutions, giving voice to many generations of creators pushing the boundaries of art and addressing critical concerns around race, identity, politics, gender and sexuality.
Some highlights of the exhibition Shows of Solidarity include:
- Never-before-seen photographs, printed matter, performance remnants and videos from SAW exhibitions and events, including documentation of Cristallisation, Marie Chouinard's first choreographic work, presented in 1979 with Rober Racine, and Bars, Barbs and Borders: The Negotiating Table, one of Mona Hatoum's first public performances, presented in 1983;
- The ever-stirring video installation The Named and the Unnamed by Rebecca Belmore, on loan from the National Gallery of Canada;
- Richard Nigro's controversial photographic series Of Intimate Silence, presented as part of his solo exhibition in 1978. The show was threatened to be shut down by the Ottawa police following complaints of indecent material being exhibited. The work was cited during a review of Canada's pornography laws, which now permit the presentation of explicit images if the artist has "honourable intentions";
- All three seasons of Mirror Mirror, a cable television program produced by SAW with AXENÉO7 and Gallery 101 and broadcast on Rogers Community Television from 1991 to 1994. The series was recently restored and digitized by the Digital Arts Resource Centre with the generous support of the City of Ottawa.
Highlights of the opening reception include:
- A 40-minute preview of The Asclepeion, a multimedia performance created and performed by acclaimed American artist Ron Athey. Currently in production in Athens, Greece, The Asclepeion will be completed later this year;
- Influential performance artist Tanya Mars will come out of retirement to present a revised and expanded six-hour version of In Dulci Jubilo, which will this time consist of a feast of 50 cakes;
- Composer and artist M. Lamar will reprise his 2008 performance Funeral Doom Spiritual, which the New York Times describes as an "otherworldly, goth-tinged projection into the distant future of our violent, racially and sexually charged present offers a space of melancholic, alluring, ultimately stirring reflection."
Shows of Solidarity: 50 Years of Video and Performance at SAW is the first in a series of special projects celebrating our centre's milestone anniversary. SAW recognizes the crucial role regional artists, collectives and organizations have played in its development and in shaping its unique identity as a multidisciplinary space now home to many artistic and cultural communities. SAW's most fervent collaborators have joined forces with us to present an exceptional program throughout 2023, honouring our intertwined histories and envisioning our shared futures.
Partners: National Gallery of Canada, Ottawa Art Gallery, Digital Arts Resource Centre, Arts Court, Canada Council Art Bank and Produced by Youth
Sponsors: Arlo, Adapt Ag, The BBQ Joint and Display Laminating
Funders: Canada Council for the Arts, Ontario Arts Council, City of Ottawa, Government of Canada, Government of Ontario, Ontario Trillium Foundation and Ottawa Community Foundation




FRIDAY MAY 5, 2023 AT 9:30PM
Bumpin' Binary Quintet feat. Ed Lister, Petr Cancura, Ben Dimillo w/ Don Cummings & Mike Essoudry
@Irenes Pub
885 Bank st
$15



FRIDAY AT 10 PM – 2:30 AM
Etienne Ozborne Presents: Vacarme Friday
56 Byward Market Square
Event:
https://fb.me/e/7o6cnjth4
Tickets:
Tickets · $10via Eventbrite

Night of amazing House Music and Great Vibes with Etienne Ozborne inside BERLIN at 56ByWard
Canadian DJ/Producer, Etienne Ozborne has a rich musical history. Prior to becoming a DJ, Etienne honed his performance and rhythmic skills as a percussionist and drummer in an alternative band. In the 90's, like so many of us, he fell in love with house music and never looked back.




SATURDAY, MAY 6, 2023 AT 12 PM
Capital Sessions at the NAC
National Arts Center
Event:
https://fb.me/e/ejuhAAPLZ
Free All Ages

This month we are excited to feature Ottawa's known: the amazing DJ Joe Juarez and dancer extraordinaire Raul Guevara! Come listen to some great music, if you want you can pick up some dance moves from Raul at noon and 1PM, or just do you and vibe out with our awesome community of househeads!!! It's FREEEEE!!!
Artist Bios:
Joe Juarez
Joe Juarez is one of the Real OGs of the Ottawa house and dance communities. All the way from the Atomic, Velvet, Surface, Heaven and Sundaze; till his current endeavors with Rzn8 and Aztec love, Joe has been making local and international dance floors everywhere groove for over two decades. Whether helping shape Ottawa's taste buds with his amazing food at El Camino and cooking classes or playing stellar DJ Sets/hosting events, this creative cat's work is not to be missed!
This past year Joe took a music hiatus to produce Ottawa's new inception of the Food & Wine show- Crave, which took place in November to sell out crowds and rave reviews. His latest high profile project as Executive Producer for 56 Byward's Club Berlin has been met with high praise and incredible events in the historic Mercury Lounge space. His Saturday residency at Berlin is always bumpin with a flurry of dancefloor mayhem and nostalgic goodies.
Raul Guevara
Raul Guevara, Bboy RA/ 4EverFresH~, Original Rudes Crew, Fresh Format, and Flava Squad. Started breaking mid 90's and recognized as one of Canada's top Bboys, known in Calgary as; "The king of Calgary". Educating, Adjudicating, battling, performing, and choreographing dance for 25 years, Raul's dedication and passion towards the Hip Hop community has influenced people of all ages, and across the world. Well known and recognized for his style, raw flavour, humour as well as his insatiable drive to converse thru battle, a cypher Bboy at heart.
Although widely known as a Bboy, Raul loves the dance, music and culture of House. He has trained with Jojo and Kati (House of Danger Kat), Brian "Footwork" Green, Caleaf Sellars, Ejoe Wilson, Marvin Baptiste and Dazzle to name a few. Raul loves to get down to a dope deep house beat - the dance, music and culture resonates with his soul.



SATURDAY, MAY 6, 2023 AT 10:30 PM – 2 AM
DiscoLab MAYhem!
Parlour
1319 Wellington Street W.
Event:
https://fb.me/e/bgRCyK7p9
Tickets:
Tickets · $17.31 - $22.63www.eventbrite.com/e/discolab-mayhem-tickets-619898141027

Alex & Trevor bringing the heat for another DiscoLab!
100% vinyl throw down '75 - '83 Funky Disco Boogie Soul all night.
Dress to impress for the get down & make sure to practice sharpening up those boogie moves!
DiscoLab is people coming together and feeling free to the funk in the spirit of the late 1970's to the early 1980's.
We encourage everyone to take it to the next level by dressing up in your finest disco gear and get ready to GET DOWN to some of the best music and vibes Ottawa has to offer.
Combined, Alex & Trevor have been rocking dancefloors and collecting music for more than 60 years!
They have been and will continue to bring that experience and understanding of the era to enhance the DiscoLab experience trying to introduce and play lesser known underground classics coupled with a dash of well know anthems.
DiscoLab has had the very good fortune to be partnered with Parlour as one of Ottawa's premiere venues giving the party a unique and magical vibe. Parlour will be offering special VIP "Boogie Booths" first come first serve available just go to parlourplace.ca for reservations.
We hope to see you out on the dance floor dressed to the hilt & sweating like bullets.
LET'S GO!!!



SUNDAY, MAY 7, 2023 AT 2 PM EDT
Moov Ottawa Dance: Waacking Classes with Didi
Bronson Centre
211 Bronson Ave.
Event:
https://fb.me/e/2dj9TtYnU

Waacking classes are back for this Spring with co-founder of Moov, @aleadecastro!
Alea, also know as #Didi, has been practicing within the art & dance of #Waacking for almost 12 years. She has been a pillar in the Street Dance scene not only in Ottawa but nationally.
Join her in @moovottawa's 4 week program:
INTRO/BEGINNER
Sundays May 7, 14, 21 & 28
1-2PM @ Bronson Centre
Fundamentals & Combos *0-1 Year experience*
ADVANCED BEG/INTER
Sundays May 7, 14, 21 & 28
2-3PM @ Bronson Centre
Drills & Choreo *Experience mandatory*
———————————————-
Accepting maximum 15 students per class
Registration ends April 30th, 2023 @ 1159PM (or earlier if we sell out)
——————————————-
How to register?
Www.moovottawa.com (

in bio)
#MoovOttawaDance #Waacking #Whacking #Punking #Pose
——————————————-
Are in love with Waacking but haven't gotten the chance to learn it? Are you of our BIPOC LGBTQ+ community? If so, we've launched a collaborate initiative through @softserveottawa #SoftServeScholarship, where 2 lucky folks who are BIPOC LGBTQ+ will be picked to take these classes for free + get 2 free tickets to the April 22nd Soft Serve battle. To enter the contest to get a chance to win a scholarship, follow @softserveottawa www.instagram.com/softserveottawa and join the giveaway!




SUNDAY, MAY 7, 2023 AT 3 PM
$5 Open Dance Practice: May 2023
Bronson Centre
211 Bronson Ave.
Event:
https://fb.me/e/5JdxNKPLJ

Spring is here & we're bringing back our $5 open dance practices!
Details:
Bronson Centre (211 Bronson Avenue)
Sundays May 7, 14, 21 & 28
3-5PM (2 hours)
$5 e-transfer per week, $5 cash day-of or $20 for the full 4 weeks upfront
Having physical spaces to practice your craft, alone or amongst others, is limited for Street Dancers in our city, so we're opening a weekend spot for you to get down!

Use this space to:
drill your foundations
practice your moves
cypher with your peers
stretch and condition
explore and get creative
share with others

And who is this for?
Street / Club dancers
All levels - beginners to seasoned
All ages (at parent's discretion)

What to bring:
Indoor shoes mandatory
Pre-filled water bottle

What music is being played?
Break beats, Hip Hop
House, Funk
Disco, Afrobeats etc
You can BYOM and contribute

What is this space NOT for:
Teaching your own class
Using the whole space to create choreography
NOT A DANCE CLASS

How to join?
Send us a DM
E-transfer $5 per week
.. or $20 for 4 weeks to secure your spot
.. or just show up early - space is limited & bring $5 cash
Anyone who paid the full $20 for our last 4-week practice gets in for free! Send us a DM if this pertains to you (you'll also hear from us directly)
So come join @moovottawa and the scene for the Spring and get down
NOTES:
Do not attend if you are unwell
No refunds
Covid-19 policy in full effect
Code of Conduct in full effect
Injury policy in full effect



SUNDAY MAY 7 AT 9 PM – 1 AM
HANNES BIEGER (LIVE) at City At Night
City At Night
222 Slater St.
Event:
https://fb.me/e/YrhjVCZL
Tickets:
Tickets · $22.63 - $550www.eventbrite.ca/e/hannes-bieger-live-at-city-at-night-tickets-624750314007

City At Night is excited to be welcoming one of the worlds top mixing engineers, Hannes Bieger (Berlin) LIVE, with support from Bryan Wolf Ear, on Sunday May 7th, 9pm-1am.
_
Hannes Bieger - https://soundcloud.com/hannesbieger
As one of Europe's most in-demand mixing engineers Hannes Bieger spent a decade cultivating an untouchable reputation, with an exhaustive client list that includes some of the biggest names in contemporary house and techno. In 2017 Hannes decided to step back into the foreground and return to making his own music again, emboldened by years of studio experience, a renewed zest for production and a lifelong romance with electronic music. Since then he has made quite an impact; picking up a series of releases with highly influential labels, and traveling across Europe and South America to perform live. One of his most recent cuts, 'Stars', which dropped on John Digweed's Bedrock label, hit the No.1 spot in Beatport's Progressive House chart. An impressive list of achievements in a very short space of time, and it's just the beginning...
In 2017, after 11 years ago in the world of mixing and mastering, Hannes was at the top of his game, his magic touch making him a popular choice for a variety of world-famous producers. In recent times he has shifted his focused, dedicating his energy to solo productions and crafting an unforgettable live show. Hannes returned to making his own music with his debut EP on Poker Flat in 2017 inspired by the purchase of a coveted Moog modular synth, which reinvigorated his passion for production and inspired him to start performing live. With an endless stream of case studies passing through his operating table as a mixing engineer, Hannes came to learn exactly what works when it comes to premier dance floor material. Learning key lessons from some of the most talented producers in the game, he has accumulated a huge store of knowledge and skills resulting in a deeply intuitive, 'less is more' approach. Placing great importance on this reductive method for his own productions, the results have been impressive, with several key labels signing his music for release. They include his "first" release on Steve Bug's Poker Flat, the 'Strato' EP, which picked up positive feedback across the board, including an '8 out of 10' review in Mixmag. This was followed by 'La Selva' on Audiofly's Flying Circus, an EP which the duo continue to support up until today, plus a follow up to 'Strato' on Poker Flat called 'Tephra' in June 2018. Hannes has also remixed Monkey Safari for Hommage Records, dropped a beautiful ambient composition called 'Birth Of An Island' on Aeon and has an exclusive track, 'Mauna Loa', featured on Bedrock's huge 'XX' compilation celebrating the 20th anniversary of John Digweed's label. This was followed by his first full release on Bedrock, the 'Stars' EP featuring four brand new productions. In March 2019 Hannes returns to Poker Flat with three dynamite tracks entitled the 'Chemistry' EP. The title track typifies Hannes' approach to production with a simmering build up, ultra fine detail across all the various elements and stirring atmospherics that provoke an emotional response in the listener. Teaming up with Sailor & I, who provides soulful vocals, Hannes delivers another exemplary dance floor bomb. 'Chemistry' has a brooding atmosphere, with wistful vocals and crisp percussion. There is also a 'Dub' version of the track, with the vocals stripped out and, on the flip, there's 'El Fuego', which is a hard-edged, minimal cut aimed at taking the dance floor into the darkside. A modulated synth forms the main riff of this cut, wriggling and writhing around as the tension fluctuates and Hannes uses his expertise to cultivate a rousing, sensual atmosphere. Hushed vocals whisper 'soy el fuego', and this is certainly a very hot piece of music… Parallel to his production exploits, Hannes has been investing his time and energy into developing his own live show. Over the years he has poured his earnings into collecting a mouthwatering selection of synths. Forming a symbiotic relationship with these machines means the production process always takes place outside the box, with a spirited, physical approach to making music. This technique allows Hannes to have fun while making music, to embrace the physicality of his sounds and immerse himself in the production process, resulting in music that comes straight from his heart and soul. This same process is applied to his live show, bringing the studio on the road with him, making zero sacrifice in terms of quality to present audiences with a live performance on high quality equipment. His set up includes a Moog Sub 37, DSI Prophet-6 and a UA Apollo 8 all played through an SSL board, reinforcing Hannes' belief that there should be no cutting corners when it comes to live shows. His debut at IPSE, on 11th August 2018 in Berlin, went down a storm, and the hour-long performance gave Hannes a huge confidence boost. Since then he's traveled across Europe and South America with his remarkable collection of machines, promising to deliver a scintillating set at every show. So far, amongst others, he has appeared at Watergate (Berlin), D.Edge (Sao Paulo), The Bow (Buenos Aires), Baum (Bogotá) and Bassick (Quito) plus a spectacular show at the stunning church Kulturkirken Jakob in Oslo. Things have come full circle for Hannes, going back to performing live, which is where his musical journey began back when he was a teenager playing in bands.
Proof that dedication to one's craft and an uncompromising focus on quality over quantity can provide the perfect foundation to a lifetime of success, Hannes Bieger continues on his quest to keep the levels high and the energy consistent - promoting joy and good vibes every step of the way…
Bryan Wolf Ear - https://soundcloud.com/bryan_wolf_ear
_
Walk-ins are available on a first-come, first-served basis.
Tickets or Table reservations are recommended (via Eventbrite)
Thank you to everyone in this community for your ongoing support.




WEDNESDAY, MAY 10, 2023 AT 7 PM
Latin Jazz Nite
Queen St. Fare
170 Queen Street W.
Event:
https://fb.me/e/3eQLuqJuN

A very special version of our weekly Jazz Nite. It's a Latin event with famed pianist Miguel de Armas




FRIDAY MAY 12, 2023 AT 8PM - 12AM
NATURE NOCTURN feat. JDFun
@Museum Of Nature (Rotunda Room)
240 McLeod St.




FRIDAY, MAY 12, 2023 AT 10 PM – 2 AM
Disco 93: Presented by B. Jones
Lounge 164
164 Laurier Ave. W
Event:
https://fb.me/e/46Jfszkjc

Hey all you foxy people! Have y'a heard? Saaaaay man that disco is really bumping! Which one you ask? Well Disco 93 of course!
Well If you like to boogie well then get together ya stepping out clothes and head on down. We only got two rules when disco 93 is in your town:
1. Boogie the night away
2. Wear your best 70s-90s outfits!
Join the travelling discotheque in auntentic retro club night as your host with the most, Boogaloo Jones makes his vintage dreams a reality, with a little help from his friends: Jas Nasty, Seiiizii and B-rad as well as some special guests from MTL, Max Miaja and Emiliano Chamandy





SATURDAY, MAY 13, 2023 AT 8 PM – 1:45 AM
School of Bass #65
Avant-Garde Bar
135 1/2 Besserer St
Event:
https://fb.me/e/YzUUQeoB
Tickets:
$15 door

Drum & bass all night! Featuring:
SCHEMATIC
Bassdrive / UKF / Hospital
SNUG
Ambra Recordings / Halifax, NS
With local support From:
Karl Haze b2b Fiver b2b Threesixty
Mister Mystic b2b Dubplate Professor b2b I.D.E Projekt
Avant-Garde Bar, 135 Besserer St
$15 at the door
19+ / photo ID required
P.L.U.R / R.O.A.R
SUPPORT YOUR LOCAL SCENE



SATURDAY, MAY 13, 2023 AT 9 PM
Gin Joint Djangos Live At Motel Chelsea
Motel Chelsea
1418 Route 105, Chelsea, QC
Event:
https://fb.me/e/436AhTQst
Tickets:
Tickets · $35www.eventbrite.ca/e/mash-musique-presents-gin-joint-djangos-at-motel-chelsea-tickets-591926497087

Mash Musique presents Gin Joint Djangos
Gin Joint Djangos bring their tongue in cheek jazz stylings to Motel Chelsea on May 13, 2023 for a night of swinging music and swirling cocktails.
With a repertoire that spans from Louis Prima to Britney Spears and Metallica, this is a jazz band that brings the fun!
Expect two sets of high energy, danceable music from this unique 7 piece band led by Greg Paul Stone and Kelly Craig.
Dinner reservations also available. 819-827-3888




SATURDAY, MAY 13, 2023 AT 9 PM – 2 AM
White Rabbit: Jaded Recordings Label Launch w/ Return of the Jaded, Sokotta, Jason Skilz
City At Night
222 Slater St.
Event:
https://fb.me/e/1clf8fbhS
Tickets:
Tickets · $15 - $480cityatnightMay1323.eventbrite.ca

On Saturday May 13th, we're happy to be hosting the launch party for DJ/Producer Return of the Jaded's new record label: JADED RECORDINGS in City At Night. An amazing professional milestone for a local hero of our scene, we can't wait to celebrate!

This night is all about exciting music and fantastic vibes from start to finish. Of course we had to partner with our good friends at SAIRYŌ to share the experience with as many people as possible.

For those who are unable to join us in person, SAIRYŌ will be LIVESTREAMING the entire event from 9pm-2am EST, via our Twitch tv channel >>> twitch.tv/thewhiterabbitshow

ft.
RETURN OF THE JADED
Sokotta
Jason Skilz
Check out our spin on happy hour = #HoppyHour! Every Saturday from 9pm to 10pm we offer 1/2 price admission (excl. special events) + 1/2 price beer & bar rail, featured cocktails, and featured DJs!
- A limited quantity of tickets are available online (before 12am)
- Table reservations/packages are recommended for groups and available online
- Walk-ins are always available on a first-come, first-served basis.

FAQ: www.cityatnight.ca/FAQ
VENUE: www.cityatnight.ca

Thank you to everyone in this community for your ongoing support.




SATURDAY, MAY 13, 2023 AT 9 PM
Sounds from Yaad | Volume 2
Irene's Pub
Event:
https://fb.me/e/2ryDgc6E3
Tickets:
Ticketsbuytickets.at/irenespubandrestaurant/889064

Go for a journey through time and listen to all the classic sounds of Jamaica from Rocksteady and Reggae music played by SoundProof featuring special guests.
Hear the sounds of Bob Marley, Dennis Brown, Beres Hammond, Marcia Griffiths and more!
Bring yuh dancin' shoes. Bring yuh Queen an lef' yuh machine!!!



SUNDAY, MAY 14, 2023 AT 7:30 PM
Kellylee Evans - The Rebirth of "Nina" at the NAC / au CNA
NAC - National Arts Centre
Event:
https://fb.me/e/2p75knrzU

The inimitable Ottawa-based jazz musician Kellylee Evans brings to life her 2010 album Nina, in a spectacular one-night-only event. The album, a tribute to jazz and civil rights icon Nina Simone, won the Juno for Vocal Jazz Album of the year in 2011, Evans' first Juno award. Jazz Times wrote "… a master of fresh interpretation… so superbly rendered it could be considered definitive. "
Info: https://nac-cna.ca/en/event/33624
---------------------------------------------
L'inimitable musicienne de jazz Kellylee Evans revisite son album Nina à l'occasion d'un concert exceptionnel. Datant de 2010, cet album qui rend hommage à la grande Nina Simone, figure emblématique du jazz et militante des droits civiques, lui a permis de rafler en 2011 son premier prix JUNO dans la catégorie Album jazz vocal de l'année. Pour Jazz Times, l'Ottavienne livre avec cet album « […] une interprétation maîtrisée et inspirée […] le résultat est si majestueux qu'il en devient presque intemporel. »
Info: https://nac-cna.ca/fr/event/33624




FRIDAY, MAY 19, 2023 AT 9 PM
SMELLOSHIP, Nambi and Megan Francoeur @ Irene's Pub
Irene's Pub
885 Band St.
Event:
https://fb.me/e/scGYdD5rb
Tickets:
Ticketswww.irenespub.ca

SMELLOSHIP (instrumental funk + soul)
http://www.facebook.com/smelloship/
Instrumental music inspired by the funky greats from 1960 to today. Remember what fun used to be like? We'll help remind you.

NAMBI (acoustic RnB street folk)
https://www.facebook.com/nambimusic/
Tenacious, and achingly pure, singer-songwriter NAMBI (formerly known as Rita Carter) is a powerhouse of acoustic soul. Whether performing with her band, The Rhythm or solo, NAMBI has gained an incredible amount of respect and support from her hometown Ottawa fans and fellow artists alike. With honest songwriting, gut wrenching vocals, and heart hitting lyrics. NAMBI has also brought her music to global stages in Liverpool, Cambridge, & Manchester, UK, as well as, a guest appearance on London's BBC Radio to promote her single "Wake Up". She has toured in Kenya and Uganda and she's performed at world renowned festivals and venues like Ottawa Bluesfest and the NAC.

Megan Francoeur & Pals (R&B and folk trio)
https://meganjeanfrancoeur.bandcamp.com/
Megan Francoeur mixes elements of R&B and folk into her sound. Her sweet pals Alex and Brian drive the music to life, making up a trio that brings on the feels.




MONDAY, MAY 22, 2023 AT 9:30 PM
ERU-ERA Live at Minotaure ~ Monday 22nd May
Minotaure
3 Rue Kent, Gatineau
Event:
https://fb.me/e/5j9mbtTls

It's been a while but WE ARE BACK!!! We're very excited to be bringing our brand of Hyper Funk back to Minotaure on Monday 22nd May! It's a free show with tip jar welcome so don't be shy!! This will be the best start to your week, hands down!!!




FRIDAY, MAY 26, 2023 AT 9 PM – 3 AM
Juste du: 1970-80 au Minotaure (DJ avec vinyles)
Minotaure
3 Rue Kent, Gatineau
Event:
https://fb.me/e/5XDHSdxh8
Gratuit / Free | 18+

On a beaucoup de fun avec les années 90 et 2000, parce que c'est pendant cette période qu'on a grandi et dansé nos vies, mais on s'est dit, hey, nos parents dansaient tout autant (sinon plus!) dans les années 70 et 80, voici donc que l'on récidive avec Juste du: 1970-80 vol 4.

À prévoir: beaucoup de pop, beaucoup de nostalgie, beaucoup de gens qui faussent en chantant... et peut-être un(e) invité(e) surprise.

Avec 4 DJ en alternance (Glory Hull, Lolo, Cendrine et Jasmine) avec leurs vinyles, qui vous feront sentir comme si vous étiez dans le premier Austin Powers, avec les hits de: Village People, Bowie, Bob Marley, Madonna, Georges Michael, Cindy Lauper, CCR, Earth Wind & Fire, les Bee Gees, Stevie Wonder et tellement plein d'autres.

Accessoires conseillés, mais non-obligatoire:
- Des souliers discos.
- Des pantalons éléphants (ça revient à la mode...).
- Des lunettes en étoiles/coeurs.
- Votre plus beau tie-dye.

On vous attend dès 20h, pour prendre un verre ou deux, puis on se rejoint sur le plancher de danse du 2e étage.
.
Gratuit | 18+




THURSDAY, JUNE 1, 2023 AT 8 PM – 9:30 PM
Victor Anastacio - "Moongate" Album Release" party
NAC - National Arts Centre
Event:
https://fb.me/e/ZUkm9Mbn
Tickets $20

Axé WorldFest presents:
Victor Anastacio - "Moongate" Album Release" party
Thursday, June 1st 2023
Doors at 8 pm
Show at 8:30 pm
$20
"Victor Anastacio is a classical guitarist, composer and music teacher from Brazil living in Ottawa, Canada since 2020.
His debut album "Moongate", released in March 2023 is a multidisciplinary album, combining music and digital art. The project consists of a collection of compositions for classical guitar, flute and double bass written by Victor Anastacio, combined with a collection of landscape paintings by Max Suleimanov.
Anastacio's music combines classical music, jazz and Brazilian bossa nova influences, resulting in an impressionistic style that serves as a bridge between classical and popular music. The project is performed Live by Colleen Leslie on Flute, Philippe Charbonneau on Double Bass and Victor Anastacio on Guitar.
for more info:
https://www.instagram.com/victoranastaciomusic
https://www.facebook.com/victoranastaciomusic
https://www.youtube.com/@victoranastaciomusic
Tickets will soon be available for this show






SUNDAY, JUNE 4, 2023 AT 12:30 PM – 9:30 PM
Fiesta Cubana Fest 2023
1525 Princess Patricia Way
Event:
https://fb.me/e/6ER4y4WvG
Tickets:
Tickets · $15via Eventbrite

A festival to highlight the best of Cuba in Ottawa. A beautiful day filled with Cuban music and arts.
Join us on June 4 for a beautiful day filled with activities that highlight the best of Cuban culture. An artistic myriad of Cuban shows, including amazing salsa bands, dance workshops, visual arts, literature, and lots of dancing. We will have food and cocktails for you to taste the best flavors of this Caribbean island. A special time for friends and family to enjoy the best of Cuba in the heart of Ottawa.
$15 Early bird tickets available until April 6, General admission $20 until June 1st, Door tickets available at $25.
Doors open at 12:30 pm, with free entrance to children up to 16 years old.




SATURDAY JUN 10 AT 2 PM – JUN 11 AT 2 AM
Pique summer edition
Arts Court/Cour des arts
2 Daly Avenue
Event:
https://fb.me/e/zJ9rwVKE
Tickets:
Tickets · $27.96 - $54.58www.eventbrite.ca/e/pique-summer-23-tickets-621954371267

Pique is back with its largest edition yet! Join us for a joint-birthday bash to celebrate Debaser's 10th anniversary and SAW's 50th anniversary with groundbreaking performances, art exhibitions, screenings, workshops, and more.
The occasion triples as the Arts Court Open House Party, bringing together the building's resident cultural organizations to animate every corner of Ottawa's most vibrant cultural hub for an afternoon of free building-wide family-oriented activities.
Pique summer edition features 30 artists across 10 stages and multiple exhibition spaces, indoors and outdoors. The outdoor Art Market returns to Daly Ave with 25+ artist and food vendors, and for the first time at Pique, we are bringing live music back to the neighbouring Jail Hostel (the site of Debaser's first-ever show 10 years ago)!
Admission is PAY-WHAT-YOU-CAN with a suggested contribution of $25-$50.
To purchase a ticket below or above the suggested sliding scale, please register for our pay-what-you-can ticket program: https://forms.gle/z9rJkqPXFWrvLTsp8
The event is ALL AGES and licensed.
Visit thisispique.com for more info.
FEATURING...
Lido Pimienta
Bear Witness (of The Halluci Nation)
Colloboh
Frost Children*
EYIBRA
Aïcha Bastien N'Diaye
Anaïs Cardot
Jairus Sharif
OK Naledi
THEA
Hug Mosh*
Bonnie Doon
Matt Miwa
Kathryn Patricia
Go Long
Backseat Dragon
Fireball Kid*
N'nerjie
Siaka Diabate
KAY-fayb
Everett Rama*
13assa & Shaye A
and the music of Raven Chacon performed by Quatuor Bozzini
* curated by Many Place Money Party
GUEST CURATORS
Many Place Money Party
We Are The Medium
For more information, including our health and safety policies, and accessibility information, please visit thisispique.com




SATURDAY, JUNE 10, 2023 AT 9 PM
Ottawa, ON: Atlantis Jazz Ensemble at Irene's
Irene's Pub
885 Bank St
Tickets:
Ticketsbuytickets.at/irenespubandrestaurant/901653

The Atlantis Jazz Ensemble take over Irene's Pub in Ottawa for the first time ever! Expect a night of deep, funky, soulful jazz, featuring special guest Phil Charbonneau on double bass. Limited capacity, get your tickets early!
Personnel:
Ed Lister - trumpet
Zakari Frantz - alto sax
Pierre Chrétien - electric piano
Philippe Charbonneau - double bass
Mike Essoudry - drums




SATURDAY, JUNE 24, 2023 AT 8 PM – 2 AM
Festa de São João 2023
Queen St. Fare
170 Queen St.
Event:
https://fb.me/e/EgJfF3gD
Tickets:
https://www.eventbrite.ca/.../festa-de-sao-joao-2023...
Early bird $15
2nd tier - $20
3rd tier - $25

Axé WorldFest & Saravah present
Evening of São João - June 24, 2023
Luciano Lu & Zé Fuá Band
w/ guests Riquinho Fernandez & Maninho Costa - Toronto
Spreading the culture and heritage of Brazil is our aim!
Old school Forró Pé de Serra: Expect Luiz Gonzaga, Cascabulhos, Gilberto Gil, Alceu Valença, Jackson do Pandeiro, Dominguinhos e Sivuca
Doors at 8pm Band starts at 9pm.
dress up in São João(San Jean) style - Examples will be given on this page, but think Urban cowboys and Modern Farm girls.








WEDNESDAY, JUNE 28, 2023 AT 10:30 PM – 11:45 PM
Cimafunk | Ottawa Jazz Festival
 Marion Dewar Plaza - OLG Stage, 110 Laurier Ave W
Event:
https://fb.me/e/twhkNjqD
Tickets:
Tickets · $23via Showpass

Cimafunk is an Afro-Cuban Rockstar. His namerefers to his heritage as a 'cimarrón,' Cubans of African descent who resisted and escaped slavery, as well as to the essence of his music that aims to subvert conventional sounds with rhythmic innovation.By bringing out the best in Cuban rhythms and traditions and infusing sounds and styles from Africa and the U.S.,Cimafunkhas created something unique and special, not only in terms of music but also with the values he stands for. He is redefining contemporary Cuban music as well as Afro-Latin identity and the fusion of black cultures. Cimafunk's monumental second album El Alimentowas released in October 2021, receiving overwhelming praise.Rolling Stoneranked it #3 of theBest Spanish-Language and Bilingual Albums of 2021 and #23 of the 50 Best Albums of 2021. El Alimentowas also amongNPR's Best Latin Music of 2021and #1 of Le Monde's Latin Music favorites. Singles also made their way through2021 lists: Rómpelo ft. Lupe Fiascowas among NPR Alt.Latino's best singles of 2021and Funk Aspirin ft. George Clintonin Remezcla's 10 Best Indie Pop, Rock, & Chill Songs of 2021. Co-produced by Cimafunkand Grammy-award winning producer Jack Splash (CeeLo Green, Kendrick Lamar, Alicia Keys), the sonically dynamic collection masterfully blends Afro-Cuban sounds and rhythms with global funk, hip hop and soul—resulting in a progressive, head-bopping celebration of black music's power to eclipse borders and cross-pollinate across cultures. Written and recorded over 2020, the album served as analimentofor the soul, a motivation to persevere through the pandemic, as Cimafunkspent countless hours studying decades of musical influences to help understand who he is musically and culturally, and thus, where he wanted this album to take him.
https://cimafunk.com/





SUNDAY, JULY 2, 2023 AT 6 PM – 10 PM
SOCA BOAT 2023
Croisières Outaouais / Ottawa Boat Cruise
895 Jacques Cartier, Gatineau
Event:
https://fb.me/e/Ao3IGJbT
Tickets:
socaboat.ca


Canada Day Long Weekend in the Nation's Capital - Sunday July 2nd, 2023 aboard the Ottawa River Queen.
20 Year Anniversary Sunset Cruise

The most anticipated boat party on the Ottawa River is here to celebrate summer!

Jump onboard the SOCA BOAT and experience your Canada Day long weekend like never before. Feel the rhythm and sensation of the tropical music on a Sunday evening filled with sheer excitement while sailing into the sunset.

SOCA BOAT features a countless number of surprises and giveaways on board.

BOARDING at 5pm EST
DEPARTING at 6pm EST
RETURNING at 10pm EST

Ottawa River Queen
Quai Des Artistes (795 Rue Jacques Cartier, Gatineau, QC, J8T 2W1)

::: Boarding passes available APRIL 2023 | 21+ Event :::

Visit SOCABOAT.ca for all things SOCA BOAT!



Afterlight: weekly Tuesday-Thursday | 19h-late
129 Bank St
An underground lounge & listening bar curated by some of the Canadian Capital's most prominent DJs featuring different selectors weekly.
7pm until late
19+
no cover



Catch me on twitch.tv/lifeboogie
*when possible
Tuesday | 20h Open Format
Thursday | 20h | Jazz - Funk - Disco - Soul - Afro - Latin - Reggae + stuff
Saturday | 20h | Disco - Nu Disco - Deep House - Nujazz - Future Funk - Broken Beat + Good Vibes

Socials / Archive:

Instagram / Twitch:
@lifeboogie

Fecesbook:

https://www.facebook.com/djtrevorwalker

MixCloud:

https://www.mixcloud.com/trevor-walker4/

SoundCloud:

https://soundcloud.com/trevorlifeboogiewalker