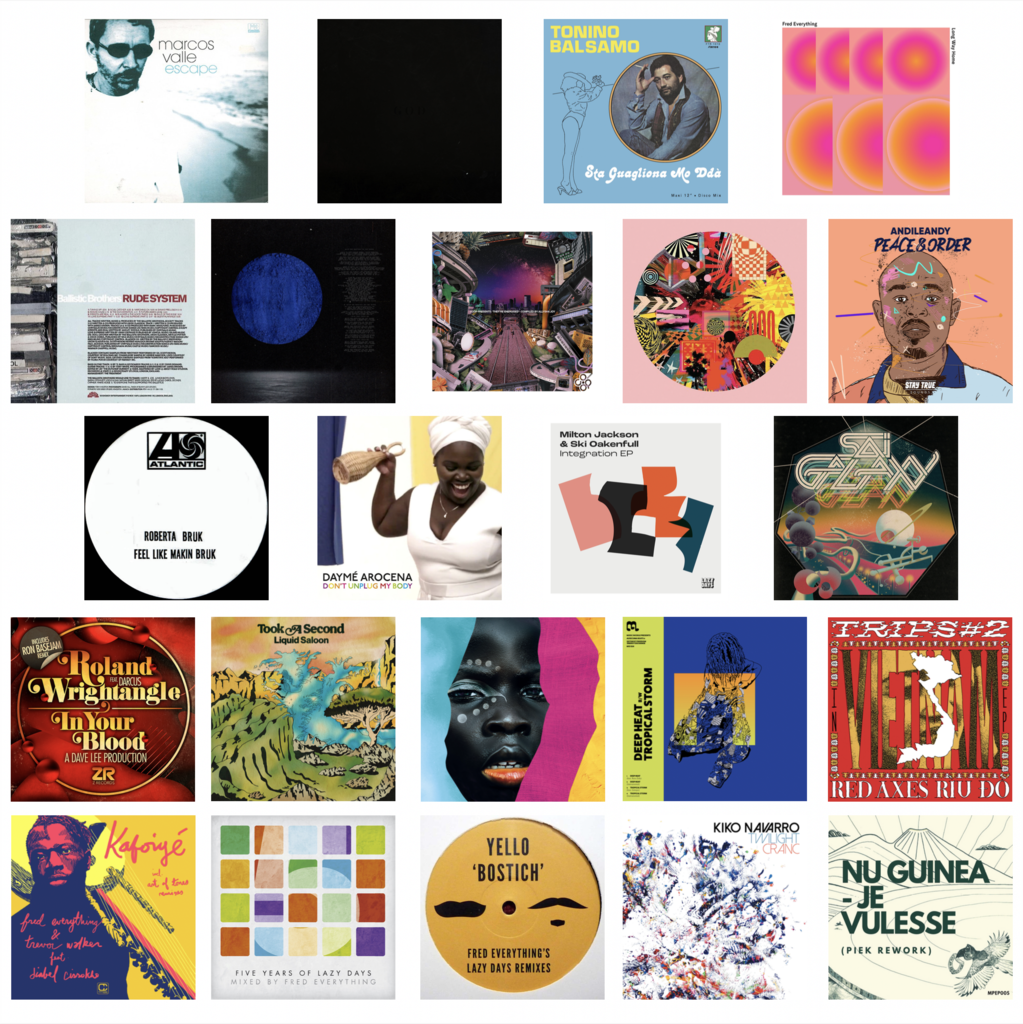 Friday Drive
Friday March 3rd, 2023 with Trevor Walker
[GettinDeepIntoEverything+Stuff]
Happy Friday Drivers! Welcome to this week's show. Another weekend warm up on this week's Friday Drive with a bit of an extra emphasis on Fred Everything in advance of his double header weekend! Always seemingly flying by the seat of my pants to keep the show interesting and fresh with the back up of some solid modern danceable grooves to fill the next couple of hours. Expect global grooves from balearic to boogie, broken beats, Nujazz and deep house selections to keep things moving along. Thanks for being here, happy listening and hope you enjoy this week's offering!
Escape
Marcos Valle - Escape Album - Far Out Recordings
Lion
SAULT - Today & Tomorrow Album - Forever Living Originals

Vogile 'E Mare
Tonino Balsamo - Sta Guagilona Mo Ddá Single - Periodica Records

Long Way Home
Fred Everything - Long Way Home Album - Lazy Days Recordings

The Conversation
The Ballistic Brothers - Rude System Album - Soundboy Entertainment
Luminous
SAULT - UNTITLED (God) Album - Forever Living Originals

Immunity
Kuzco - They're Energized v/a Album - CoOp Presents

People (We Can Transform)
Crazy P - Crazy P Curate Volume One EP - 20:20 Vision
bottom of first broadcast hour 17h30 EDT
Life Your Hands (Prayer Mix)
AndileAndy - Peace & Order Album - Stay True Sounds

Makin' Bruk
Roberta Bruk - Single - Shall I Bruk It
Don't Unplug My Body (Atjazz Astro Dub)
Daymé Arocena - Single - Brownswood Recordings
Got To Find
Milton Jackson & Ski Oakenfull - Integration EP - Lazy Days Recordings


Don't Want Be Your Lover
Sai Galaxy feat. Raymond Ledon - Get It As You Move EP - Soundway Records

In Your Blood (Dave Lee Funk In The Music Mix)
Roland Writeangle feat. Darcus - Single - Z Records

end of first broadcast hour 18h EDT
Shaiza
Liquid Saloon feat. Elyasaf Bashari - Took A Second Album - Raw Tapes
Shidaa
K.O.G (Kweku Of Ghana) - Zone 6 Remixed EP - Heavenly Sweetness

Deep Heat (Instrumental)
Ausecuma Beats - Deep Heat / Tropical Storm Single - Music In Exile

Kafoiye (Art Of Tones Remix)
Fred Everything & Trevor Walker feat Diabel Cissokho - Kafoiye Single - Compost Records

Friday (Crazy P Mix)
Fred Everything & 20For7 - Five Years Of Lazy Days Album - Lazy Days Recordings

Bostich (Fred Everything version 2)
Yello - Single - Lazy Days Recordings

bottom of second broadcast hour 18h30 EDT
Hanoi
Red Axes feat. Cô Đôi Thượng Ngàn & Viet Rice Band - Trips #2: Vietnam EP - IK7
Twi-Dub
Kiko Navarro - Twilight / Cranc Single - BBE
Integration
Milton Jackson & Ski Oakenfull - Integration EP - Lazy Days Recordings

Je Vulesse (Piek Rework)
Nu Genea - Single - NG Records
end of broadcast 17h EDt
Extra Curriculars:

FRIDAY, MARCH 3, 2023 AT 7 PM
Too Many Zooz, Featurette - Ottawa
Bronson Centre Music Theatre
211 Bronson Ave.
Event:
https://fb.me/e/2DqgPQTYL
Tickets:
bit.ly/3VVU5g3

Too Many Zooz
http://toomanyzooz.com/
with special guest
Feaurette
http://featurettemusic.com/

SPECTRASONIC PRE-SALE: THU DEC 15 10AM
PUBLIC ON SALE: FRI DEC 16 10AM
general admission standing floor
licensed 19+ - 7pm doors
tickets available here: https://bit.ly/3VVU5g3 and Vertigo Records
presented with the support of Ontario Creates
-----
www.spectrasonic.com
@spectrasonic on Instagram/Twitter/Facebook




FRIDAY, MARCH 3, 2023 AT 10 PM – 2 AM
Fred Everything Vs Trevor Walker [LAZY DAYS v lifeboogie Reunion]
@Lounge 164
164 Laurier Ave W.
Event:
https://fb.me/e/2452CQZh7
Tickets:
$11.98 limited early bird ends 2/27
$17.31 advance
$20 door
Tickets · $11.98 - $17.31www.eventbrite.com/e/fred-everything-vs-trevor-walker-lazy-days-v-lifeboogie-reunion-tickets-557763725317

After a three year hiatus one of Canada's most well known underground dance music producers and recently Juno nominated Fred Everything will be joining Trevor Walker at Lounge 164 for dig into some deeper house vibes!
Fred and Trevor have been friends and spinning together over the years since the mid '90's and have more recently collaborated in the studio on a couple of releases that came out on Compost records. E.S.M (Earth, Sun, Moon) in 2021 & Kafoiye featuring Diabel Cisssokho in 2022.
Come down to Lounge 164 on Friday March 3rd to get a taste and get moving to 55 + years in combined club, music & nightlife experience making dance floors move.
Fred Bio:
Fred Everything (born Frédéric Blais in Hull, Quebec) is a French-Canadian electronic musician and DJ, best known for his work in the deep house music genre.
Blais was brought up in Quebec City, where he gained an interest in synthesis and editing techniques from a young age. He later went on to perform in several live bands and compose music for theatre. His interest in dance music began with the acid house movement, particularly UK label Warp Records' releases.
In the early 90s, he started playing live in raves and clubs in Canada. He was then known as "Everything", because his live sets could range anywhere from techno to house, ambient and even drum and bass.[3] Fred Everything's career as a DJ began in 1993, when he opened for Sasha at the Metropolis club night in Montreal.[4] After building up a reputation in the US and Canada, he moved to Montreal in 1996,[2] where he released many records under various record labels, including 20:20 Vision, with whom he went on to release a total of 20 records,[5] including his widely successful album "Under the Sun" in 2000.[6]
Fred Everything became popular in Europe in 1997 when he performed at a festival in Glasgow, Scotland.[6] Two years later, he moved to London for three months to do an extended European tour whilst also doing production work with numerous other Deep House artists, including AtJazz, Nigel Hayes and Bougie Soliterre.[2]
Towards the end of the 90s, a remix of Derrick Carter's "Life Is Like A Circle", as well as the release of Under the Sun gave Fred Everything more popularity as a remixer. He went on to remix a large number of tracks, the most well known of these being his remix of Bran Van 3000 and Roy Davis Jnr.'s track "Watch Them Come".[6] This led to a compilation of his remixes, "From The Deep- a collection of remixes 1998-2001", being released by Bombay Records in 2002. As well as his production work, he had begun writing articles on house music for the San Francisco-based music journal XLR8R. He also won two awards at the Mimi gala that year, which voted him "best DJ in Montreal" and "best electronic artist"




FRIDAY, MARCH 3, 2023 AT 10 PM – 2:30 AM
Pull Up: Melek (MTL)
City At Night
222 Slater Street
Event:
https://fb.me/e/2DE85xJPD
Tickets:
Tickets · $11.98 - $17.31www.eventbrite.com/e/pull-up-030323-tickets-546088474327

On MARCH 3rd we welcome our first out-of-town headliner for their Ottawa debut, and she goes by the name of @melek_mml
Pull Up. Pull Up is... UK Garage, Jungle, Breaks, Rave Anthems, House & More!
GOOD VIBES ONLY… CAN YOU FEEL IT?




FRIDAY, MARCH 3, 2023 AT 10 PM
Etienne Ozborne Presents: Vacarme Fridays
56 Byward Market Sq
Event:
https://fb.me/e/3twBilmjC
Tickets:
Tickets · $11.98www.eventbrite.ca/e/etienne-ozborne-presents-vacarme-friday-tickets-549611572007

Canadian DJ/Producer, Etienne Ozborne has a rich musical history. Prior to becoming a DJ, Etienne honed his performance and rhythmic skills as a percussionist and drummer in an alternative band. In the 90's, like so many of us, he fell in love with house music and never looked back.
Join Etienne for his new monthly residency @ Berlin




SATURDAY, MARCH 4, 2023 AT 12 PM – 2 PM
Capital Sessions at the NAC w/ Fred Everything & Vanessa Love!
National Arts Centre
Event:
https://fb.me/e/2PjpVX8Pj

This month we are excited to feature Montreal DJ legend Fred Everything and Ottawa dancer extraordinaire Vanessa Lovell!
French Canadian DJ/Producer Fred Everything is a key player in the world of House Music with two and a half decades in the music business and a discography of more than 250 releases to his credit. He has been a fixture in clubs worldwide, with his unique energetic style of mixing and ability to play with styles. He's held residencies at SONA, Stereo and Salon Daome in Montreal as well as Next Door (Honolulu), Footwork (Toronto) and regular spots in places like Fabric (London), Smart Bar (Chicago) and Mighty (San Francisco). With over a million miles flown throughout the years, he's played just about everywhere in the world with regular tours in Europe, Asia, Australia, North America, playing in cities such as Tel Aviv, Moscow, Istanbul, Sao Paulo and Dubai. He has also played a festivals such as Coachella, Outside Lands, Woogie Weekend, Pik Nic Electronik, Igloofest, Coincidance, Francofolies de Larochelle and many more.
Vanessa was born and raised in Ottawa, Canada. From a young age, she showed interest in dance, whether it was doing Traditional Caribbean dance or getting down to the latest Hip Hop songs with her cousins. Once she was introduced to Hip Hop music, she then started to explore the dance more which led to many years of training in Hip Hop and many other street/club styles, including House dance. Over the years, Vanessa has been very involved in the street dance community from organizing events to judging local street dance battles, sitting on panels and teaching classes. Teaching has given her an opportunity to help people experience a glimpse of Hip Hop and House dance and give a look into the culture.




SATURDAY, MARCH 4, 2023 AT 9 PM – 2 AM
White Rabbit w/ MATADOR in City At Night
w/ support from
Tone A | Tyler Mesa | Blake Sutherland | Simon Sheppard

City At Night
222 Slater Street
Event:
https://fb.me/e/5dEHZKoSj
Tickets:
Tickets · $30 - $959.84cityatnightmar0423.eventbrite.ca

As DJ Awards' 2016 Electronic Live Performer, Matador is a revolutionary live artist with a shining reputation for versatility, whilst never compromising on quality. Accolades have been showered on the Dublin-born producer, from proud ambassador of the NEVE 5088 Console, and Richie Hawtin's PLAYDifferently MODEL1 mixer, his tenure as an ENTER resident at their worldwide events, to his consistent spot in RA's Live Artist poll, bringing him rapid worldwide acclaim and a devoted worldwide fan base of clubbers and peers alike. Still thirsty for new worlds to conquer, Matador, aka Gavin Lynch, recently took on a new role as label boss for his RUKUS imprint.
Matador's breath-taking explosive live shows result in packed crowds and an equally packed touring schedule including key bookings at top clubs and festivals such as Awakenings, Tomorrowland, Sonus Croatia, Ultra, and Output, DC-10, Space Ibiza, Stereo Montreal.
Playing to ecstatic thousands at sold out shows worldwide is a far cry from his early years. Raised on Motown, Matador then grew up with Guns N Roses, Pink Floyd, Orbital, Kasabian… As a teenager inspired by electronic giants Richie Hawtin, Adam Beyer and Jeff Mills, he listened faithfully to the Essential Mix, collecting records and learning to DJ on any pieces of equipment he could afford. His drive to learn more led him to a sound engineering course at Dublin's Sound Training Centre, with an emphasis on electronic music production, and an obsession was born. 'Whilst electronic production is my first love, it has been incredibly important to have knowledge of instruments in their purest form both in a studio and in a live environment.'
Along with early interest from Cocoon and Perc Trax, an encounter with Richie Hawtin boosted him from aspiring DJ on the Dublin underground club circuit to a key component of Hawtin's Minus imprint. His success was assured by his string of successful releases there such as 'Kingswing' and his 'Spooks' EP, and by his innovative, ever-evolving live shows. His relationship with Hawtin continues to be a fruitful one, having been enlisted as an ambassador for his PLAYDifferently Model 1 analog DJ mixer in 2016.
Last year also saw Matador founding his RUKUS label. 'I've always loved the idea of taking my tracks from conception in the studio all the way through to release,' he says. Initially creating an outlet for his own music, this year he invites exciting new and established talent to the imprint, as he extends his range as label boss. In 2016 he unveiled his newest live show at Loveland (ADE 2016), and he promises to add more new elements into an already complex and acclaimed performance in 2017.
Unusually multi-talented outside music, Matador's many interests and skills have fed back into his DJ career. His early twenties were spent training as a chef to the point of a promising career in Dublin's Michelin starred restaurants. Following his Dad's advice of 'find something you love doing and you'll never work a day in your life', he split his time between the kitchen and the decks, before cooking became a much loved hobby and music his life's work.

https://soundcloud.com/matador_official
https://www.instagram.com/matador_official


TICKETS/TABLES via: www.cityatnight.ca

(Door tickets are available on a first-come, first-served basis. It's highly recommend to buy in advance - this event will likely reach capacity!)

- Table reservations/packages are recommended for groups and available online

VENUE: www.cityatnight.ca
FAQ: www.cityatnight.ca/FAQ




SATURDAY, MARCH 11, 2023 AT 6 PM
Pique spring 23
Arts Court/Cour des arts
2 Daly Avenue
Event:
https://fb.me/e/4iTHEwuin
Tickets:
Tickets · $20 - $40www.eventbrite.ca/e/pique-spring-23-tickets-536072696867

The 2023 season premiere of ᴘɪQᴜᴇ – the building-wide music and art party bringing music, art and performance to the Arts Court four times per year.

Pique spring edition features audio-visual performances, media art installations, live collaborations, and DJ sets by forward-thinking, visionary artists from Algonquin territory and across Turtle Island.
Entry is PAY-WHAT-YOU-CAN with a suggested donation of $20-$40.
The event is ALL AGES and licensed.
Visit thisispique.com for more info.
ꜰᴇᴀᴛᴜʀɪɴɢ…
Vivek Shraya
Joe Rainey
Darius Jones & Amirtha Kidambi
Mas Aya
Diana Lynn VanderMeulen
Stefana Fratila
Geronimo Inutiq
MvB
No Tourists
Fraud Perry
Theland Kicknosway
VJ Sleeps-With-Bears
MS. BABY
Banggz
JAYEL
natalie hanna, Jennifer Pederson, & Liam Burke
Aaron Daniels Casey

Pique takes place on the stolen land of the Algonquin Anishinaabeg people. If you support our programming, please consider also donating to a local Indigenous organization or fundraiser. Learn more about this land acknowledgement and find educational resources and ways to support at www.debaser.ca/land-acknowledgement.





SATURDAY, MARCH 11, 2023 AT 8 PM
Salsa party with Fiesta Cubana
Queen St. Fare
170 Queen St
Event:
https://fb.me/e/2sGg1zVCe
Tickets:
www.eventbrite.ca/e/salsa-party-with-fiesta-cubana-tickets-515097910717

Join us at Queen St Fare for a spicy Latin fiesta with live Cuban music by Miguel de Armas and Fiesta Cubana.




SATURDAY, MARCH 11, 2023 AT 10 PM – 1 AM
EQUATORIAL meets DEEPWORLD Trevor Walker + Rise Ashen
Lounge 164
164 Laurier W
Event:
https://fb.me/e/4OBYMw4hW
Tickets:
Tickets · $11.98 - $17.31www.eventbrite.com/e/equatorial-meets-deepworld-trevor-walker-rise-ashen-tickets-560587471217

$10 ltd. early bird ends 03/06
$15 adv.
Door $15 before 11 pm

Feels like it's been more than four years since long time friends, DJs and music collaborators Trevor Walker & Rise Ashen have united for a proper DJ night.
Combining Rise Ashen's "Deep World" with Trevor Walker's "Equatorial" bringing Deep Afro and Latin House, heavy percussion global dance grooves for a night of serious moving and grooving.
Rise and Trevor will bring a unique vibe and sound not easily found in the national capital's venues with an underground vibe that could only come from these two long time curator, selector, collectors and producers.
Hope you can join us and share your vibes with our grooves!
Rise Ashen bio:
Rise Ashen has devoted his life to the study of sound and movement. From his early years as a B-Boy in Montreal in the 80s to his studies at Fanshawe College (North America's Oldest Recording School) and the Banff Centre for the Arts, his focus has been on applying hi-fi knowhow to underground music. His record collection spans the 4 corners of the world with club music of all tempos as his primary focus. As a DJ, he blends it all in a worldy mash and is always the sweaty and dynamic life of the party. He has played in clubs and festivals across the US, Canada, Europe and Asia and has licensed music for use in dozens of countries. His study of Yoga has led him to combine his musical journey with his Yogi journey and he has been DJing extensively for yoga classes, festivals and events since 2012.
He has remixed and collaborated countless artists including Mali's Issa Bagayogo, Montreal (Juno award winner) Miguel Graca, Jojo Flores, Fred Everything and Kat 5 of the KALMUNITY collective, Toronto based (2-time Juno nominated) Ammoye, (Juno Award winner) Dubmatix, Version XCursion, LAL, (Juno Award Winner) Eccodek, (Juno Award Winner) Kobotown, King Sunshine, the New Deal and Bageshree, UK's Sean Escofferey, John Beltran, Steph Lefrancois and Josef Malik, New York's Angel Moraes and Nickodemus, Winnipeg's Paris to Kiev, Kasm and Seed Organisation, and Trevor "Lifeboogie" Walker, John Akpata, and Shegun Beautiful Nubia Akinlolu, Brandon Wint, Bhavan2 , Tara Proter, Lucila Al Mar Ottawa Algonquin Singer Flying Down Thunder with whom he received a Juno nomination in 2012 for their debut album: One Nation, as well as a Native American Music Awards nomination in 2014 for their sophomore album: North Wind.
His music gets played played by the likes of Larry Heard, Masters at Work, Roger Sanchez, Paul Murphy, Gilles Peterson, Laurent Garnier, Maurice Fulton, Bonobo, Mr. V, Rainer Truby, and Quentin Harris among others. He has shared the stage with such varied greats as K'Naan, The Ethnic Heritage Ensemble, Kid Koala and Jully Black among others.
Recently he has been collaborating with Silla, the Inuit throat-singing duet made up of Cynthia Pitsiulak and Charlotte Qamaniq, with whom he just released a full-length debut which was long-listed for the Polaris Prize and nominated for a Juno Award for Best Indigenous Recording. They perform as a trio with rise playing electronic percussion.
He is currently working on a full length album with Kahil El Zabaar and the Ethnic Heritage Ensemble of Chicago.
He believes music and dance are essential to human culture and that united, artists can lead humanity towards a more enlightened way of living. He aspires to embody the wise words of Fela Kuti: "when the higher forces give you the gift of musicianship …it must be well used for the good of humanity"
Trevor Walker bio:
For 30 years, Trevor Walker has been one of Canada's best kept secrets. But talk to anyone who's danced to his sets, booked him or shared the decks with him and the word legend is often use to praise his work. Collecting and playing music since 1988, he spent 21 years as a resident at Ottawa's Mercury Lounge, one of the longest lasting and most respected venues in the country, playing alongside DJs such as : Derrick Carter, Louie Vega, Joe Claussell, Gilles Peterson, Fred Everything, Quantic, King Britt, Dj Spinna, Osunlade, Roger Sanchez, Josh Wink, and the list goes on. He also shared the bill with bands such as : Jamiroquai, The Roots, Gil Scott-Heron, Maceo Parker, Alice Russell, Souljazz Orchestra, The Ethnic Heritage Ensemble, Bembe Segue, Galliano, and many more.
A walking musical encyclopedia, he's responsible for shaping the eclectic sound that has defined Ottawa's club scene for over two and a half decades, partly due to his various radio shows over the years on CKCU FM 93.1 such as : New Soul Collectve Saturdays [1990-2001], Flava Zone Sundays [1991-1996], Undergrove Thursdays [1992-1999] and his current Friday Drive [2005-present]. His radio shows and club nights have showcased a wide spectrum of genres, covering Soul, Funk, Afro, Jazz, Latin, Carribean, Hip Hop, Trip Hop, Acid Jazz as well as his trademark House and Techno sets. He's particularly known for his use of 4 decks, layering hypnotic beats and adding acapellas over his inspired and informed selection.
#lifeboogie #RiseAshen #Equatorial613 #Deepworld #Lounge164 #DeepHouse #AfroHouse #Percussion #Dancing #sharewidely #letsgo



SATURDAY, MARCH 11, 2023 AT 10 PM
Vinyl Tingz!
Cafe Dekcuf
221 Rideau St.
Event:
https://fb.me/e/5tsB6Y67R
Tickets:
$10 at the door

DJs
Pete Shredz
Chimo
Bass Mati
Art Vibes By Dems & Doll
More info incoming!




SATURDAY MARCH 18, 2023 AT 10 PM
FUEGO EN LA COCINA!
w/ Trevor Walker & Dystoh
@Lounge164
164 Laurier Ave W

"Fuego En La Cocina" is the brainchild of Philippe Lafreniere & Trevor Walker consisting of the duo performing in a jam session combining DJ running tunes enhanced with live percussion.
The duo have been working on resurrecting "Fuego En La Cocina" since the last jam back in 2019 and are planning to take it to the next level by including Dystoh.
Dystoh is Philippe Lafreniere (Percussion, Vocals) alongside Raymond Murray (Sax/Vocals) performing their own original material and jamming with Trevor Walker throughout the night.
jazz-funk-afro-latin-breaks-bruk-house-disco-soul+stuff
You won't want to miss this heat!
More info to come.




THURSDAY, MARCH 30, 2023 AT 9 PM
THE HUMAN RIGHTS + Ras Lee & The Vibes Band & DJ Chocolate
Rainbow Bistro
76 Murray St.
Event:
https://fb.me/e/2ync0SfEE
Tickets:
www.eventbrite.ca/e/the-human-rights-ras-lee-and-the-vibes-band-dj-chocolate-tickets-472645343947

The BEAT Network, CHUO 89.1 FM and Nufunk.ca Present
THE HUMAN RIGHTS
Live in Ottawa!
with special guests Ras Lee & The Vibes Band
DJ Chocolate
Thursday March 30
@ The Rainbow Bistro (76 Murray Street)
8:00 pm doors
$16.50 advance at Eventbrite | $20 door
::::
The Human Rights
www.thehumanrights.ca
When it comes to reggae in Canada, few bands do it better—while remaining true to its founding principles—than Toronto's The Human Rights. Since forming in 2007 around one of the scene's true lions, Friendlyness (previously of Culture Shock, Truth And Rights and Big Sugar), The Human Rights have developed a modern, high energy sound that blends Roots Reggae with jazz, funk and R&B influences, courtesy of a blazing three-piece horn section and the soulful lead vocals of Juno award nominee Tréson. On their new album Reggae Strong, The Human Rights more than live up to its title following an extended break since releasing their 2016 self-titled album and the 2018 single "I Need You." Recorded with producer and former band member Patric McGroarty, and mixed and mastered by renowned Canadian reggae artist Dubmatix, Reggae Strong finds The Human Rights coming as close as they have yet to achieving a truly Canadian reggae sound, with guest appearances by Toronto's Ras Yunchie, Caddy Cad, I-Sax, and Carol Brown.
Ras Lee & The Vibes Band
www.raslee.com
Ras Lee is a true reggae warrior, born and raised in Montego Bay, Jamaica and currently residing in Ottawa. He is a Canadian Juno award nominee and is well known for his album and single "Who Killed the Lion" which is a tribute to Bob Marley. In 2012 he was crowned Ottawa Reggae Ambassador in recognition of his work over the years in the Ottawa community as a reggae artist. In 2018, Ras Lee released the song "Don't Give Up", a track produced by CanJam music. Ras Lee continues to perform in various venues and music festivals throughout Ontario and Quebec as a lead vocalist and with his band The Vibes Band. Ras Lee is actively working on his next album.




SATURDAY APRIL 1st, 2023 AT 10 PM
DiscoLab "Disco Fools"
w/ Trevor "lifeboogie" Walker & Alex "DJ Magnificent" Edwards
@Parlour
1319 Wellington St W

Alex & Trevor are back to make you all act the fool April 1st at Parlour with another 100% vinyl throw down of 1975 - 1983 funky Disco Boogie Soul.
Dress to impress and get in front of that mirror to practice those boogie moves!
More details to come!



MONDAY, APRIL 3, 2023 AT 7 PM EDT
North Moovment Szn 4: April to June 2023
Bronson Centre
211 Bronson Ave.
Event:
https://fb.me/e/3ZASw1mzI

North Moovment Szn 4 is here and open for registration and auditions!
What is morning Moovment?
North Moovment is Ottawa/Gatineau's only 12 week Street Dance training program for teens & adults created by Moov Ottawa Dance. With Artistic Directors of Moov, Alea & Arnaldo will be guiding the three groups through Hip Hop and House training, skill building, cypher and battle opportunities, cultural and historical learning, confidence building, performance opportunities and simply learning how to dance!
Check out the 3 group options for Szn 4:
Thursdays 6-8PM: Introductory/Beginner Training Group
Thursdays 8-10PM: Advanced Beginner Training Group
Mondays 6-9PM: Training & Performance Hybrid Group
-------------------------
How to register (Thursdays groups)? www.moovottawa.com & get 10% off with code "NORTH10"
How to audition (Monday group)? www.moovottawa.com & put in your video submission!
-------------------------
Questions? Join our live Q & A on Feb 20th & March 7th
RSVP @ www.moovottawa.com/north-moovment
Follow us on social: @moovottawa @northmoovment




FRIDAY, APRIL 7, 2023 AT 10 PM – 2:30 AM
Skratch Bastid at BERLIN
56 Byward Market sq.
Event:
https://fb.me/e/vZMBeh1S
Tickets:
Tickets · $20via Eventbrite

Dreammind & Kapacity Entertainment is ecstatic to host Skratch Bastid back in the nations capital for his first time since 2017!
Dreammind Group & Kapacity Entertainment present
SKRATCH BASTID
at BERLIN inside 56 ByWard
on Friday April 7th, 2023 @ 10pm
For the past two decades, Skratch Bastid has been rocking parties and wowing crowds all over the globe, becoming one of the world`s best-known and most-loved DJs. Known for his electric stage presence, technical prowess and versatile selections that span the complete musical spectrum—from hip hop to house, disco to dancehall, reggae to funk and back again—Bastid is a true crowd favourite with an unrivaled ability to create unforgettable moments with music. From humble beginnings in Bedford, Nova Scotia, Bastid cut his teeth in the battle scene of the late 90s and early 2000s, competing in the DMcs, ITF and Scribble Jam. The latter produced one of his most iconic moments, the "Imperial March" routine that became his first brush with viral fame, and has over 7 million views on YouTube alone (and countless others from before social media even officially existed). And while he`s clearly always had a knack for creating shareable videos, Bastid proved early on that he offered much more than just impressive tricks. His demanding touring schedule has brought him all over the world, sometimes playing up to 200 shows a year in over 50 countries. When he`s not keeping dance floors moving behind the decks, he`s also an accomplished producer with multiple Juno nominations, known for his collaborations with artists like Shad and DJ Jazzy Jeff. In addition to his genius as a DJ, Bastid has been expanding his empire into many other successful creative ventures, including his Skratch School DJ School, his eponymous line of hot sauces and of course, the infamous Bastid`s BBQ. This beloved traveling party has drawn sold-out crowds in a handful of global cities, and has played host to a who`s who of hip hop and DJ culture, with appearances by DJ Premier, Maseo, Brother Ali, A-Trak, Pete Rock, Lord Finesse and many, many more. With touring temporarily on hold, Bastid recently added Twitch streaming to his repertoire. Thanks to his high-energy sets, charismatic personality and unbound musical knowledge, he has quickly become one of the most watched and followed DJs on the platform. Even after two decades in the game, Skratch Bastid is showing no signs of slowing, and only continues to evolve and further cement his legend status.
http://www.skratchbastid.com
http://www.instagram.com/skratchbastid
http://www.youtube.com/skratchbastidtv
http://www.twitch.tv/skratchbastid
http://www.facebook.com/skratchbastid
http://www.twitter.com/skratchbastid
http://www.soundcloud.com/skratch



FRIDAY, APRIL 14, 2023 AT 9 PM
THE SOUL MOTIVATORS: Ottawa + DJ Trevor Walker
Rainbow Bistro
76 Murray St
Event:
https://fb.me/e/3j6zo4dHf
Tickets:
$18.90
www.eventbrite.ca/e/the-soul-motivators-live-in-ottawa-dj-trevor-walker-tickets-530592385107

The BEAT Network Presents
THE SOUL MOTIVATORS
Live in Ottawa!
+DJ TREVOR WALKER
FRIDAY APRIL 14
THE RAINBOW BISTRO
76 Murray St., Ottawa
Doors @ 9pm
$16.50 advance | $20 at the door
The Soul Motivators:
www.soulmotivators.com
The Soul Motivators are here to restore your faith in funk. A fresh take on a classic sound, they blend 1970's funk and soul, psychedelic jams and hip-hop breaks. They've shared stages with greats like Grandmaster Flash, Afrika Bambaataa, Lee Fields, Bernie Worrell and electrified crowds at major events such as the TD Toronto Jazz Festival, The PanAm Games, Sunfest, and Festival d'Ete. Their debut album, Free to Believe, was released on Do Right! Music in 2015, to national and international acclaim. 2017 saw the release of the Dirt on The Floor EP through Detroit's Funk Night Records. A string of sold-out tour dates brought their high-octane live show to the masses. Their 2020 album Do The Damn Thing was the first recording to feature the power-house vocal stylings of Shahi Teruko – whose relentless fire and electrifying performances have been shaking up audiences since she joined the band in 2015. Having celebrated their 10th anniversary in 2022, the band returns with a brand new album Do It Together (coming out March 24 on Do Right! Music) and cross-Canada tour dates.
DJ Trevor Walker:
For more than 30 years, Trevor Walker has been one of Canada's best kept secrets. But talk to anyone who's danced to his sets, booked him or shared the decks with him and the word legend is often use to praise his work. Collecting and playing music since 1988, he spent 21 years as a resident at Ottawa's Mercury Lounge, one of the longest lasting and most respected venues in the country, playing alongside DJs such as Derrick Carter, Louie Vega, Joe Claussell, Gilles Peterson, Fred Everything, Quantic, King Britt, Dj Spinna, Osunlade, Roger Sanchez, Josh Wink, and the list goes on. He also shared the bill with bands such as Jamiroquai, The Roots, Gil Scott-Heron, Maceo Parker, Alice Russell, Souljazz Orchestra, The Ethnic Heritage Ensemble, Bembe Segue, Galliano, and many more.




SATURDAY, APRIL 29, 2023 AT 10 AM – 5 PM
Ottawa Record Fair 2023
Carleton Dominion-Chalmers Centre
355 Cooper Street




Afterlight: weekly Tuesday-Thursday | 19h-late
129 Bank St
An underground lounge & listening bar curated by some of the Canadian Capital's most prominent DJs featuring different selectors weekly.
7pm until late
19+
no cover



Catch me on twitch.tv/lifeboogie
*when possible
Tuesday | 20h Open Format
Thursday | 20h | Jazz - Funk - Disco - Soul - Afro - Latin - Reggae + stuff
Saturday | 20h | Disco - Nu Disco - Deep House - Nujazz - Future Funk - Broken Beat + Good Vibes

Socials / Archive:

Instagram / Twitch:
@lifeboogie

Fecesbook:

https://www.facebook.com/djtrevorwalker

MixCloud:

https://www.mixcloud.com/trevor-walker4/

SoundCloud:

https://soundcloud.com/trevorlifeboogiewalker