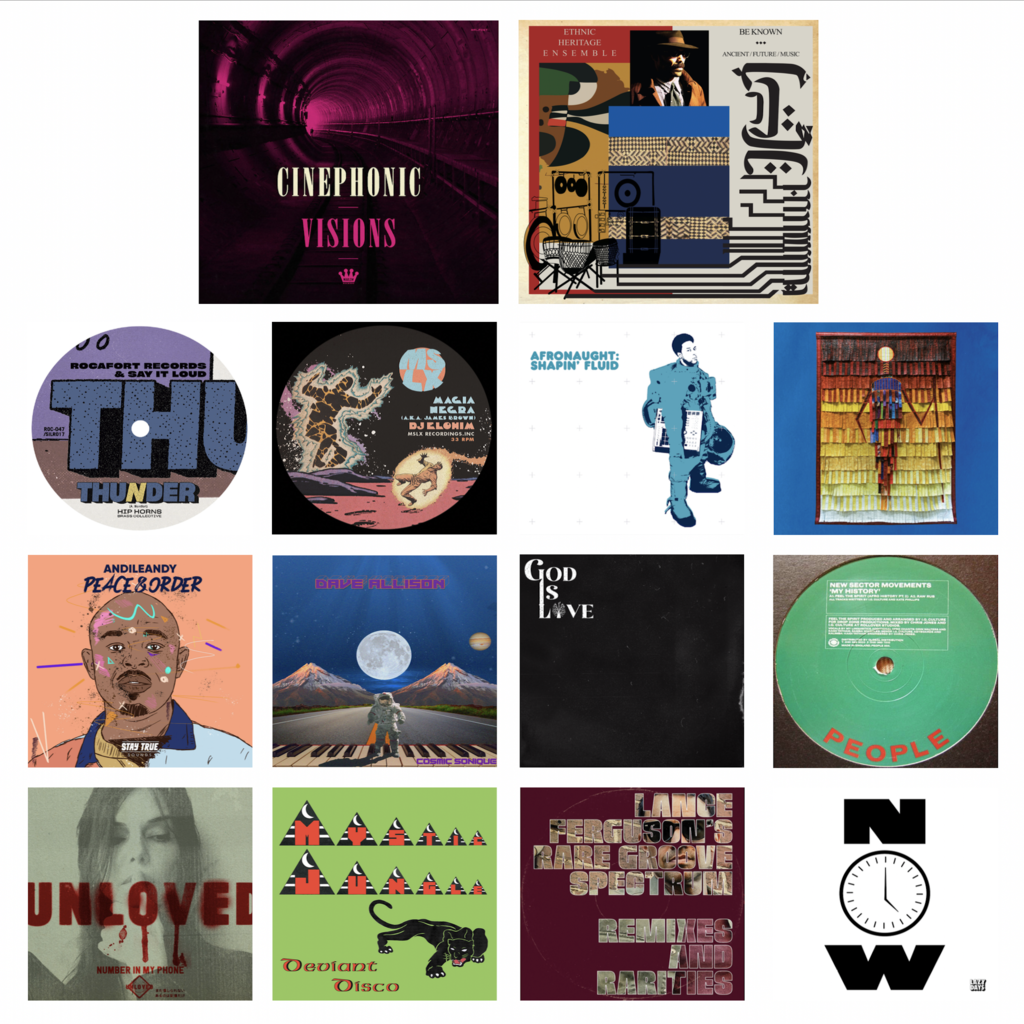 Friday Drive
Friday February 3rd, 2023 with Trevor Walker
[CinephonicPremiere+LooseJointsWarmUp]
Happy Friday Drivers and welcome to this week's show! Another warmup session for another Saturday event! Got a lot of newish music to me and yet unplayed on Friday Drive to share. We'll be getting into an excursion of House, NuDisco, Broken Beat & stuff if all goes to plan on in hour two. Most of hour one will be taken up as we take a listen to some excerpts but most likely the whole brand new Cinephic album "Visions". Gotta celebrate Ottawa's own Pierre Chretien's vision with the fourth album from his "Marlow Records" imprint. This is also the second release from Cinephonic "an epic soundtrack to a film that never existed" with some deep broody moods and grooves. Hope you dig it as much as I do! Also would like to let you know the "Ottawa / Gatineau" release party will be this coming Monday February 6 at Minotaure featuring Ed Lister - trumpet / flugelhorn Zakari Frantz - alto sax Pierre Chrétien - electric piano, clavinet, organ Mike Essoudry - drums Event:
https://fb.me/e/2AZOd6s2D
Marlow Records Bandcamp:
https://marlowrecords.bandcamp.com
Thank you for taking the time to enjoy the show!
L'Éxile
Cinéphonic - Visions Album - Marlow Records


L'Étoile
Cinéphonic - Visions Album - Marlow Records


Tribulations
Cinéphonic - Visions Album - Marlow Records


Pyramides
Cinéphonic - Visions Album - Marlow Records


Cendres Et Poussières
Cinéphonic - Visions Album - Marlow Records


Les Souterrains
Cinéphonic - Visions Album - Marlow Records


Le Feu
Cinéphonic - Visions Album - Marlow Records


bottom of first broadcast hour 17h30 EDT
Le Combat
Cinéphonic - Visions Album - Marlow Records


Pénombre
Cinéphonic - Visions Album - Marlow Records


Douleur
Cinéphonic - Visions Album - Marlow Records


Freedom Jazz Dance
Ethnic Heritage Ensemble - Be Known: Ancient / Future / Music Album - Spiritmuse Records
Thunder
Hip Horns Brass Collective - Thunder / Marathon Runner Single - Rocafort Records

Magia Negra aka James Brown
DJ Elohim - Magia Negra aka James Brown Single - MSLX Recordings

Take You There
Afronaut feat. Don Ricardo - Shapin' Fluid Album - Bitasweet
end of first broadcast hour 18h EDT
Black Is Back
Ethnic Heritage Ensemble - Be Known: Ancient / Future / Music Album - Spiritmuse Records
Tongo Barra
Vieux Farka Touré & Khruangbin - Ali Album - Dead Oceans
Give Me The Groove
AndileAndy feat. Bongani Mehlomakhulu - Peace & Order Album - Stay True Sounds

His Story (Art Of Tones Remix)
Dave Allison - Single - Kinjo Music


Change It
Noah Coinflip - God Is Love Album - Unknown

bottom of second broadcast hour 18h30 EDT
My History (Raw Dub)
New Sector Movements - My History Single - People
Number In My Phone (Black Science Orchestra Dub)
Unloved - Number In My Phone Single - Heavenly Recordings

Get Down On It
Mystic Jungle - Deviant Disco RE Album - Periodica Records

Sweet Power, Your Embrace (Sweet Remix)
Lance Ferguson - Remixes and Rarities Album - Freestyle Records
The Time Is (Now)
Fred Everything - The Time Is (Now) EP - Lazy Days Recordings

end of broadcast 19h EDT
Extra curriculars:

FEB 3rd & 4th | 6 PM – 11 PM
Ottawa Winter Jazz Festival
Arts Court/Cour des arts
2 Daly Avenue
Event:
https://fb.me/e/3gz9uqUkX
Tickets:
ottawajazzfestival.com/tickets

The Ottawa Jazz Festival presents a winter extravaganza of music, food, and outdoor fun on February 3rd & 4th, 2023 at Arts Court.
Enjoy performances from:
Sarah Neufeld
Fraser Hollins and The Phoenix
OKAN
Felicity Williams / PURDY
Kenny Barron
Thus Owls
The 33z play Hall & Oates
Right in the Eye - Alcoléa & cie (Live Music with Georges Méliès' films)


FEB 3 AT 6 PM – FEB 5 AT 9 PM
Unikkaaqtuarniq - 7th Annual Snow Screen
Horticulture Building, Lansdowne Park
Event:
https://fb.me/e/38OpjtW3y

- Asinabka Festival Presents -


Unikkaaqtuarniq / Stories from the North / Contes du nord
Experience Indigenous films from the circumpolar North, outdoors in a theatre made of snow!
+ DJ & VJ performances each night
+ Ice Bar with Hot drinks & snacks
(Alcoholic or non-Alcoholic)
+ Fire Pits onsite to stay warm!
+ Free event / Everyone welcome

FRI./SAT. FEB. 3 & 4, 2023, 6-9pm
Outside at the Horticulture Building & Aberdeen Pavilion
1000 Exhibition Way, Ottawa, ON K1S 5J3
SUN. FEB. 5, 2023, 6-9pm
Indoors at Beandigen Cafe
106-900 Exhibition Way
Lansdowne TD Place
The word Unikkaatuarniq is an Inuktitut word that means "Storytelling". Storytelling is an ancient form of magic, with the power to connect the past with the present, teach lessons, impart values, heal, to explain the world and connect us to the universe through language and mythology. The stories, films, and music in this program, come from Indigenous peoples from the circumpolar north — such as the the Inuit of Canada and Greenland, or the Sami of northern Scandinavia — peoples that have thrived in the Arctic regions of the world for thousands of years, enduring the changing seasons of dark and light, of colonialism, and of climate change. Although these cultures live thousands of kilometres away from each other, they share a common history of resilience in their language, culture and magic through storytelling.
About Asinabka Festival:
Entering the 12th year of programming, the mandate of the Asinabka Festival is to present an annual Indigenous film and media arts festival in the Nation's Capital that provides a space where Indigenous artists can share and present their work. Asinabka Festival also presents programming throughout the year, such as our annual winter snow-screening.




FRIDAY, FEBRUARY 3, 2023 AT 10 PM – 2:30 AM
FACTORY FRIDAY: T-23, SyvyL & DAVEO VILLA
City At Night
222 Slater St.
Event:
https://fb.me/e/2lHDt7ZGX
Tickets:
www.eventbrite.ca/e/factory-friday-t-23-syvyl-daveo-villa-tickets-516923481047

Join us for a FACTORY FRIDAY featuring Techno at City at Night with Lost In Bass radio host T-23 warming things up for SyvyL and DAVEO VILLA who is closing out the show. Come out connect with your community and get down to the darker beats offered at FACTORY FRIDAY at CITY AT NIGHT, 10PM Friday Feb 3rd.
Set times:
T-23: 10PM
SYVYL: 11:30PM
DAVEO VILLA: 1:00AM
More Music:
T-23 Lost In Bass Radio: https://soundcloud.com/t23official
SyvyLized Radio: https://soundcloud.com/syvyl
DAVEO VILLA: https://soundcloud.com/soundsofdaveo




SATURDAY, FEBRUARY 4, 2023 AT 12:01 PM – 2 PM
Capital Sessions February 4th at the NAC
National Arts Centre
Event:
https://fb.me/e/2t3aqukEO
Free All Ages!!!
Capital Sessions is an open-format community dance session featuring a dancer and a DJ! This month we are featuring Melle Mel and DJ del Pilar!
Natasha Coldevin a.k.a. DJ del Pilar
DJ del Pilar is a Queer Afro-Latin DJ and vocalist. A long-time performer and event producer, DJ del Pilar brings the beats to stages big and small, and in the past few years has graced the decks at the NAC, House of Paint, Bluesfest, and opening for Mixmaster Mike. DJ del Pilar is also the co-founder of Ottawa's longest running and coziest queer dance party, Homo Phono! Growing up in the 80's and 90's, she has been heavily influenced by old school hip hop, funk, disco, and house music, putting a fresh spin on dance floor classics.
Mélissa "Melly Mel" Flérangile
From Jazz to Street dance, Mélissa "Melly Mel" Flérangile has been devotedly mastering her craft over the years. In early years her passion and dedication as a dancer has led her to appear in several Hollywood motion pictures including "Honey", and the Academy Award winner and big screen success "Chicago".
From 2005-2008 Melly Mel had the chance to participate in the creation of and perform in "The Beatles LOVE" by Cirque du Soleil, a celebratory production honoring the legacy of the Beatles. This led her to perform on various events such as the 50th Annual Grammy Awards and the Jay leno Show.
A strong believer in giving back Melly Mel took part in the Mosaic Gala for Guy Laliberté's "One Drop Foundation"; a charitable organization that develops integrated and innovative projects in which water plays a role to fight poverty.
From 2011-2016 has been part of Cirque Eloize's spectacular show "iD". She's been touring the world performing in prestigious theaters such as "Wang Theater" in Boston, Marina Bay Sands Theater in Singapore, Theatre National de Chaillot in Paris… Furthermore with iD she got the chance to perform for one of the most renowned TV show in France, "Le Plus Grand Cabaret du Monde"; A delight for any performer!
While touring with "iD" she started a movement called "Melly Mel Inspire". Her aim is to work with youth in communities all over the world and use her passion for dance to motivate and empower them to be at the forefront of any path that transcend the ordinary.
In 2016 she worked with tentacle tribe a Canadian and Swedish based contemporary dance company. Performing their duet "pixelated squid" at "Breaking Convention" in North Carolina and toured in Europe.
Melly Mel is currently a strong asset and a key member of "Bboyizm" Dance company. They promote and preserve the foundation, authenticity, and essence of all street dances. Their creations and programs are platforms for authentic self-expression by artists and students alike. Currently creating and touring nationally in Canada and South America.
Melly Mel is also working alongside Magical Bones an exceptionally skilled magician and street dancer. They have performed on "Britains got talent", "Celebrity Edge" and are expected to tour in Europe in 2023.
As she aspires to inspire people from different walks of life, she shares her purpose to "Live. Laugh. Love" through dance!




SATURDAY, FEBRUARY 4, 2023 AT 12 PM – 4 PM
Queer Pop-Up Market
Gallery 101
280 Catherine Street

Event:
https://fb.me/e/4XMdLDRZI

Saturday, February 4th from 12 noon to 4 pm for a Queer Pop-Up Market at the beautiful and fully accessible Gallery 101 in Ottawa.
Admission is FREE. Masking is mandatory and will be provided. Paid parking at the door. Ground floor accessible gender neutral washrooms.
Gallery 101 will also be holding a membership drive so everyone can have an opportunity to enjoy the benefits of membership and this incredible space and programming. Or you can sign up right now, if you like, right here... https://g101.ca/become-member

Event Vendors
Kanani Pots - https://www.instagram.com/kananipots/
Rustling Pine - https://www.instagram.com/rustlingpine/
Sanjay's Macrame - instagram.com/sanjaysmacrame
Butch Bombs - https://www.facebook.com/butch.bombs
Phantomtits - https://www.instagram.com/phantomtits/
DYKE Memoirs - https://www.instagram.com/dykeseries/
Venus Envy - https://venusenvy.ca/pages/ottawa-store
Kristin Fardy Art - https://www.instagram.com/kfardyartist/
Emily Newfeld - https://www.instagram.com/emilyneuf.art/
Tubby Tabby Soaps - https://www.instagram.com/tubbytabbysoaps/
Little Jo Berry's - https://www.instagram.com/littlejoberrys/
BRING CASH $$ or etransfer onsite.
Special thanks to Gallery 101, and the Paper Sign Man for supporting this Queer community of artists. Thank you, Cara Tierney for the great poster design.



SATURDAY, FEBRUARY 4, 2023 AT 5:45 PM – 8:45 PM
Canal Skate Dance Party @ Patterson Creek
Patterson Creek (Ottawa)
Event:
https://fb.me/e/5oTPj4zAX
This is not an event but an announcement. On the date and time listed (right after dark), a few Ottawa DJs will play some tunes in the park overlooking the portion of the canal called Patterson Creek.
If you wish, skate by at that time.
If you wish, wear some funky lights.
If you wish, dance your heart out.
If you wish, share this announcement with your friends.
Bad Weather Reschedule date is Feb 11th.



SATURDAY FEBRUARY 4 AT 10 PM – 2 AM
Loose Joints @TheLounge OneSixFour
164 Laurier Ave W
Event:
https://fb.me/e/40SmRud25
Tickets $10 - $15 adv $20 door:
www.eventbrite.ca/e/loose-joints-tickets-528447579937

Jose Palacios and Trevor Walker back to brighten the depth of winter with an event
for dancers.
Trying to push some boundaries and broaden minds with an open format melange of music to move and lose ourselves in hypnotic exotic grooves.
Let's close our eyes, dance like no ones watching, be free, feel alive, connect and smile!
Brightening the dark glowing to grooves that move!
Love Dancing?
Let's go "Loose Joints"!




SATURDAY, FEBRUARY 4, 2023 AT 10 PM
THROB Ottawa Underground: February Edition w/ Ashley Gauthier
@Pour Boy
495 Somerset St W.
Event:
https://fb.me/e/2eI277gTc
Tickets:
throb.eventbrite.ca

The beats are a harder, darker, and sexier at THROB events.
Ottawa's best underground gay night goes down just once a month at select venues
THROB February Edition with ASH GAUTHIER
Saturday Feb 4 @ Pour Boy (495 Somerset St W, 2nd Floor)
Early Bird (Sold Out): $8
Reduced online admission: $12
Tickets @ throb.eventbrite.ca
Door $20
- - - - - - - - - - - - - - - - - - - - - - - - - - - - -
THROB édition du mois de février avec
DJ ASHLEY GAUTHIER
Samedi le 4 février au Pour Boy (495 Somerset St O, 2e étage)
Early Bird (Épuisé): 8 $
Billets à prix réduit: 12 $
Billets: throb.eventbrite.ca
Prix à la porte : 20 $


MONDAY, FEBRUARY 6, 2023 AT 9 PM
Cinephonic "Visions" Album Release Party
Minotaure
3 Rue Kent
Event:
https://fb.me/e/2AZOd6s2D

Cinephonic releases its sophomore album, "Visions" at the Minotaure in Gatineau. Expect an intriguing night of soul, jazz and psychedelia featuring Cinephonic live for the first time. And best of all, it's free!
Cinephonic lance son deuxième album, "Visions", au Minotaure à Gatineau. Attendez-vous à une soirée torride remplie de soul, de jazz et de psychédélisme avec Cinephonic en live pour la toute première fois. Et en plus, c'est gratuit!
Personnel:
Ed Lister - trumpet / flugelhorn
Zakari Frantz - alto sax
Pierre Chrétien - electric piano, clavinet, organ
Mike Essoudry - drums




WEDNESDAY, FEBRUARY 8, 2023 AT 7:30 PM
THE PEPTIDES & ISØBEL - LIVE @ THE RAINBOW
Rainbow Bistro
76 Murray St.
Event:
https://fb.me/e/3hXYLlUA8

Free Concert
Live @ The Rainbow
General Admission
Doors 7:30 PM
ISØBEL 8:00 PM
The Peptides 9:30 PM
https://isobelmakesmusic.wixsite.com
https://www.thepeptides.com






WEDNESDAY, FEBRUARY 15, 2023 AT 9:30 PM
The Ed Lister Group @ Minotaure
Minotaure
3 rue Kent, Gatineau
Event:
https://fb.me/e/2w53brhbr

The Ed Lister Group will be back for a massive night of the hippest music your ears can handle. I'll be joined by my favorite musicians and some very special guests. This will be a party!




WEDNESDAY, FEBRUARY 15, 2023 AT 6 PM
Ethnic Heritage Ensemble
NAC - National Arts Centre
Event:
https://fb.me/e/2oFLpvnPT


We are thrilled to have this opportunity to present the legendary Ethnic Heritage Ensemble in our public spaces for all to enjoy.
The Ethnic Heritage Ensemble has toured internationally, as well as recorded enumerable celebrated projects over the last 45 years. The current line up, featuring Corey Wilkes/trumpet, Alex Harding/ baritone sax, and the bands founder, Dr. Kahil El'Zabar/multipercussion/ composition, is guaranteed to inspire audiences. The EHE is a must-see ensemble, who's truly making history with each performance! They are 21st century Griot, making Great Black Music for the Mind, Body, and Spirit!



FRIDAY, FEBRUARY 17, 2023 | 9PM
lifeboogie @Berlin "Merc Level"
Berlin Grand Opening Weekend!
56 Byward
Free Event 19+
Details forthcoming!



SATURDAY, FEBRUARY 18, 2023 AT 3:30 PM
Drop the Needle in Ottawa
ByTowne Cinema
325 Rideau St.

Event:
https://fb.me/e/3f7BKrBHn

Tickets:
https://www.bytowne.ca/movies/drop-the-needle/

The Needle Drops in OTTAWA! See Drop the Needle on the big screen at the Bytowne Cinema on Saturday, Feb 18th! Drop the Needle features appearances by Russell Peters, Kardinal Offishall, Skratch Bastid, Marcus Visionary, Nick Holder, Maestro Fresh Wes, RapCity creator Michele Geister, Saukrates, DJ Kemo, Peter & Shams (from legendary house trio Peter, Tyrone & Shams, and many more!



FEB 18 AT 11 AM – FEB 19 AT 5 PM
BIG BANG Festival at the NAC | Festival BIG BANG au CNA
NAC - National Arts Centre
Event:
https://fb.me/e/2vI3Bj2F0
Tickets:
nac-cna.ca/en/bigbang

STEP INTO THE BEAT
Exciting concerts, sound machines and more
From ages 5 and up

February 18 and 19

Get ready for the ultimate musical adventure! The BIG BANG Festival is back with a burst of colorful festivities at a joyful decibel this winter. Follow along for a musical journey featuring exciting concerts, surprise performances, sound machines and wild curiosities all over the building – your eardrums will thank you. Join us February 18 and 19 for a lively weekend with family and friends.

Psst! Don't forget to check out our website for more information: https://nac-cna.ca/en/bigbang
***
ENTREZ DANS LE RYTHME
Concerts décoiffants, mécaniques sonores et autres curiosités
Pour tous les âges à partir de 5 ans

18 et 19 février

Préparez-vous pour de nouvelles festivités musicales et colorées! Le Festival BIG BANG promet de faire souffler une rafale de joyeux décibels sur le CNA pas plus tard que cet hiver! Concerts décoiffants, performances-surprises, mécaniques sonores et autres curiosités vous entraîneront dans un parcours musical follement palpitant aux quatre coins de l'édifice. Vos tympans ne se seront jamais aussi bien portés. Passez nous voir en famille ou en bande pour un week-end en fanfare les 18 et 19 février prochain!

Psst! N'oubliez pas de visiter notre site web pour plus d'info sur la programmation : https://nac-cna.ca/fr/bigbang



SATURDAY, FEBRUARY 18, 2023 AT 9 PM – 2 AM
Festa de Carnaval 2023
with Florquestra & guests
DJ DANM - Brasil

Galerie SAW Gallery
67 Nicholas St.
Event:
https://fb.me/e/43mPJfbFH
Tickets:
www.eventbrite.ca/e/festa-de-carnaval-2023-tickets-488139106207

A night celebrating Brazilian culture and heritage with the best in marchinha, samba, frevo, from afoxé to Axé!!
Florquestra & Guests:
Regina Gomes Teixeira / vocals+percussion
Julio Santos - vocals+lead guitar
Jasmin Lalande - sax
Breno Daibes - drums
Alexandre Wesley Trindade - baixo





SUNDAY, FEBRUARY 19, 2023 AT 11 AM – 5 PM
Vintage Pop-Up @ Queen St. Fare
Queen St. Fare
170 Queen Street
Event:
https://fb.me/e/2FA7UZLQ8

Join us for the first Vintage Pop-Up of 2023 at Queen St Fare!
Stock-up on unique sustainable fashion, thrift & vintage clothing, accessories, oddities & home decor.
Sunday, February 19th 2023 | 11am-5pm
Queen St. Fare
170 Queen St, Ottawa
Vendors: TBA
* Free entry
* Bar will be open
** We strive to create a safe & welcoming environment for all genders, ages, ethnicities & levels of ability.
** Be prepared for different payment methods. Most of the vendors accept cash, credit, debit & e-transfer but each vendor has their own policies.
---
Thank you for supporting local & for being an environmentally conscious consumer. #shoplocalottawa

Vendor List TBD
Registration is CLOSED

Winterlude
find out what's going on the same day & nearby for Winterlude 2023
https://www.canada.ca/en/canadian-heritage/campaigns/winterlude/calendar-events.html



SUNDAY, FEBRUARY 19, 2023 AT 9 PM – 2:30 AM
Sunday Sessions w/ Supernova (Italy), House of Wayne, Rick Laplante
City At Night
222 Slater
Event:
https://fb.me/e/3rg5xbYpF
Tickets:
cityatnightFeb1923.eventbrite.ca

Every long weekend Sunday, White Rabbit Events hosts Sunday Sessions, Ottawa's legendary long weekend dance party, in the national capital's premiere underground dance venue: City At Night.
On Sunday Feb 19th, we are proud to host the Ottawa debut of Elrow & Defected artists celebrating their 20th Anniversary:
SUPERNOVA
(Lapsus Music / Defected / Stereo Productions / 8bit / Elrow Music / Get Physical )
Supernova are Emiliano Nencioni and Giacomo Godi; an Italian DJ and production duo that have over the last decade made the transition from rising stars to established international talent and are now recognized as artists and performers of enviable stature. Both Emiliano and Giacomo are classically trained musicians, something they believe has set their approach to electronic music apart from many of their peers, granting them the technical abilities and theoretical know-how to produce the music they want without restriction.
Taking their lead from the music of their youth – everything from Chicago house, acid house, hip-hop, funk and acid jazz – they achieved their first notable success in 2007 when Sony BMG released their debut album 'Downtown Underground, which included collaborations from the likes of GrandMaster and Melle Mel. As the variety of different ways that electronic artists are able to perform grows ever larger, so the debate as to what actually constitutes a DJ set rages every fiercer. Rather than get drawn into the debate however, Supernova prefer just to do their thing.
At the beginning their set up was 100% live - including Moog, Virus and Micro Korg keybords, a logic control mixer and external hardware effects and filters – and they only performed their own records, but after a punishing tour schedule across two continents they realised they needed to develop something for suitable for clubs. Their current set-up comprises live instruments, decks and Ableton to create an ever-evolving musical experience that is "constantly renovated to create something unique." It certainly seemed to work.
Gigs across the world followed their initial album tour an to date Supernova have played at some of the most established venues and festivals on the planet, including Elrow (Barcelona/Ibiza), The Bpm Festival, Monegros Desert Festival, Ministry Of Sound (London), Cavo Paradiso (Mykonos), Space (Ibiza), Kazantip Festival (Ukraine), Tenax (Italy), Space (Miami) La Terraza (Florianopolis) and many many more.
In 2009 they started their own label Lapsus Music that is now considered one of the most interesting project inside the underground independent labels world scene with support from many big names and showcases across the world. Their probably biggest hit comes in 2010 with "Beat Me Back" the collaboration with Detroit techno master Kevin Saunderson. Following this and many other big releases, the duo have been asked to remix some of the biggest classics of the House Music such as Frankie Knuckles "The Whistle Song", Kerri Chandler "Bar A Thym", Jakatta "American Dream" and Romanthony "What Price Love" just to name a few.
One of the more significant relationships of recent years has been Supernova's continuing affiliation with house giant Defected Records. Defected has released a number of the duo's productions including remixes of seminal records 'Can You Feel It' and 'Strings of Life' as well as three Eps. 2013 marks the 10th anniversary of Supernova and the duo is asked to mix one third of the long-running and acclaimed Defected In The House Miami compilation series. The long career follow up with their strongly supported "The Circle EP" for Noir Music, their successful collaboration with acid house legend DJ Pierre "The Beat" (Lapsus Music) and remixes for Kling Klong, King Street Sounds and Moon Harbour. In 2015 the NYC legendary label King Street Sounds ask them to mix their "House Legend" compilation series and last but not least they release Suite 58 EP on Lapsus Music including remixes by Tiger Stripes and Luna City Express.
Late 2015 and early 2016 see a really tight release schedule for the Italian duo featuring tracks on Get Physical Music, Kling Klong, Stereo Productions, Toolroom, Material and their own Lapsus Music. "We believe in this rule: 'work hard, hard, hard with a smile on your face always trying to do something better than the day before'. Following this rule has made us growing up step by step overcoming the difficult moments and getting the best possible results". For Supernova, music is their life, their language and a huge part of their relationship with others people. "We believe that we have a lot to say in terms of music and that our journey is just at the beginning. The only way to complete this journey is to do a lot of good music; This is our mission!"
------------------------------
SUPERNOVA LINKS:
www.supernovamusic.eu
https://www.instagram.com/supernovaitaly/
https://www.facebook.com/supernovaitaly
www.soundcloud.com/supernova
https://www.youtube.com/channel/UCkkQ514DZtmh6O_76LT-n6Q
https://twitter.com/Supernovaitaly
www.residentadvisor.net/dj/supernova
http://www.beatport.com/artist/supernova/43208
http://www.traxsource.com/artist/13274/supernova


w/ support from Ottawa's own:
House of Wayne
https://www.mixcloud.com/houseofwayne/
&
Rick Laplante
https://soundcloud.com/whiterabbitevents/sets/rick-laplante

Tickets or Table packages are recommended.
Ottawa is certainly NOT the town that fun forgot! Many thanks to Ottawa's Underground Dance Community for your continued support.
19+, ID required




SATURDAY, APRIL 29, 2023 AT 10 AM – 5 PM
Ottawa Record Fair 2023
Carleton Dominion-Chalmers Centre
355 Cooper Street




Afterlight: weekly Tuesday-Thursday | 19h-late
129 Bank St
An underground lounge & listening bar curated by some of the Canadian Capital's most prominent DJs featuring different selectors weekly.
7pm until late
19+
no cover



Catch me on twitch.tv/lifeboogie
*when possible
Tuesday | 20h Open Format
Thursday | 20h | Jazz - Funk - Disco - Soul - Afro - Latin - Reggae + stuff
Saturday | 20h | Disco - Nu Disco - Deep House - Nujazz - Future Funk - Broken Beat + Good Vibes

Socials / Archive:

Instagram / Twitch:
@lifeboogie

Fecesbook:

https://www.facebook.com/djtrevorwalker

MixCloud:

https://www.mixcloud.com/trevor-walker4/

SoundCloud:

https://soundcloud.com/trevorlifeboogiewalker