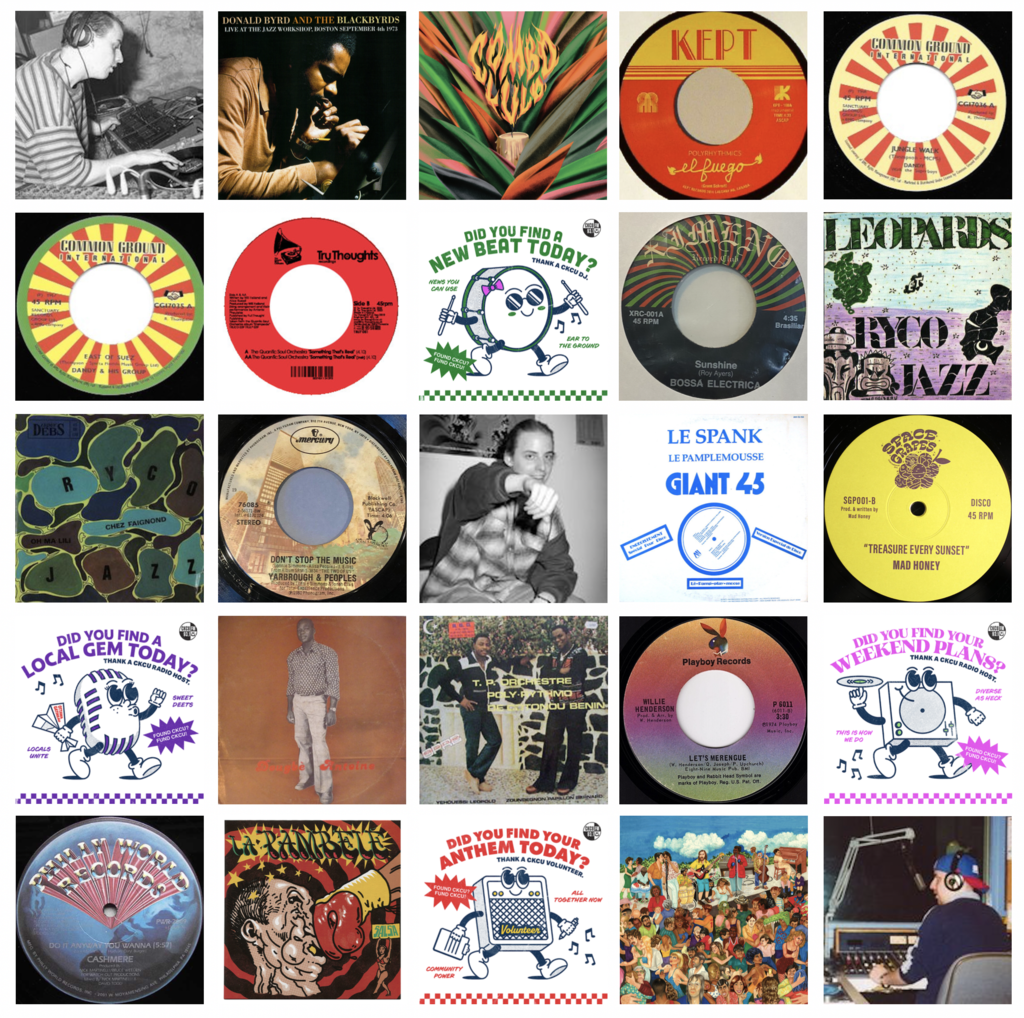 Friday Drive
Friday November 4th, 2022 with Trevor Walker
[FDFDF 2:3 Dedicated to James "DJ Otto" Lang RIP]
DONATE DIRECTLY TO "FRIDAY DRIVE" HERE:
https://www.canadahelps.org/en/dn/76111
www.ckcufm.com
Happy Friday Drivers! Before we get into it I would like to dedicated this show to an old and dear friend who left us way too early in September, although I only received the news this week. James Lang who's alias, DJ Otto some of you may recognize from years past on CKCU, was alumni and filled in on Planet Rave and spun numerous sets in the underground dance scene over the years. Such a kind and gentle soul with a great sense of humour and positive attitude will be missed, I'm sure, by anyone who knew him. My deepest condolences go out to James family and friends and to James if you're in any way hearing this rest in power my friend and I will cherish all the memories of our time together. I've included a link to James obituary if anyone would like to share any memories or well wishes in the comments & a link to his page dedicated to on Sagetea. James Walter LANG (Jamie - DJ Otto) December 28, 1972 - September 13, 2022
https://ottawacitizen.remembering.ca/obituary/james-lang-1086236501?fbclid=IwAR2PDW712NzxpNHl0OnQ6ufoU27FUwCE2UyQaXPJ5mvtfrKbQkvKp7kzNls
https://sagetearadio.com/djotto/
Massive gratitude to the following donors: - Beatrix Picard - Robin D., Martial & Kincaid - Sean Ralph - ANON - Paul Spaniel - Ryan Bresee Whatever's Cool With Me Thursday | 9h30-12h
https://www.ckcufm.com/2016/11/04/whatdrivesyou-ryan-bresee/
- Scott "Scruffy_Sac SoundZystem" Moyle After our first week we are sitting at $560 with the hope of hitting $5000. Got some work to do but I have faith that my hope of 112 listers with a $52 donation will come through and get us there. Spread the word! This show is part two of three funding drive episodes aka the now annual "FridayDriveFundingDriveFreestyle" or [FDFDF]. Hoping to get all my regular and irregular listeners and streamers, all you general consumers of "Friday Drive" and CKCU regulars to please show the same generosity that you've shown in past years in donating to this year's campaign! I'd love to smash last years total of $2700, if I'm not mistaken. The general breakdown is as follows. Costs the station roughly $5600 a year to air the Friday Drive, which is my ultimate goal total. Broken down, all it will take is 112 people with a $50 donation to reach my goal and help contribute to the station's overall goal of $190,000 which is half of the station's operating budget! *Works out to less than $1 / week! We are accepting donations from anyone and everyone who would like to support! Please let's do this if you believe in not for profit, independent, volunteer powered, community based broadcasting & streaming. Click & Donate tell a friend and spread the love! PLEASE DO THIS NOW! There is no CKCU without you! "If you found it on CKCU, please help fund CKCU!" You can donate directly to the Friday Drive "Canada Helps Campaign" here:
https://www.canadahelps.org/en/dn/76111
(don't be shy to share this link) You can call in a share a testamonial and let us know if we can air it as part of this year's campaign. Phone number for donor/supporter messages: 613 520 3920 (to be aired throughout the drive with your contribution & permission) "If you found it on CKCU, please help fund CKCU!" CKCU Funding Drive events: (another way to support) Friday, November 4th --Tuesday Special Blend Live Recording Session Hosted by Tuesday Special at RedBirdLive (1165 Bank St.), 7pm Live music by The Sellouts, plus Johnny Vegas, and stand-up comedian Wakif Nasralla
https://www.eventbrite.com/e/931-ckcufm-tuesday-special-blend-live-recording-session-tickets-444216081257
Saturday, November 5th --A Country-Fried Tribute to The Beatles Hosted by Friday Nite Truck Stop at The Rainbow (76 Murray St.), 8pm A CKCU fundraiser with Ray Harris and Lefty, their band The Whiskey Standards! Plus, a veritable who's who of Ottawa music! With guests KJ Thomas, Slo' Tom, George Stryker, Rey Sabatin Jr., Pat Moore, Ian Cook, Sherri Harding, Brian Cooper, Big Train, RW Haller and Rockin' Al!
https://therainbow.ca/event/4765850/608513872/a-country-fried-tribute-to-the-beatles-ckcu-fundraiser
Wednesday, November 9th --MAP x Lost In Bass (CKCU FM Funding Drive Celebration) Hosted by MusicArtPeople + Lost in Bass at Afterlight (129 Bank St.), 7pm An evening of great music with live DJs and community connection while accepting donations in support of the annual CKCU FM Funding Drive. Come sip, lounge, connect, and dance the evening away while supporting community radio!
https://www.instagram.com/cityafterlight/
Friday, November 11th -- CKCU Fundraiser Dance + Social! @lounge164 | 164 Laurier Ave 20h - late EDT PWYC suggested donation $20 This will be a chance for us to hang, dance, meet up and support CKCU on a Friday night! Can't wait to see you all and don't forget to spread the word and bring friends! Featuring CKCU selectors: - Chris International @christos_international [Turn Up The Radio | Monday | 16h] - Jas Nasty @jasnasty [Heavy Friends | Saturday | 20h] - Filburt Shellbach @filburt__Shellbach [Blaster Caps | Tuesday | 14h30] - Lamb Fatale @lambfatale @firstcrush613 [First Crush | Friday | 15h] - JFUN @jdfun [Mapped Out Radio | Friday | 11h30] - Trevor Walker @lifeboogie [Friday Drive | Friday | 17h] Event:
https://fb.me/e/6U4aZZxC6
We hope you can join us for a night of eclectic music, good vibes! Pass through say hi, show some support and meet some of the station volunteers and presenters. Extra Curriculars: Friday: DJ Zattar @Parlour 1319 Wellington St. W. 18h - close Dinner vibes with some zest! 80's Dance Party w/ DJ Remi Royale + The Start (80's UK Hits) @House of TARG | doors: 21h / show: 22h 1077 Bank St | $12 | 19+ event:
https://fb.me/e/3NnsWm02k
THE MOST AUTHENTIC 80's DANCE PARTY IN THE UNIVERSE !!!! Everyone's invited!! Dance the night away to all your 80's favourite tunes brought to you by our very own wizard and DJ REMI ROYALE!! Singalongs, lasers galore PLUS LIVE bands performing the greatest hitz of the era. ***DANCE PARTY*** 9:30pm - 11:30 - THE START The START performs 80s tunes that are tried-and-true, danceable, and uniquely British! Although a few international songs have made it into their repertoire, they try to stay within the British mod/ska/Britpop/R&B/rock genres. Gary Numan, Frankie Goes To Hollywood, Eurythmics, Billy Idol, The Smiths, Rolling Stones, The Jam.... . 11:30pm - 2am - DJ REMI ROYALE Plays all your fave 80's hits - all you gotta do is keep up with stellar dance moves. Dance Party! Dance Party! Dance Party! EVENT | A TIMEKODE X CAPSULE PARTY @Musée des beaux-arts du Canada Friday Nov. 25 | 20h-00h EDT Price: $20 Paying bar 19 and older (ID required) Get your tickets:
https://www.beaux-arts.ca/.../une-fete-timekode-x-capsule
We're hosting a party, and you're invited! Join us as we celebrate Rashid Johnson's Capsule work and Kwende Kefentse's Platforms series as part of a celebration organised by TIMEKODE. TIMEKODE, a series of local events and DJ crew, is also celebrating its 15th anniversary. DJs Memetic, Zattar, Trevor Walker and Seiiizi will perform at the heart of the Capsule sculpture and transform the Museum's Foyer and main entrance into a dance floor. Grab a drink, make some art (DIY macaroon art) and dance the night away! #Ankosé #TIMEKODE Saturday: White Rabbit: Roger Sanchez in City At Night support from Brink @City At Night | Nov. 5 222 Slater | 21h-2h EDT Ottawa's best dance music DJs every Saturday from 9pm to 2am at White Rabbit inside City At Night, curated by Framework Music. We invite you to join us for our spin on happy hour: #HoppyHour! Every Saturday from 9pm to 10pm we offer half price admission, half price beer, half price bar rail, featured cocktails, and featured DJs! Event:
https://fb.me/e/1ZvrcAuBp
Tickets:
cityatnightnov0522.eventbrite.ca
Goblins & Ghouls: 2 vs 2 Halloween All Styles Battle @Bronson Centre | Nov. 5th 221 Bronson Avenue | 13h30 *Basement room Event:
https://fb.me/e/2cgxPZ0aU
Where to buy tickets online?:
www.eventbrite.ca/e/goblins-ghouls-2-vs-2-all-styles-battle-tickets-415656237997
-------------------- Hey everyone! We're back for our Halloween themed dance battle for the community. Keeping it small, so make sure to purchase your ticket to guarantee to check out the battle &/or compete yourself! So come out and get down to some fresh beats all night and watch the battles go down! *UPDATE* Please note change in date, time & battles. What: Halloween Party When: Sat. Nov. 5th, 2022 Time: 130-430PM Who: All ages (see note below) Where: The Bronson Centre (221 Bronson Avenue) - Basement room Prize: Cash prize for Cypher King & Queen Call out battles encouraged! COSTUMES ARE MANDATORY! MC: Arnaldo "Effect" Betancourt Silva (Moov Ottawa Dance, Mix'c Mafia, Deadly Venoms Crew, Ottawa, Montreal & Havana)\ DJ: Lucas "L-Man" G. (Deadly Venoms Crew, Ottawa) Schedule: 130PM-430PM Price: DANCERS & PARTY PEOPLE: -15$ per dancer -15$ per person online via Eventbrite by October 31st, 2022 @ midnight -20$ per person at the door (unless we are sold out/at capacity prior to) - EXACT CASH ONLY (Kids are the same price as teens & adults) Notes: -Capacity @ 100 people (it's an intimate room yall!) so don't wait to get your ticket! Once we sell out, we will not sell more tickets -Music is not censored and all social norms without Hip Hop and Street Dance will be honoured and present. So if you decide to attend and bring a child, please note music will not be censored and some cultural norms may not be of your taste -No refunds once you've purchased your ticket unless you've already purchased it before Oct 6th and require a refund. -We will check your name at the entrance if you purchased a ticket online -Free parking in the back lot or Street Parking -Injury policy and Code of Conduct in full effect -Alcohol not permitted in the room. If you plan to drink, please do so before or after! Covid-19 notes: -Masks are not mandatory but are welcomed -Hand wash on arrival -If you unwell, even mild symptoms, or have been a close contact of person with Covid-19, or have Covid-19, do not attend! TROPIKALO IS BACK!!! After a forced 2+ year hiatus, the tropical dance party returns with selectors ZATTAR & TREVOR WALKER 100% vinyl Afro Latin Tropical vibes all night long! Saturday November 5 Lounge 164 (formerly d'Afrique) 164 Laurier Ave. W. doors at 9pm | $10 advance * $15 door Event:
https://fb.me/e/5SdzILmb0
Tickets:
https://www.eventbrite.ca/e/440490337457
Sunday: Capital Sessions at the NAC! National Arts Centre | Nov 13 | 13h-15h Free! All ages welcome! November 13th we are presenting DJ Lost Heroes (Christian Pronovost from Montreal) and Nina Zabadalova (Czech Republic) for an amazing inter-generational house dance exchange! A seasoned veteran DJ and young up-and-coming dancer, the perfect illustration of the universality of house dance! Dancer: Nina Zabadalova I was born in Slovakia but live almost my whole life in the capital of the Czech Republic, Prague, where I started dancing. I started dancing in my room however my parents couldn't take my loud stomping so they signed me up for dance lessons at a dance studio called B-Original. I started by dancing choreographies and attending various competitions in the Czech Republic but lately, I've been focused more on freestyle and battles. I've been dancing for 6 years now and my favorite styles are hip-hop and house dance, but I can also dance other styles. I listen to various genres of music, from hip-hop and rap, to house, dancehall and pop. My inspiration is all dancers around me. My dance teachers, my co-dancers, back home, and anywhere I go. I simply cannot live without dance and music, because this is what makes me happy. DJ: Christian Pronovost a.k.a. LOST HEROES Christian Pronovost is one of Montreal's original, a perennial figure in the city's dj & club culture communities . He started his musical career in 1979 at the tipping point of the Disco backlash, the end of something that wouldbecome the Nouvelle Vague of musical movements! Disco Not Disco / NoWave / Dub /Electro /Afrobeat/ Funk Punk / Latin Jazz / Movie Soundtracks & Avant Garde Electronica, the emergence of the Global Sounds would dictate his Modus Operandi! In the mid 80's, motivated by the exciting new sounds of House & Techno emerging from the American Midwestand his adventures in New York, Christian joined forces with his friends and created Inbeat Records, a record store boutique concept, something that would become pivotal for Montreal's DJ community & the burgeoning house and techno scenes. The Fridays were a ritual for hundreds of DJ's not only to get some of the most exciting new music but also for people to exchange ideas, information & the latest gossip. In parallel with his business ventures, Christian maintained, for over 4 decades, a constant public presence under Lost Heroes by playing locally + internationally occasionally sharing the stage with a who's who of yesterday + today's electronic + club music scene: Ame, Alex from Tokyo, Art Dept, Bob Sinclar, Basement Jaxx, Carl Craig, DJ Harvey, Divine!, Giorgio Moroder, Grace Jones, Goldie, Francois K, Fort Romeau, Joe Claussell, Dixon, Danny Krivit, Divine, Dennis Ferrer, DJ Gregory, Dimitri de Paris, Tony Humphries, Gilles Peterson, Frankie Knuckles, Jeff Mills, Kerri Chandler, Karizma, Kenny Dope Gonsalez, Laurent Garnier, Louie Vega, Malcolm McLaren, Martinez Brothers, Moby, Nitzer Ebb, Paranoid London, Roman Flugel, Robert Owens, Willy Ninja, just to name few ! The entrepreneurial spirit & professional diplomacy parallels with the motivation to explore different platforms to express his creativity beyond the music leads him to create Lost Heroes Arts & Media, an platform for Creative Consultation/ Artistic Direction & Music Supervision for: Festival / Fashion Show / Advertising / Label / Artist /Museum / Brand Experience . His numerous collaborations + productions includes projects with : Adidas, Adidas Y3, Air Canada, Ambassade du Canada (Tokyo), American Apparel, Audi, Berlin Fashion Week, Festival Juste Pour Rire, Festival de Jazz de Montréal, Festival Mode + Design de Montréal, Festival des Franco, Fierté Montréal, Grace Jones, Jean Paul Gaultier, Lacoste, Lune Rouge Entertainment, La Presse, MAC Cosmetics, Mercedes Benz, Montreal en Lumiere, Orchestre Symphonique de Montréal, Opéra de Montréal, PikNic Électronik ,Sid Lee (C2 Mtl) W Hotel (New York / London) Yves St Laurent. So far his goal always remains the same: Connecting the d.o.t.s between people / ideas / styles / history / culture& technology to propose a modern, contemporary & inspired experience. Moov Ottawa: 4-week November Open Practice Space @Bronson Centre | 14h Event:
https://fb.me/e/26SswFGzE

Tickets:
docs.google.com/forms/d/e/1FAIpQLScHTEqLmdAOtNHVJLGqKV1NNQROlEeRzIZWizztecTDWwMVqQ/viewform
Opening up an accessible and central place for the Street Dance community to practice for the month of November! WHAT 2 Hour open practice x 4 weeks in November for Street Dancers WHO -Street Dancers and those who are practicing within the styles of Street & Club dance -All ages and all levels welcomed WHERE Bronson Centre (211 Bronson Avenue) Room 221 (2nd floor) WHY To provide an affordable & accessible space for the Street Dancer community to to practice, stretch, cypher and get down in the month of November 2022 WHEN Sundays x 4 weeks (2 hours periods) November 6: 2-4PM November 13: 430-630PM November 20: 2-4PM November 27: 2-4PM PRICE -20$ flat for the 4 weeks -E-transfer to alea@moovottawa.com to reserve your spot WHAT IS THIS SPACE USED FOR? -For Street Dancers -For Dancers to practice within the arts of Street & Club dance -To stretch, session, cypher, practice your skills, share -BYOB - Bring Your Own Music and if you'd like, your own speakers as back up, but we will provide it from the jump at the very least! WHAT IS THIS SPACE NOT USED FOR? -Non Street Dance related dancing/moving -Teaching your own class *This is not a dance class!* HOW TO RESERVE YOUR SPOT -E-mail us alea@moovottawa.com to show your interest -OR Fill this form (link in bio) -OR Send us a DM on FB or IG -We'll gather your Full Name, Email & will accepted e-transfers Questions? alea@moovottawa.com We would like to this be something we provide for the Ottawa/Gatineau community longterm if we feel there is interest and a need! So get into it for your own self, but also the scene! Tuesday - Thursday: Afterlight: weekly Tuesday-Thursday | 19h-00h 129 Bank St An underground lounge & listening bar curated by some of the Canadian Capital's most prominent DJs featuring different selectors weekly. Catch me on
twitch.tv/lifeboogie
Tuesday | 20h Open Format Thursday | 20h | Jazz - Funk - Disco - Soul - Afro - Latin - Reggae + stuff Saturday | 20h | Disco - Nu Disco - Deep House - Nujazz - Future Funk - Broken Beat + Good Vibes Socials / Archive: Instagram / Twitch: @lifeboogie Fecesbook:
https://www.facebook.com/djtrevorwalker
MixCloud:
https://www.mixcloud.com/trevor-walker4/
SoundCloud:
https://soundcloud.com/trevorlifeboogiewalker
Fight Time
Donald Byrd And The Blackbyrds - Live at the Jazz Workshop, Boston September 4th 1973 Album - Room On Fire

Rocking Harmony
Combo Lulo feat. JonnyGo Figure - Neotropic Dream Album - Names You Can Trust
Mendo Mulcher
The Polyrhythmics - Fuego Single - Kept Records

I'm Back With A Bang Bang
Dandy And The Superboys - Jungle Walk / I'm Back With A Bang Bang Single RE - Common Ground International

bottom of first broadcast hour 17h30 EDT
My Time Now
Dandy And His Group - East Of Suez / My Time Now Single RE - Common Ground International

Jungle Walk
Dandy And The Superboys - Jungle Walk / I'm Back With A Bang Bang Single RE - Common Ground International

Something That's Real
Quantic Soul Orchestra - Single - Tru Thoughts
Sunshine
Bossa Eléctrica - Single - Ximeno Record Club
Bandole
Léopards Et Ryco Jazz - Bandole / Las Palmas De Coco Single - Hit Parade
Oh Ma Lili
Ry-Co Jazz - Chez Faignond / Pipi-Poh / Oh Ma Lili EP - Disques Debs
Don't Stop The Music
Yarbrough & Peoples - Single - Mercury
end of first broadcast hour 18h EDT
Le Spank
Le Pamplemousse - Single - AVI Records
Treasure Every Sunset
Mad Honey - Upward Bound / Treasure Every Sunset Single - Space Grapes
Gnin We A Na Mon
Dougbé Antoine - Dougbé Antoine Album - Editions Dougbé Antoine
Yao - Yao
T.P. Orchestre Poly-Rythmo de Cotonou Benin - T.P. Orchestre Poly-Rythmo De Cotonou Benin Album - Disc-Orient
bottom of hour two 18h30 EDT
Let's Merengue
Willie Henderson - Gangster Boogie Bump / Let's Merengue Single - Playboy Records
Do It Anyway you Wanna
Cashmere - Single - Philly World Records
Traigo El Bongó
La Pambèle - Traigo El Bongó / Proverbio Single - Names You Can Trust

Bomba Atómica
The Meridian Brothers - Meridian Brothers & El Grupo Renacimiento Album - Ansonia Records