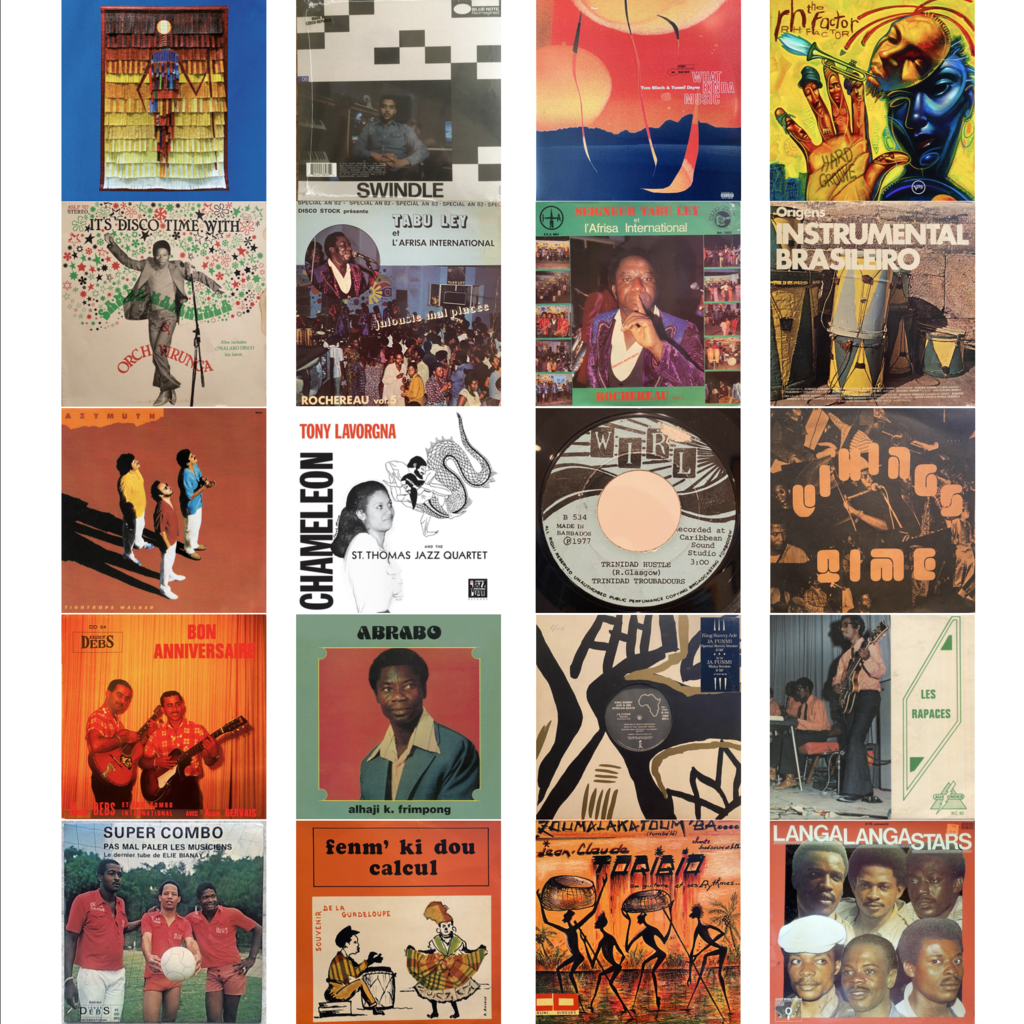 Friday Drive
Friday October 14th, 2022 with Trevor Walker
[SoukousTumbeleGuaguancoJujuHilife+Stuff]
Happy Friday Drivers! I've got what will hopefully be an enjoyable ride through some grooves to get your weekend started with some Soukous, Brazilian, Hi-Life, Tumbele, Juju Afrobeat, Caribbean funk & more! Featuring samplings from Swindle, Roy Hargrove, Samba Mapangala, Tabu Ley, Azymuth, K. Frimpong & King Sunny Ade to name a few. Thank you for being here and hope you enjoy the ride! Extra curriculars: Friday: Pull Up w/ So Durand Sacha Foster JFUN Loungeworth + Secret Guest Oct. 28 @City At Night | 22h-2h30 EDT 222 Slater St. Event:
https://fb.me/e/2TEymXVgK
Ticket:
bit.ly/pullup10282022
Pull Up is... UK Garage, House, Breaks, Rave Anthems, Jungle, & More. Saturday: 613flea @Aberdeen Pavilion, Landsdown Park Oct 15 | 10Am Event:
https://fb.me/e/3uscUBtLw
All Ages, Friendly Dogs Welcome 140+ Vendors! Free Admission! Thomas Ankersmit, Jessica Ekomane, & GOLPESAR by Debaser @Club SAW | Oct. 15 67 Nicholas St. Event:
https://fb.me/e/2dp7s0KzN
Tickets:
www.eventbrite.ca/e/thomas-ankersmit-jessica-ekomane-golpesar-tickets-431790305427
Thomas Ankersmit (Berlin & Amsterdam)
https://thomasankersmit.net/
Jessica Ekomane (Berlin)
https://www.jessicaekomane.com/
GOLPESAR (Montreal)
http://www.rouzbehshadpey.com/
Presented by Artengine and Debaser, supported by SAW, in partnership with Akousma and Gaudeamus Festival.
https://artengine.ca/
https://saw-centre.com/
https://akousma.ca/
https://gaudeamus.nl/en/festival/
Tickets are Pay-What-You-Can with a $10-$20 suggested donation. Licensed / all ages The Peptides @Rainbow Bistro | Sat. Oct. 15 76 Murray St. Tickets:
www.therainbow.ca
White Rabbit: Martin Villeneuve Record Release, w/ JFUN, Madison @City At Night | Oct. 15 222 Slater | 21h-2h EDT Ottawa's best dance music DJs every Saturday from 9pm to 2am at White Rabbit inside City At Night, curated by Framework Music. We invite you to join us for our spin on happy hour: #HoppyHour! Every Saturday from 9pm to 10pm we offer half price admission, half price beer, half price bar rail, featured cocktails, and featured DJs! Event:
https://fb.me/e/52Gm083XG
Tickets:
cityatnightoct1522.eventbrite.ca
HOMECOMING: Art Market & Music / Marché d'artisanat + musique 271 Marier Ave | Oct. 22 13h EDT Event:
https://fb.me/e/37iDEE9dl
In collaboration with the Vanier BIA, Nosy Mag and First Crush invite you to HOMECOMING: A free, all-ages art vendor market with local makers & musical performances! Join us at the Vanier HUB on Saturday, October 22nd from 1PM-5PM to celebrate the reopening of Montreal Road and the arts in our community! Goblins & Ghouls: 2 vs 2 Halloween All Styles Battle @Bronson Centre | Oct. 29 221 Bronson Avenue | 18h30 - 22h *Basement room Event:
https://fb.me/e/2cgxPZ0aU
Where to buy tickets online?:
https://www.eventbrite.ca/.../goblins-ghouls-2-vs-2-all
... -------------------- DANCERS / PARTICIPANTS: Top 16 for 2v2 teams. Waitlist available but no refunds if you didn't get put through. Where to buy battle tickets online?:
https://www.eventbrite.ca/.../goblins-ghouls-2-vs-2-all
... Moov is back for their Halloween themed dance battle for the community. Keeping it small, so make sure to purchase your ticket to guarantee to check out the battle &/or compete yourself! So come out and get down to some fresh beats all night and watch the battles go down! What: 2 vs 2 Halloween All Styles Battle When: Sat. Oct. 29th, 2022 Time: 630-10PM Who: All ages (see note below) Where: The Bronson Centre (221 Bronson Avenue) - Basement room Extra: Waacking Exhibition battle (Organized by Alea "Didi" de Castro via Soft Serve) Prize: Cash prize! COSTUMES ARE MANDATORY! -Dancer check-in @ 630-7PM (Latest check-in for dancers @ 7PM. No late registrations or check-in's accepted) -Battles begin @ 730PM & end @ 930PM -Waacking Exhibition battle before finals -Event ends @ 10PM Price: DANCERS: -15$ per dancer (30$ per team) online via Eventbrite by Friday October 28th, 2022 @ noon (No same-day sign ups) -Only accepting Top 16 groups. SPECTATORS: -15$ per person online via Eventbrite by Friday October 28th, 2022 @ noon -20$ per person at the door (unless we are sold out/at capacity prior to) - EXACT CASH ONLY (Kids are the same price as teens & adults) The return of Discolab "BOO" Boogie pre-Halloween edition! w/ DJ Magnificent & Trevor Walker @Parlour | Oct. 29 1319 Wellington St. W Discolab is back with: "BOOGIE FRIGHTS" Halloween edition! DJ Magnificent & Trevor Walker spinning 100% Disco era vinyl + Mixologist Quinn at the bar! @Parlour | Saturday October 29th 22h30 - close 1319 Wellington St. W -Come dressed to BOOgie in your best Disco gear! -Costume + Dance Competition *with prizes to be won! -Halloween themed cocktails & midnight snack with vegan option available! Specials on selected bar rail + wine! -Limitied early bird tickets @$20 special! Event:
https://fb.me/e/2PKhogWHU
Tickets:
www.eventbrite.com/e/discolab-boogie-frights-tickets-439393727467
SASHAY HALLOWEEN EDITION - DJ Stéfane Lippé (MTL) + More @The 27 Club | Oct. 29 27 York St. | 22h-Close EDT Event:
https://fb.me/e/2hNhcpHdT
Tickets: Wave 1 - $15 (Very Limited Early Bird) Wave 2 - $20 (Limited Early Bird - til Oct 12) Wave 3 - $25 (Reduced Online Admission) Wave 4 - $30 (Online Admission) $40 CASH AT THE DOOR Are you ready for the BIGGEST LGBTQ2+ Halloween party in Ottawa? SASHAY returns to The 27 Club on Saturday, October 29th for a special Halloween edition. Featuring DJ Stéfane Lippé (Montreal), warm-Up by: DJ Ashley Gauthier (Montreal) Performances by: Markida Brown, Kiki Coe & Jasmine Dymond + Go-Go dancers! Each Season we throw a spicy party event that features guest DJ's and special performances. Don't miss the hottest LGBTQ2+ party of the year, there will be prizes for the best costumes!!! Online Tickets: TROPIKALO IS BACK!!! After a forced 2+ year hiatus, the tropical dance party returns with selectors ZATTAR & TREVOR WALKER 100% vinyl Afro Latin Tropical vibes all night long! Saturday November 5 Lounge 164 (formerly d'Afrique) 164 Laurier Ave. W. doors at 9pm | $10 advance * $15 door Event:
https://fb.me/e/31Rl40ZLn
Tickets:
https://www.eventbrite.ca/e/440490337457
Tuesday - Thursday: Afterlight: weekly Tuesday-Thursday | 19h-00h 129 Bank St An underground lounge & listening bar curated by some of the Canadian Capital's most prominent DJs featuring different selectors weekly. Waacking Wednesdays: Community Class + Practice @Bronson Centre | Oct. 19 | 19h-21h EDT 211 Bronson Ave. Event:
https://fb.me/e/2Teo8mWtK
Facilitated by Alea "Didi" de Castro #WaackingWednesdays - #Ottawa's monthly community Waacking class + practice! #LGBTQ2S+ & #BIPOC welcoming, but all are encouraged to come if you love the dance & culture WAACKING WEDNESDAYS Bronson Centre (211 Bronson Avenue) • 7PM-9PM - 7-745PM basic drills and foundations - 745-9PM practice (no longer battle prep) • All levels welcomed • PWYC Scale (10$-25$) • Funds go towards an upcoming community event —————————- How to join? Register & PWYC via Eventbrite - this allows us to keep track of we have a Covid outbreak! - if you absolutely cannot register online / there are barriers, please connect with us first! —————————- Masks not mandatory but can be worn Do not attend if you're sick, even with mild symptoms This is a space to create and share - any disruptive behaviour will not be tolerated Gatineau, QC: Atlantis Jazz Ensemble at Minotaure | Wednesday Oct. 19 | 21h EDT 3 rue Kent, ruelle Aubry, Gatineau, J8X 3J8 The Atlantis Jazz Ensemble is back in full quintet mode at Le Minotaure in the Vieux-Hull. This is the combo's last concert before they enter the studio, a preview of the haunting compositions they intend to explore - an eclectic mix of deep, soulful and spiritual jazz excursions. L'Atlantis Jazz Ensemble est de retour en plein mode quintette au Minotaure dans le Vieux-Hull. Il s'agit du dernier concert du combo avant qu'ils entrent en studio, un aperçu des compositions envoûtantes qu'ils ont l'intention d'explorer - un métissage éclectique de jazz profond, soulful et spirituel. Personnel: Ed Lister - trumpet Zakari Frantz - alto sax Pierre Chrétien - electric piano Chris Pond - double bass Mike Essoudry - drums Wednesday October 19th Atlantis Jazz Ensemble Le Minotaure 3 rue Kent Gatineau QC 10$ door 9PM Catch me on
twitch.tv/lifeboogie
Tuesday | 20h Open Format Thursday | 20h | Jazz - Funk - Disco - Soul - Afro - Latin - Reggae + stuff Saturday | 20h | Disco - Nu Disco - Deep House - Nujazz - Future Funk - Broken Beat + Good Vibes
Savane
Vieux Farka Touré et Khruangbin - Ali Album - Dead Oceans

Miss Kane
Swindle - Blue Note Re:imagined single series: Nubiyan Twist / Swindle - Blue Note

Festival
Tom Misch & Yussef Dayes - What Kinda Music Album - Blue Note
Juice
Roy Hargrove pres. The RH Factor - Hard Groove Album - Verve
Ahmed Sabit part 1 & 2
Samba Mapalanga & Virunga Orchestra - It's Disco Time with: Samba Mapalanga & Virunga Orchestra Album - ASL
bottom of hour one 17h30
Jalousie Mal Placée
Tabu Ley et l'africa International - Rochereau Vol. 5 Album - Disco Stock
Monument
Tabu Ley et l'africa International - Rochereau Vol. 1 Album - Disco Stock
Aproximação
Octabio Burnier - Origenes: Instrumental Barasileiro v/a Album - Sinter
Flolklore
Azymuth - Tightrope Walker Album - Milestone Records
end of first broadcast hour 18h
Chameleon
Tony Lavorgna and The St. Thomas Jazz Quartet - Chameleon Album RE - Jazz Room Records

Trinidad Hustle
Trinida Troubadours - Single - Wirl
Bocal en Moin
Les Vickings - Single - ENC Recordings
Tu Ne Savais Pas Danser
Henry Debs et son Combo International - Bon Anniversaire EP - Disques Debs
Abursafo
Alhaji K. Frimpong - Abrabo Album RE - Hot Casa Records

Ja Funmi (Remix)
King Sunny Ade & His African Beats - Single - Island Records
bottom of hour two 18h30
Le En Ke Maille
Les Vickings - Single - ENC Records
Rose Marie
Les Rapaces - Single - Aux Ondes
O Mamman
Super Combo - Single - Disques Debs
Fenm'Ki Dou
Souvenir De La Guadeloupe - Single - Aux Ondes
Zoumaladatoum'ba
Jean-Claude Toribio - Single - Aux Ondes
Calcul
Souvenir De La Guadeloupe - Single - Aux Ondes
Baya Mbangu Baleka
Langa Langa Stars - KYS pres. Langa Langa Stars Album - Veve International