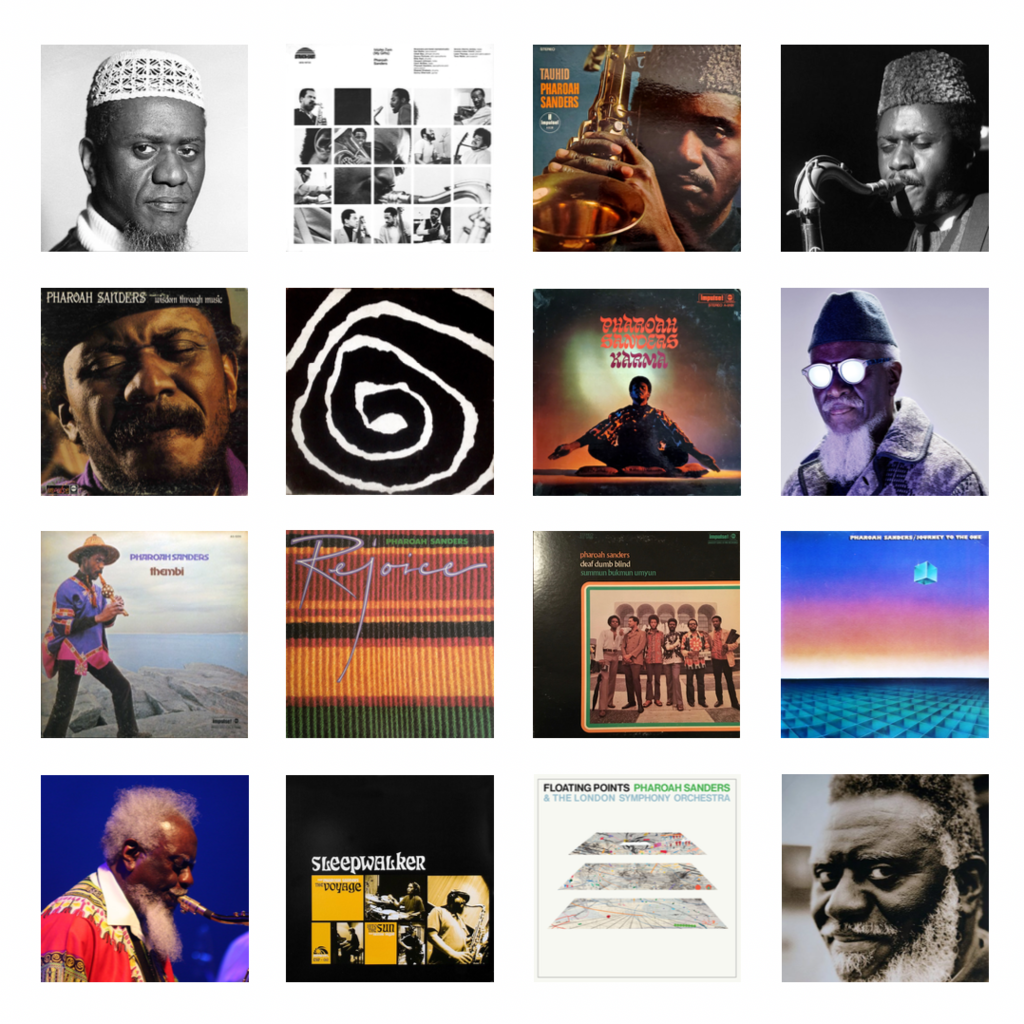 Friday Drive
Friday September 30th, 2022 with Trevor Walker
[Pharaoh Sanders Tribute Mixtape]
Happy Friday Drivers! We've lost another great with the passing of Pharaoh Sanders after 81 spins around the sun he left us on September 24. Needless to say I had to do a mixtape to pay homage to one of my biggest musical influences and share his gifts with you all. Pharaoh Sanders was greatly revered and a very influential tenor saxophonist explored and extended the boundaries of his instrument, notably alongside John Coltrane in the 1960s but the list of greats who've accompanied him is extensive and impressive! Spirit was the overwhelming force in Sanders' music emanating from his tenor and soprano saxophones in fiery blasts to a murmuring flicker. " "Sanders has consistently had bands that could not only create a lyrical near-mystical Afro-Eastern world," wrote one champion, the poet-critic Amiri Baraka, "but [also] sweat hot fire music in continuing display of the so-called 'energy music' of the '60s." That combination of traits characterized Sanders' defining solo work of the '70s on Impulse! Records, and was a welcoming harbor for experimentalism. " "NPR article" My introduction, one of my favourites and probably Sanders' single best-known composition "The Creator Has a Master Plan" alongside so many others that, we will sadly, only get a small taste of in the two broadcast hours we have, but I'll be including extra content on demand, which still won't leave enough time. As usual here on the "Drive" it's more music less talk so let's let the King speak for himself and let's elevate to another level musically & spiritually. I've included links below to the Pharaoh Sanders website and a few live performances for anyone interested. Going to be trying to fit in the more groovy, toe tapping, finger popping corners of the Pharaoh Sanders songbook. Thank you for being here and hope you enjoy the ride! Pharaoh Sanders Links: Official site:
https://www.pharoahsanders.com
NPR:
https://www.npr.org/2022/09/24/1124925662/pharoah-sanders-dies-at-81-obituary
Pitchfork:
https://pitchfork.com/thepitch/pharoah-sanders-obituary/?fbclid=IwAR3N-VGYj3gE4-k7o00Uq5yHHixmuPrX_ulipiRzfCS_fnjTKMDzHaKhOUs
Pharaoh Sanders (Live Video - 1968):
https://youtu.be/P8rX54ZhweU
Pharoah Sanders/John Hicks Live in Frankfurt 1986
https://youtu.be/NiICgp-JPhM
Pharoah Sanders - "Kazuko" - An Abandoned Tunnel (Feb 4, 2008):
https://youtu.be/Y7EGQzn8e1k
Pharoah Sanders - In a Silent Way (Feb. 23, 2011)
https://youtu.be/efM2bx1Pza8
Pharaoh Sanders Live at Jazz Cafe London 2011:
https://www.youtube.com/watch?
Pharoah Sanders Quartet - The Creator Has a Master Plan (live May 14, 2016):
https://youtu.be/lhDcb9YaliM
v=Stw7sS49s_A Discography on Discogs:
https://www.discogs.com/artist/21147-Pharoah-Sanders?type=Releases&filter_anv=0
Events + extracurriculars: Friday: DJ Zattar soundtrack @Parlour | 18h - close 1319 Wellington St. W DJ Zattar (Timekode) drops the vibes every Friday featuring his signature soulful sounds. Art Battle Ottawa - September 30, 2022 @Arts Court | 19h-22h 2 Daly Avenure Event:
https://fb.me/e/216roWEvz
Adv. Tickets:
https://www.eventbrite.com/e/art-battle-ottawa-september-30-2022-tickets-400249897217?fbclid=IwAR2pKASMQanyHykrytb_7h3dpzozv-aPWJgGwkPv906snFVWaISVVYwYwY0
Come watch as artists compete with open materials to create their masterpieces in 3 rounds of 20 minutes. All works auctioned and (your) audience vote the Winner of the night! All ages welcome! WHAT IS ART BATTLE? Art Battle® is live competitive painting. Painters create the best work they can in 20 minutes. As they work, patrons move around the easels, closely watching the creative process. At the end of the round, the audience votes democratically for their favourite painting and bids in silent auction to take the work home. Art Battle happens in more than 50 cities worldwide, check
artbattle.com
for local listings! Saturday: Return of the Bangarang: Ska & Reggae Vinyl DJ Party @House of TARG | 10-01 | 21h-close 1077 Bank St. $10 | 19+ Event:
https://fb.me/e/1FQJzQT4W
It's a Rocksteady Soul Homecoming! DJ LORD SNAPPY DJ MAGNIFICENT DJ LONGSHOT DJ TREVOR WALKER DJ BJORN LATE are back at House of TARG with their beloved Dance party BANGARANG! REGGAE, ROCKSTEADY AND SKA from Jamaica's exciting 1966-1975 recorded period backed up by classic 60s SOUL music and all played live on 45s. BANAGARANG is a killer dance party that is sure to make you move. If you love the classic sounds of JAMAICA from STUDIO ONE, TROJAN or PAMA this is the night for you. RARE & AMAZING CLASSIC SKA & REGGAE WAX . The most chill soundtrack to your high-score pursuits. White Rabbit: Brink, Joe Rowe, STIM @City At Night | 21h - 2h 222 Slater Ottawa's best dance music DJs every Saturday from 9pm to 2am at White Rabbit inside City At Night, curated by Framework Music. We invite you to join us for our spin on happy hour: #HoppyHour! Every Saturday from 9pm to 10pm we offer half price admission, half price beer, half price bar rail, featured cocktails, and featured DJs! Event:
https://fb.me/e/1L3wkbmjb
Tickets:
cityatnightoct122.eventbrite.ca
Goblins & Ghouls: 2 vs 2 Halloween All Styles Battle @Bronson Centre | Oct. 29 221 Bronson Avenue | 18h30 - 22h *Basement room Event:
https://fb.me/e/2cgxPZ0aU
Where to buy tickets online?:
https://www.eventbrite.ca/.../goblins-ghouls-2-vs-2-all
... -------------------- DANCERS / PARTICIPANTS: Top 16 for 2v2 teams. Waitlist available but no refunds if you didn't get put through. Where to buy battle tickets online?:
https://www.eventbrite.ca/.../goblins-ghouls-2-vs-2-all
... Moov is back for their Halloween themed dance battle for the community. Keeping it small, so make sure to purchase your ticket to guarantee to check out the battle &/or compete yourself! So come out and get down to some fresh beats all night and watch the battles go down! What: 2 vs 2 Halloween All Styles Battle When: Sat. Oct. 29th, 2022 Time: 630-10PM Who: All ages (see note below) Where: The Bronson Centre (221 Bronson Avenue) - Basement room Extra: Waacking Exhibition battle (Organized by Alea "Didi" de Castro via Soft Serve) Prize: Cash prize! COSTUMES ARE MANDATORY! -Dancer check-in @ 630-7PM (Latest check-in for dancers @ 7PM. No late registrations or check-in's accepted) -Battles begin @ 730PM & end @ 930PM -Waacking Exhibition battle before finals -Event ends @ 10PM Price: DANCERS: -15$ per dancer (30$ per team) online via Eventbrite by Friday October 28th, 2022 @ noon (No same-day sign ups) -Only accepting Top 16 groups. SPECTATORS: -15$ per person online via Eventbrite by Friday October 28th, 2022 @ noon -20$ per person at the door (unless we are sold out/at capacity prior to) - EXACT CASH ONLY (Kids are the same price as teens & adults) Tuesday - Thursday: Moov Ottawa Dance: 4 & 8 Week Dance Classes @Nepean Creative Art Centre | Oct. 4 | 20h30 35 Stafford Rd, Nepean ON K2H 8V8, Canada Join Moov's only public Fall programs! Ages: Kids, Teens & Adults Location: Nepean Creative Arts Centre Dance classes: Hip Hop, Breaking & Waacking Dates: Sundays & Tuesdays from October to December Register & info @
www.moovottawa.com
Afterlight: weekly Tuesday-Thursday | 19h-00h 129 Bank St An underground lounge & listening bar curated by some of the Canadian Capital's most prominent DJs featuring different selectors weekly. Catch me on
twitch.tv/lifeboogie
Tuesday | 20h Open Format (occasionally stream recording the radio show) Thursday | 20h | Jazz - Funk - Disco - Soul - Afro - Latin - Reggae + stuff Saturday | 20h | Disco - Nu Disco - Deep House - Nujazz - Future Funk - Broken Beat + Good Vibes
Prince Of Peace
Pharaoh Sanders - Isipho Zam (My Gifts) RE Album - Strata East
Upper Egypt & Lower Egypt (excerpt)
Pharaoh Sanders - Tauhid Album - Impulse!
The Golden Lamp
Pharaoh Sanders - Wisdom Through Music Album - Impulse!
Seven By Seven
Pharaoh Sanders Quintet - Pharaoh Album - E.S.P. Disk
The Creator Has A Masterplan (except)
Pharaoh Sanders - Karma Album - Impulse!
end of first broadcast hour
Love
Pharaoh Sanders - Thembi Album - Impulse!
Morning Prayer
Pharaoh Sanders - Thembi Album - Impulse!
Bailaphone Dance
Pharaoh Sanders - Thembi Album - Impulse!
Rejoice!
Pharaoh Sanders - Rejoice! Album - Theresa Records
Summun Bukmun Unyun
Pharaoh Sanders - Deaf Dumb Blind Album - Impulse!
Love Is Everywhere
Pharaoh Sanders - Wisdom Through Music Album - Impulse!
You've Got To Have Freedom
Pharaoh Sanders - Journey To The One Album - Impulse!
end of on air broadcast exclusive on demand content below
The Voyage
Sleepwalker with Pharaoh Sanders - Single - Especial
Promises (Movements 1-9)
Floating Points Pharaoh Sanders & The London Symphony Orchestra - Promises Album - Luaka Bop