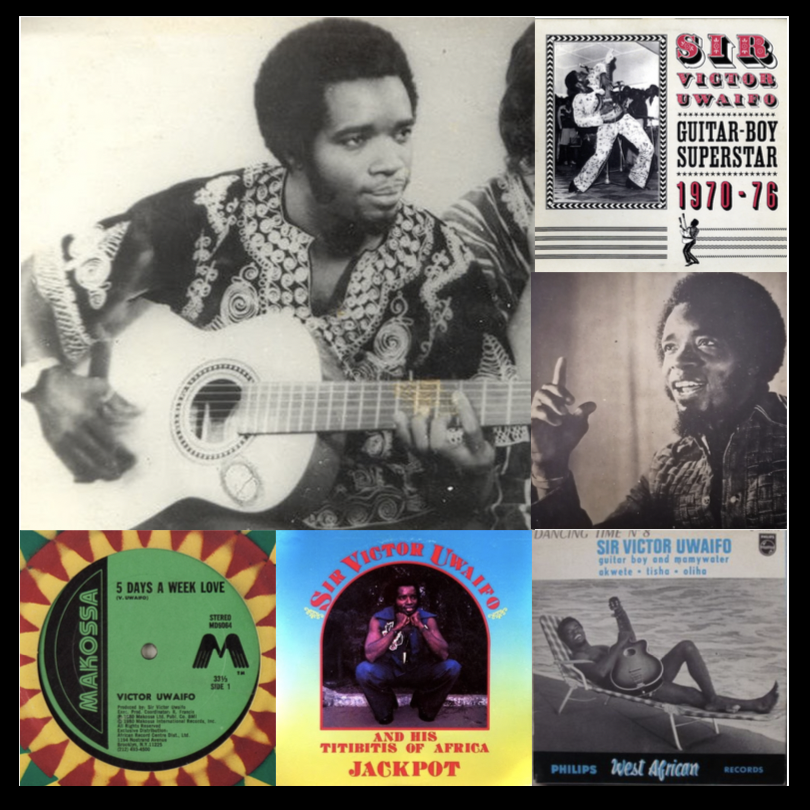 Friday Drive
Friday September 10th, 2021 with Trevor Walker
[Sir Victor "Guitar Boy" Uwaifo Friday Drive MixTape]
Happy Friday Drivers. This week, with the passing of another legendary musician, Sir Victor Uwaifo who, incidentally, passed away August 28th, the day before Lee "Scratch" Perry. Funny how that happens. Being a massive fan of Victor Uwaifo a Friday Drive mixtape of a small taste of whatever music I've managed to accumulate over the years, was definitely in order. I had initially planned on featuring both Lee Perry & Victor Uwaifo on a single show but their catalogs deserved much more. Although my Victor Uwaifo collection is a bit thin I'm pretty sure there's two hours worth and we're all in for a treat! Discography link and brief bio taken from Victor Uwaifo page on Discogs: Victor Uwaifo (born 1 March 1941, Benin City, Nigeria – died 28 August 2021) was a Nigerian musician, writer, sculptor, instrument inventor, and former wrestler best known for his joromi style of high-life music. "Guitar Boy" Victor Uwaifo learned his skills watching E.T. Mensah's guitarist, Dizzy Acquaye. Following a stint with Victor Olaiya's band, he honed his sound during the 1960s using Pidgin and Edo dialects, palm wine styles and traditional ekassa and gdadagbada, becoming an incredible player and showman in his own right. He had a hit with 'Joromi' in 1969, selling over 100,000 copies and he recorded prolifically during the 1970s, releasing over 100 singles with his bands the Melody Maestros and the Titibitis. He mentored numerous musicians in the West African music industry, and over 50 of his former band members have enjoyed careers in their own right.
https://www.discogs.com/artist/1973989-Victor-Uwaifo
https://www.discogs.com/artist/307008-Sir-Victor-Uwaifo-His-Melody-Maestroes
SiwoSiwo
Sir Victor Uwaifo & His Melody Maestros - Single - Phillips
Akwete
Sir Victor Uwaifo - Dancing Time No. 8 EP - Phillips
Ovbialeke Biloxi
Sir Victor Uwaifo & His Titbitis - Jackpot Album - Makossa International Records
Madaka
Sir Victor Uwaifo - Guitar Boy Superstar 1970-76 Album - Soundway
Ekuose
Sir Victor Uwaifo & His Titbitis - Suku-Suku Anytime Album - Polydor
Lye Lye Oh
Sir Victor Uwaifo - Guitar Boy Superstar 1970-76 Album - Soundway
Oserie
Sir Victor Uwaifo & His Titibitis - The Best Of Victor Uwaifo Vol.1 Album - Makossa International Records
Atete
Sir Victor Uwaifo - Guitar Boy Superstar 1970-76 Album - Soundway
5 Days A Week Love
Victor Uwaifo - Single - Makossa International Records
Ebibi
Sir Victor Uwaifo - Guitar Boy Superstar 1970-76 Album - Soundway
Idogo
Sir Victor Uwaifo - Guitar Boy Superstar 1970-76 Album - Soundway
Dododo
Sir Victor Uwaifo - Guitar Boy Superstar 1970-76 Album - Soundway
end of first broadcast hour
KirkKisi
Sir Victor Uwaifo - Guitar Boy Superstar 1970-76 Album - Soundway
Egbe Natete
Sir Victor Uwaifo - Guitar Boy Superstar 1970-76 Album - Soundway
Agha
Sir Victor Uwaifo - Guitar Boy Superstar 1970-76 Album - Soundway
Tisha
Sir Victor Uwaifo - Dancing Time No. 8 EP - Phillips
Ododo
Sir Victor Uwaifo - Guitar Boy Superstar 1970-76 Album - Soundway
Guitar Boy
Sir Victor Uwaifo - Dancing Time No. 8 EP - Phillips
Guitar Boy
Sir Victor Uwaifo & His Titibitis - The Best Of Victor Uwaifo Vol.1 Album - Makossa International Records
Suku-Suku Anytime
Sir Victor Uwaifo & His Titibitis - Suku-Suku Anytime Album - Polydor
Joromi/ Monkey Yanga
Sir Victor Uwaifo & His Titibitis - The Best Of Victor Uwaifo Vol.1 Album - Makossa International Records
Arabade
Victor Uwaifo - Single - Makossa International Records
Ogiobo
Sir Victor Uwaifo & His Titibitis - Jackpot Album - Makossa International Records
Talking Instruments
Sir Victor Uwaifo - Guitar Boy Superstar 1970-76 Album - Soundway
Iranm' Iran
Sir Victor Uwaifo & His Titibitis - Jackpot Album - Makossa International Records