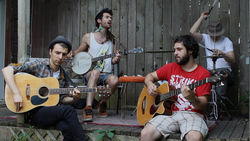 Window of Opportunity
Friday July 25th, 2014 with Trish and Ka
Summertime Sounds of Folk
Chat with Chris McKhool of Sultans of String, Music from Michael Averill, Cara Luft, The Marrieds, Ben Caplan & The Casual Smokers, The Belle Game, Ryan Cook, The Hornettes, The Sick Sick Sicks
Sunshine and Shadows
Michael Averill - I'd Rather Walk


Road to Kfarmishki
Sultans of String - Symphony!


Interview with Chris Mckool of Sultans of String. They are performing, courtesy of Chamberfest this weekend. Sat July 26, 3-4pm at the National Gallery Amphitheatre.
www.chamberfest.com/concerts/calendar/14-726-04/?instance_id=3572
www.sultansofstring.com
www.fiddlefire.com
Dallaire
Cara Luft - Darlingford

A founding member of the Wailin' Jennys, Cara as a solo performer is a treat!
http://caraluft.com/
Saving Hope
The Marrieds - Saving Hope

The Marrieds are:
Jane Carmichael - Vocals, Ukulele
Kevin Kennedy - Guitar, Vocals, Lapsteel
The play The Branch in Kemptville, August 8th, 9pm, $10
The play Irene's Pub on Saturday, August 9th
http://www.themarrieds.ca/
https://soundcloud.com/the-marrieds/saving-hope?in=the-marrieds/sets/saving-hope
Down To The River
Ben Caplan & The Casual Smokers - In The Time of The Great Remembering

Ben Caplan & The Casual Smokers
July 30th, Neat Cafe, Burnstown, $25
August 1st, The Blacksheep Inn, $12 advance.
Sat. August 2nd, Blue Skies Music Festival
http://bencaplan.ca/
https://soundcloud.com/ben-caplan
River
The Belle Game - Ritual Tradition Habit

The Belle Game, out of Vancouver, open for Ben Caplan at The Neat Cafe, Wed. July 30th
http://thebellegame.com/music/
Blue Skies Music Festival, August 1st to 3rd, 2014, in the wilderness near Clarendon
http://blueskiesmusicfestival.ca/performers-lineup.html
11 year old Abigail Moffat will be here in the studio with Tony Copple next week to sing live for you. She sings Imagine Dragons, Adele, and Carrie Underwood. Its worth tuning in for!
Children of the Corn
Ryan Cook - Wrestling With Demons

Ryan Cook, from Yarmouth, NS & Kelly Sloan are at Irene's Pub on August 1st.
http://www.ryancook.ca/
http://iryancook.bandcamp.com/album/wrestling-with-demons
I first found him through his Youtube cover of "Everybody's Talkin' which I really enjoy!
https://www.youtube.com/watch?v=4VzArLZT7DI
The Hornettes MidSummer Dance Party July 26 (Saturday) 8.30 pm - $10 adv at The Blacksheep Inn
http://www.theblacksheepinn.com/eventperformances.asp?evt=400
Ride the bus: Departure is 8:30pm from the Museum of Nature
http://www.thehornettes.ca/band/
The Bluesprint Promo
The Sick Sick Sicks - .


PINE and The Sick Sick Sicks play Bluesprint on July 31st, at Festival House, 450 Churchill. $5 at the door.
http://youtu.be/Ax_74AT5-zU?list=UUTa-djHvzDSgrEgzf9VPxRw
http://sicksicksicks.com/Music
http://bsoma.ca/bluesprint-series/